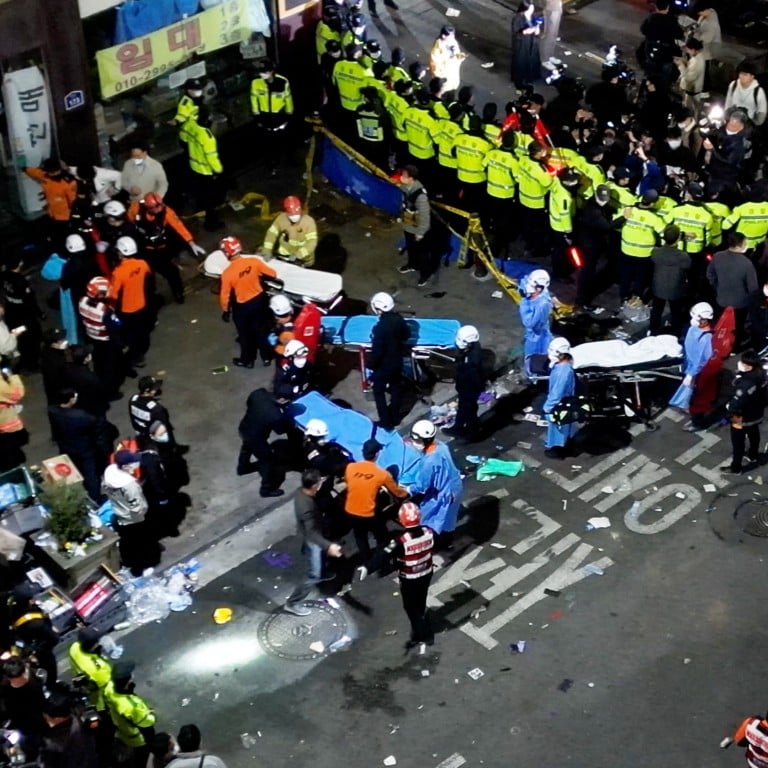 Seoul Halloween crush: 4 Chinese among more than 150 dead
President Xi Jinping of China sends condolence message to South Korean counterpart over tragedy that also injured two Chinese nationals
Chinese social media users react with sympathy and caution, but also some derision over Seoul's close ties with the US
Chinese President Xi Jinping sent a message of condolence to his
South Korean
counterpart on Sunday, after a crush at Halloween event in Seoul killed at least 153 people – including four Chinese nationals.
"On behalf of the Chinese government and the Chinese people, I would like to express our deep condolences to the victims and extend our sincere sympathy to their families and the injured," Xi said in his note to South Korean President Yoon Suk-yeol.
"The
accident
resulted in several casualties among Chinese citizens, I hope that the Korean government will make every effort to save and treat the victims and manage well in the aftermath."
Two other Chinese are among the injured, the country's embassy in Seoul said while offering its condolences to the South Korean government.
"The embassy has expressed its condolences to the South Korean government over the accident and urged the government to find out the cause of the accident and properly handle matters in the aftermath of the death of Chinese citizens," it said in a statement on Sunday.
Premier Li Keqiang has also expressed his condolences to the prime minister of South Korea, Han Duck-soo.
The Chinese foreign ministry, meanwhile, urged the embassy in Seoul to activate its emergency response mechanism, as both offices appealed to Chinese nationals to be mindful of personal safety and avoid large crowds.
"[Chinese citizens should] avoid crowded areas. Don't blindly follow the crowd to participate in large gatherings," the embassy statement said, urging people to also refrain from gathering in large groups to protect themselves against Covid-19.
At least 153 people, mainly teenagers and young adults in their 20s, were killed in the crush, as a massive crowd of around 100,000 revellers celebrating Halloween surged into a narrow alley in the popular nightlife area of Itaewon.
A total of 19 foreign nationals were among those killed, authorities in the South Korean capital said, in what was the city's first Halloween event in three years, after Covid-19 restrictions and social distancing were lifted.
The tragedy marks South Korea's deadliest accident since the sinking of the
Sewol ferry in 2014
, when more than 300 people, mostly high school students, were killed as they sailed from the western port of Incheon to the resort island of Jeju.
Saturday's stampede sparked discussion on Chinese social media and many offered their condolences.
One Chinese citizen who was at the scene shared her experience of how she was trapped among the crowds but managed to escape.
"You can't imagine how bad the stampede was, I felt like there were rocks that weighed a hundred kilograms above me … a girl trapped next to me cried and slowly lost her breath … I am still shaking and trembling thinking about that scene and having trouble breathing properly now," she wrote online.
"I am very lucky to survive and be alive, but those people who were next to me dead can never feel things any more."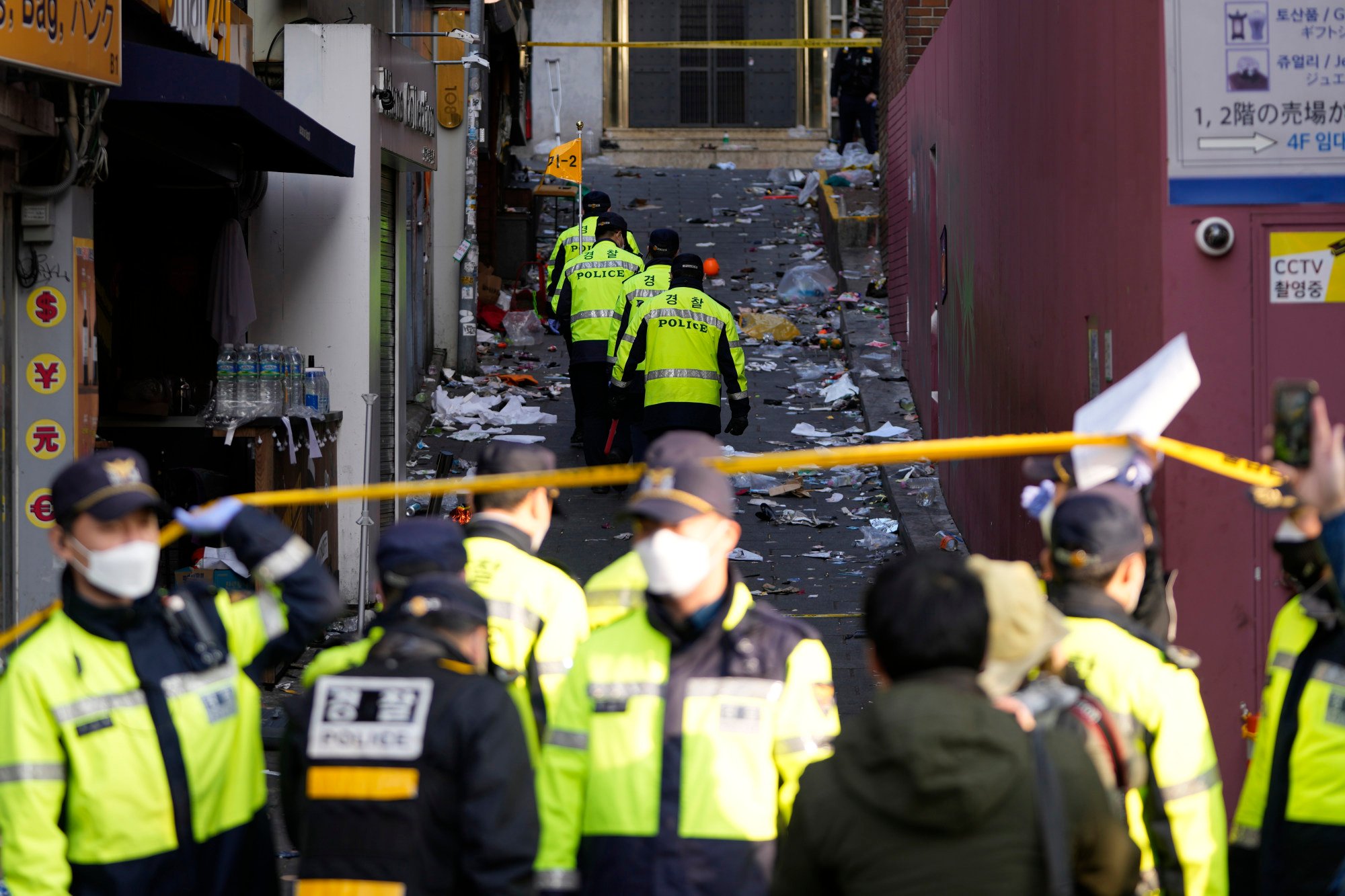 On Weibo, the Chinese equivalent of Twitter, users expressed their concerns for the young revellers.
"It's really too scary. Don't gather and don't go to places where there are too many people. May they rest in peace," one Weibo user wrote.
"This reminds me of what happened in Shanghai before, that's why it is very important to control traffic in popular spots during the festival," wrote another user, referring to a 2014
New Year's Eve stampede in Shanghai's
popular Bund area. At least 36 people were killed in the accident, with authorities coming under criticism for poor crowd handling.
People also voiced their concerns about the number of Chinese caught up in the Seoul crush and urged compatriots in South Korea to protect themselves.
"Please, I beg of you, don't add more casualties to the Chinese," said one Weibo commenter.
But some with more hostile views on South Korea and critical of its strong ties with the United States showed less empathy and even questioned the cause of the stampede.
"I only offer my condolences to those among the killed who had never made anti-China comments," posted one social media user.
"Is this really an accident, or is it a replica of the Sewol ferry accident that was organised
by the cult
?" wrote another, in a reference to a controversial religious sect whose leader's profit-driven remodelling of the vessel was believed to have caused the deadly accident.