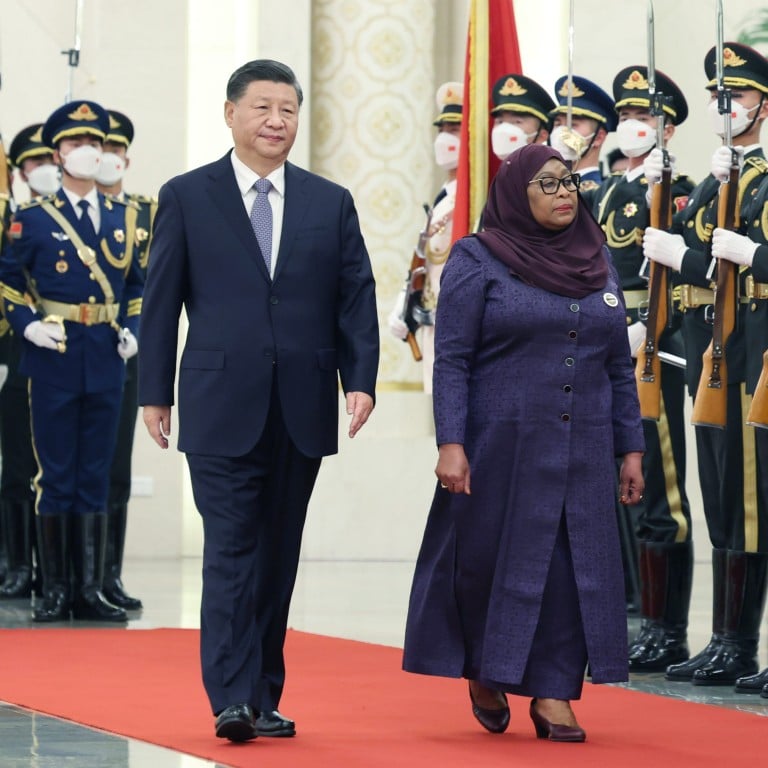 China-Tanzania ties sealed with 15 agreements during presidential visit
Deals include an upgrade for the Tazara railway, built by China 50 years ago and still its largest foreign aid project
Tanzania's Samia Suluhu Hassan is the first African leader to visit Beijing since last month's party congress
Tanzania's President
Samia Suluhu Hassan
has won her country multimillion dollar deals with China in her first state visit to Beijing since taking office.
Hassan and Xi witnessed the signing of 15 strategic agreements on Thursday, including an upgrade of the Tanzania-Zambia – or Tazara – railway, first funded by China 50 years ago and still its largest foreign aid project.
There was also a debt waiver and duty-free access to China for Tanzanian products.
The two leaders agreed to elevate China-Tanzania relations to a comprehensive strategic cooperative partnership, generally regarded as China's highest diplomatic level, which promises full pursuit of cooperation and development.
"China firmly supports Tanzania in safeguarding its sovereignty, security and development interests, and firmly supports Tanzania in exploring a development path that suits its national conditions," Xi said.
"China is willing to continue to expand the import of Tanzanian speciality products, support Chinese enterprises to invest and start businesses in Tanzania, and provide assistance within its capacity for Tanzania's economic and social development."
A statement from Hassan's office said China had agreed to write off 31.4 billion Tanzania shillings (US$13.49 million) worth of debt.
Details on which loans would be written off were not provided. However, China said in September it would waive 23 interest-free loans which matured at the end of last year for 17 African countries.
Beijing traditionally waives interest-free loans – offered by its foreign aid agency the China International Development Agency (CIDCA), which took over the role from the Commerce Ministry's foreign aid department in 2018. But they amount to just 5 per cent of the total Chinese loans advanced to Africa.
Beijing will advance a US$56.72 million loan on concessional terms to build Zanzibar international airport's Terminal II project. It will also provide a grant of 100 million yuan (US$13.6 million) as part of an economic and technical cooperation agreement.
China did not reveal how much it will spend on the renovation and upgrade of the Tazara railway, although a joint statement on Thursday said "the two sides are ready to actively advance" the project.
The Chinese embassy in Zambia said in August that China Civil Engineering Construction Corporation had been appointed to carry out a feasibility study on the project, as part of the reconstruction effort.
China's involvement in the Tazara railway began in the 1970s under the leadership of Mao Zedong and then premier Zhou Enlai, when the country was facing its own financial difficulties.
Lusaka was desperate for a railway link to the Tanzanian coast. Neighbouring white-controlled Rhodesia (now Zimbabwe) had cut landlocked Zambia's only outlet to the sea for its main export copper, in response to its support of African nationalist guerrillas fighting for the transfer of power to the Rhodesian black majority.
China stepped in after the US and Russia refused to fund a new railway, on the grounds it did not make economic sense, and the Tazara was built for about a billion yuan – billions of US dollars at today's rates – in interest-free loans.
The 1,860km (1,155 miles) of track stretching from Zambia's copper belt to the Tanzanian port of Dar es Salaam on the Indian Ocean was built between 1970 and 1975 with the help of 50,000 Chinese workers.
China remains a leading source of foreign direct investment into Tanzania, accounting for 1,098 projects to October 2022 worth US$9.6 billion, creating 131,718 jobs, according to the Tanzanian president's office.
Xi said more Chinese companies would be encouraged to invest in Tanzania's development, including its transport, energy, information and communications links, as well as other infrastructure.
In turn, Tanzania has pledged an improved business environment and help for Chinese companies operating in the country.
The two countries also signed protocols granting duty-free access to 98 per cent of Tanzanian products. China promised to increase imports of speciality goods from Tanzania, and support Chinese companies to invest and operate there.
Tanzanian avocados will soon follow the trail blazed by Kenya, which is already exporting the fruits to Chinese markets, with the signing of a phytosanitary protocol between Beijing and Tanzania. A protocol on inspection, quarantine and veterinary sanitary requirements for wild seafood exports was also signed.
David Shinn, a China-Africa expert at George Washington University's Elliott School of International Affairs, said the effect of the tariff arrangements would be limited, with the East African nation having little that China wanted to buy.
"Tanzania imports 10 times more goods by value from China than it exports to China," Shinn said.
China's main imports from Tanzania are oil seeds – such as soybean and sesame – as well as raw and refined copper, precious metal ores, and coconut and other vegetable fibres. In return, Tanzania buys Chinese rubber footwear, synthetic filament, yarn woven fabric, and rubber tyres.
Tim Zajontz, a research fellow at the Centre for International and Comparative Politics at Stellenbosch University, said both sides could and would book the state visit as a success.
Zajontz said Hassan's trip to Beijing was a clear signal that Tanzania under Hassan wanted to be again China's partner of choice in East Africa.
"The memorandum of understanding on the Belt and Road Initiative is an explicit mutual recommitment to the initiative, after implementation of several high-profile projects were shelved under Hassan's predecessor," he said.
"We must not forget Tanzania was envisaged as the main gateway of the Belt and Road Initiative in East Africa, a function that neighbouring Kenya has since tried to take on. Now Bagamoyo is back on the negotiation table, there is top-level agreement on the rehabilitation of Tazara and Chinese firms are involved in the fifth phase of Tanzania's new Standard Gauge Railway.
"The announcement of far-reaching duty exemptions for Tanzanian exports to China is among Beijing's attempts to equalise the uneven balance of trade that China has with most African economies."