Xi-Biden talks: Blinken to visit China in push for open lines of communication
Presidents cover thorny issues from Taiwan to Ukraine in 3½-hour meeting in Bali
Xi says the current state of China-US relations is not in the interests of the two countries
US Secretary of State Antony Blinken will make his first trip to China, the White House announced on Monday following a face-to-face meeting between the presidents of China and the United States that covered the gamut of issues, like US policy towards Taiwan, that have frayed the bilateral relationship.
The US said that the 3½-hour meeting between
Xi Jinping
and
Joe Biden
on the Indonesian island of Bali was candid and included a wide range of thorny topics; China's statement on the meeting said the two sides agreed to step up dialogue on matters such as climate change, macroeconomic policies, trade and food security.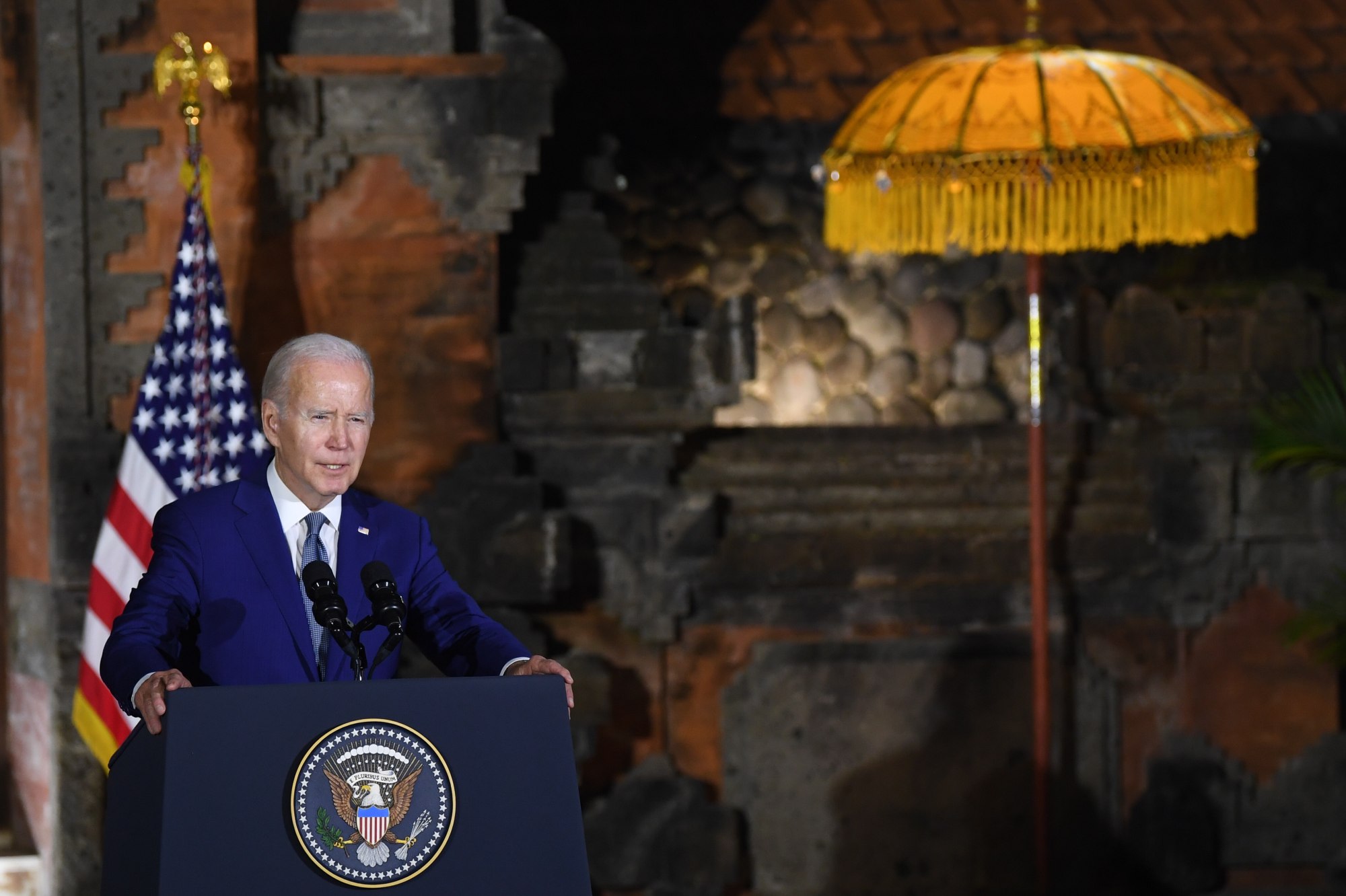 Regular talks had been largely
frozen
since US House Speaker Nancy Pelosi
visited Taiwan
in August, a move that prompted Beijing to suspend dialogues as well as initiate a round of unprecedented
military drills
by the People's Liberation Army.
Reiterating that Washington's position on Taiwan has not changed, Biden told reporters after the meeting: "I do not think there's any imminent attempt on the part of China to invade Taiwan.
"I made it clear that we want to see across trade issues peacefully resolved so it never has to come to that … I'm convinced that [Xi] understood exactly what I was saying; I understood what he was saying," said Biden, who was meeting Xi face to face for the first time since he took office in January 2021.
"We agreed that we would set up a set of circumstances, where on issues that we had to further resolve details, we agreed that we would have the appropriate cabinet members and others sit and meet with one another to discuss the details of every issue that we that was raised, and we raised a lot of issues," he added.
Biden confirmed that he was sending Blinken to Beijing "to follow up on our discussions and continue keeping the lines of communication open between our two countries". The White House did not specify when the top envoy would make the trip.
Taiwan was a major agenda item in the talks. Biden said that the US opposed any unilateral changes "by either side" to the status quo of the Taiwan Strait, and objected to Beijing's "increasingly aggressive actions" towards the self-ruled island.
Xi said that Taiwan was the first red line that must not be crossed in China-US relations, according to state broadcaster CCTV.
"We hope to see and always strive to maintain peace and stability across the Taiwan Strait, but 'Taiwan independence' is incompatible with peace and stability across the Taiwan Strait," Xi was quoted as saying.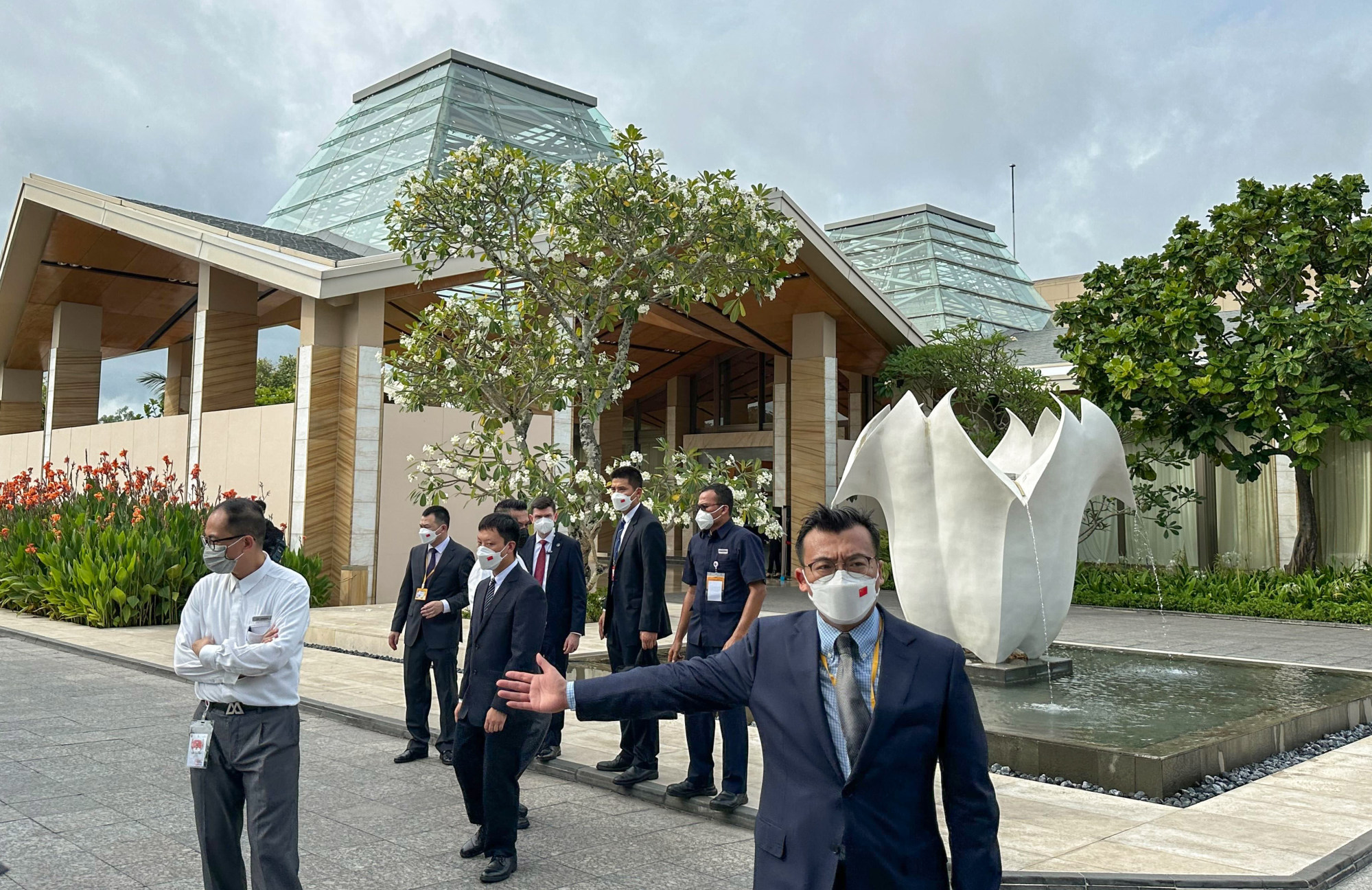 In his opening remarks, Xi said that the current state of
China-US relations
was not in the fundamental interests of the two countries and their people, and not what the international community expected.
"A statesman should think about and know where to lead his country. He should also think about and know how to get along with other countries and the wider world," Xi said.
"The world expects China and the US [to] properly handle the relationship, and our meeting has attracted the world's attention. So we need to work with all countries, to bring more hope to world peace, greater confidence in world stability, and stronger impetus to common development."
In his news briefing, Biden said that National Security Adviser Jake Sullivan as well as Defence Secretary Lloyd Austin would "be engaging with their counterparts from China".
"We're not going to be able to work everything out … but I do not believe there's a need for concern of … a new cold war," he added.
Averting wars, hot or cold, represents the low bar that Washington and Beijing have set since Biden took office and kept in place the hard line stance on China that defined the administration of his predecessor, Donald Trump.
"There are no signs of any fundamental change in US-China strategic competition coming out of this meeting," Eurasia Group said in a research note. "The meeting met or exceeded the low expectations set by the Biden administration and was a mild positive for global stability.
"A key shift in the relationship has been the US's increasingly aggressive posture that has evolved from recognising China as a threat under [Trump] to a policy that seeks to actively stymie Chinese technological development" under Biden, Eurasia said. "Because of this, there is little room to restore the relationship to a predominately cooperative orientation."
While pledging more engagement on global threats like climate change, Biden said the US would continue to compete vigorously with China by aligning efforts with its allies. He also raised human rights concerns in Xinjiang, Tibet and Hong Kong, and vowed to resolve the cases of American citizens who were wrongfully detained or subject to exit bans in China.
"President Biden and President Xi reiterated their agreement that a nuclear war should never be fought and can never be won and underscored their opposition to the use or threat of use of nuclear weapons in Ukraine," the White House said.
Xi said that as two major countries with different histories and development paths, China and US were bound to have differences and competition.
But he added that in such competition each side should learn from the other and make progress together.
"It should not be like you win and I lose, and I survive and you die," he said.
"Both sides should view each other's domestic and foreign policies and strategic intentions in a correct way, and establish the tone of exchanges of dialogue rather than confrontation.
"China never seeks to change the existing international order, does not interfere in the internal affairs of the United States, and has no intention of challenging or replacing the United States."
He said that China opposed "politicisation" of trade issues, trade and tech wars, and the use of trade barriers.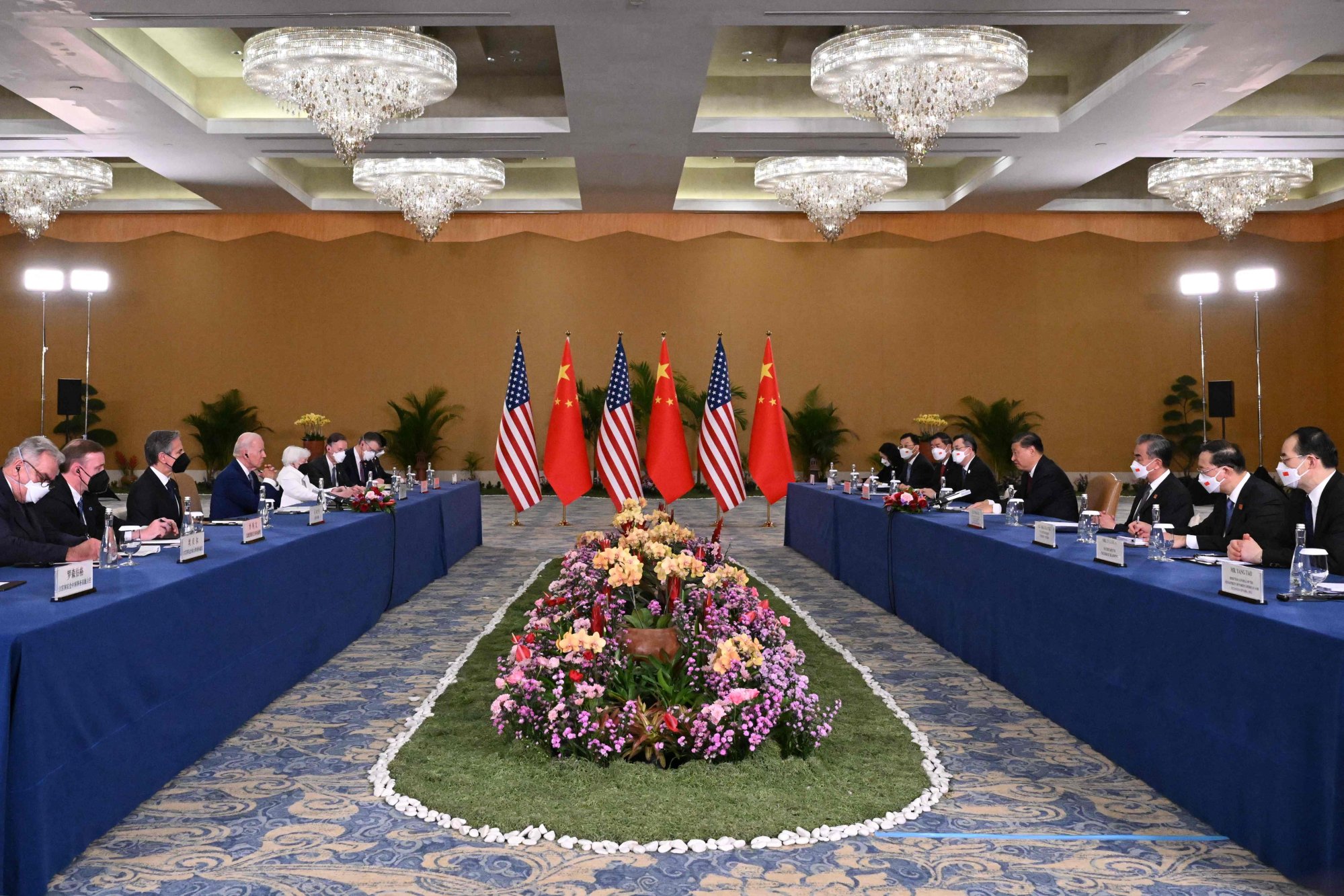 Xi, who arrived in Bali on Monday, was on his first overseas trip since last month's party congress, where he secured an unprecedented third term, a move seen by geopolitical experts as an overwhelming consolidation of power.
Biden has been strengthened by the midterms, since his Democratic Party has retained control of the Senate and is performing better than expected in the House elections, with some vote counts continuing.
Biden appeared to suggest that Republicans might be more cooperative with his administration on foreign policy since many of the most extreme members of the party – who tend to have
more isolationist platforms
– lost their elections.
The election "sent a very strong message around the world that the United States is ready to play", Biden said. "The Republicans who survived, along with the Democrats, are of the view that we're going to stay fully engaged in the world."
Both sides had played down expectations that the meeting could reset their fraught
relations
.
Ahead of the meeting, for example, the Biden administration said repeatedly that there would be no joint statement and that the US leader was "not willing to make any fundamental concessions".
In addition to Pelosi's Taiwan trip and Beijing's sharp reprisals – regarded by many observers as the lowest point in US-China relations since Beijing and Washington reestablished relations decades ago – Biden has also placed new US export controls on hi-tech semiconductors to China.
In some ways, Biden's trip to Asia could cut against friendlier relations with China. It began on Saturday, with a US-Asean meeting and the East Asia Summit – both held in Cambodia, with the aim of strengthening Washington's influence as a counterweight to Beijing.
That approach was spelled out earlier this year, in Biden's
Indo-Pacific strategy
, a plan made "not to change China but to shape the strategic environment in which it operates, building a balance of influence in the world that is maximally favourable to the United States, our allies and partners, and the interests and values we share".
After the G20 ends, Xi will visit Thailand for the Asia-Pacific Economic Cooperation summit that starts on Thursday. XI is also expected to hold meetings with French President Emmanuel Macron and Argentine President Alberto Fernández.
Wang Yiwei, an international relations professor at Renmin University of China, said that Monday's meeting had been an in-depth one.
"The leaders of both sides have the right and freedom to conduct negotiations, make compromises or more communications, which is expected by the world," Wang said.
Wang said the US sought to set the agenda for China-US relations, but it needed China to put pressure on Russia and North Korea.
"It means that after the midterm elections, Biden needs to make a greater effort to achieve something diplomatically, so he needs to seek cooperation with China on global affairs, including on climate change," he said.
Shi Yinhong, a professor of international relations at Renmin University, said both nations were trying to clarify their red lines and see where there was room to accommodate each other.
But Shi said it would be difficult for the two nations to make a breakthrough, citing the example of Taiwan as a major sticking point.
"There's no possibility of any remarkable change, whatever Biden pushes for in Bali. There could be a decision to somewhat restore the bilateral military-to-military exchanges, for both countries make conflict prevention a priority," he said.
Additional reporting by Robert Delaney