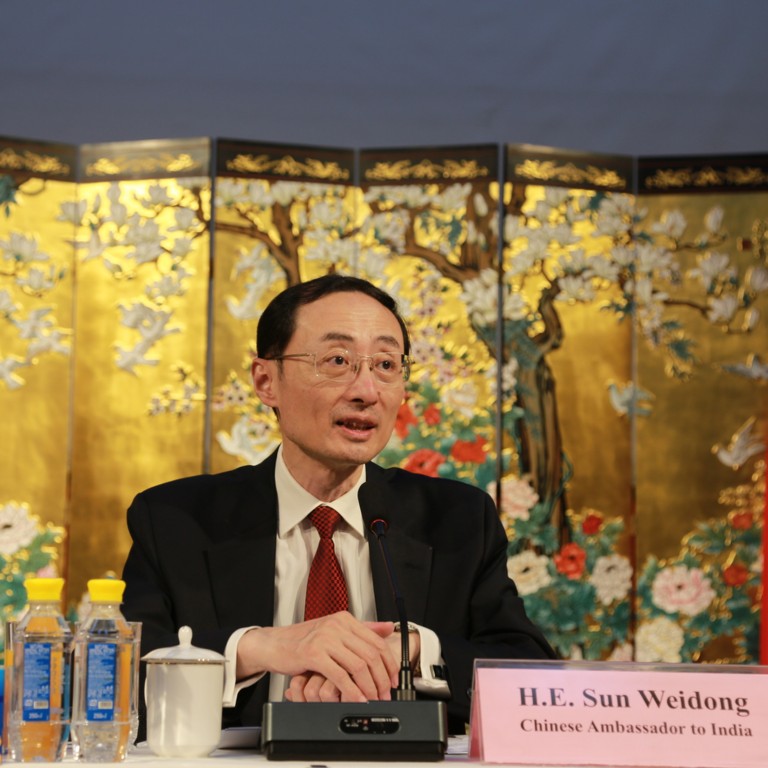 China's ambassador to India Sun Weidong named as new foreign vice-minister
Sun's time in New Delhi coincided with a worsening relations following a deadly clash along the two countries' disputed border in the Himalayas
His promotion comes after the first public exchange between Xi Jinping and Narendra Modi since a deadly clash between troops from the two countries in 2020
Sun is the third Chinese ambassador to India in a row to be promoted to a vice-ministerial role, underlining the importance Beijing attaches to its increasingly fraught relationship with New Delhi.
The appointment was announced on Tuesday, the same day that Chinese President Xi Jinping and Indian Prime Minister Narendra Modi greeted each other in public for the first time since a deadly clash along the disputed Himalayan border in June 2020.
At least 20 Indian and four Chinese soldiers were killed in hand-to-hand fighting in the Galwan Valley in Ladakh, the deadliest confrontation between the two sides for five decades.
Xi and Modi, who still boasted of their "heart-to-heart" friendship when Sun arrived in New Delhi as Beijing's envoy in July 2019, had not spoken since the Galwan clash until Tuesday's meeting at the Group of 20 summit in Bali.
India, which has long-held to a policy of non-alignment, has also moved to strengthen relations with the United States as a counterweight to China in recent years.
Although China has urged India to move beyond the border dispute, New Delhi insists that ties must be normalised on the basis of "peace and tranquillity".
Shortly before he left India, Sun told Indian External Affairs Minister S Jaishankar in a farewell call that there was room for the world's two most populous nations to coexist and develop together.
"The two sides should strive to manage and resolve differences, and look for a proper solution through dialogue and consultation, instead of defining China-India relations by differences," he said, according to the Chinese embassy.
Jaishankar, who has previously described China's rise as a major disruption and accused Beijing of violating previous border agreements, told Sun that normalising bilateral ties "is in the interest of both countries, of Asia and the world at large."
In separate farewell remarks posted on the website of the Chinese mission in India, Sun admitted bilateral ties had "experienced ups and downs" under his watch.
He also took a thinly veiled swipe at White House, which has made India a pillar of its China-focused Indo-Pacific strategy.
"If the Western theory of geopolitics is applied to the China-India relationship, then major neighbouring countries like us will inevitably view each other as threats and rivals. Consequently, competition and confrontation will be the main mode of interaction, and a zero-sum game will be [an] inevitable result," Sun warned.
After serving as counsellor at the Chinese embassy in India between 2005 and 2008, he became the ambassador to Pakistan in 2013.
He was appointed head of the ministry's Policy Planning Department in 2017, the same year that saw a 73-day military face-off between Chinese and Indian troops along an unmarked border on the remote Doklam plateau along the border with Bhutan.
Soon after he moved to the embassy in New Delhi, Sun helped arrange an informal visit by Xi to Chennai in October 2019.
His latest promotion is believed to be a part of a generational shift in Beijing's diplomatic establishment.
The current ambassador to the US, Qin Gang, was also promoted and is now seen as the front-runner to succeed Wang, who is expected to leave his post as foreign minister and special representative on the India-China border talks in March.
Sun's two predecessors, both career diplomats, have been reassigned to less prominent positions in recent months.
Le, 59, was effectively demoted by being made deputy head of a less prominent ministry overseeing television and radio broadcasting.
Luo, 60, became chairman of the China International Development Cooperation Agency last year, overseeing the country's foreign aid projects.