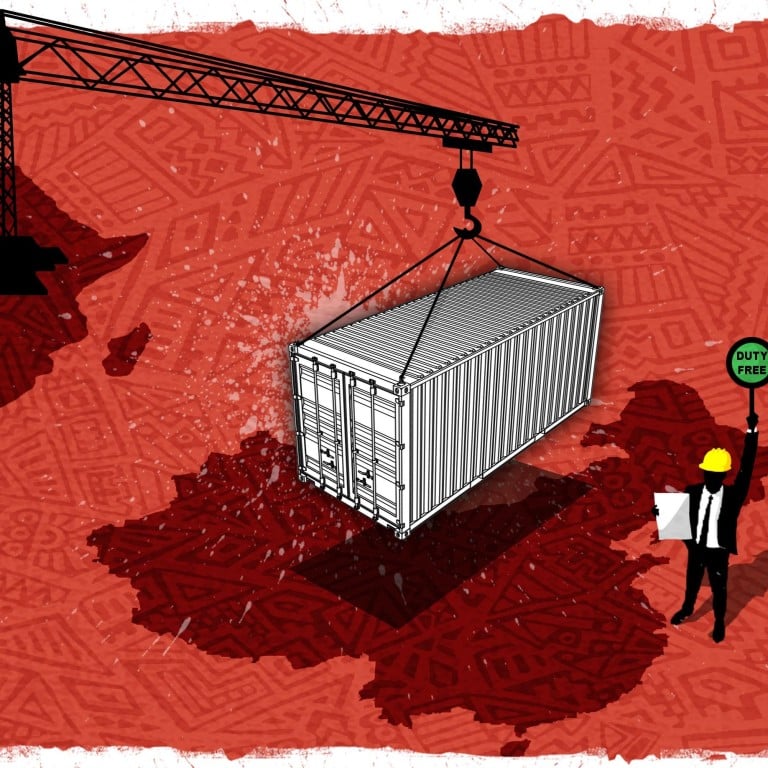 China on course for Africa trade boost as it offers duty-free access to 9 more countries
As of December 1, nine more African nations will get wider tariff-free access to China, enjoyed by a similar number since September
Policy covers nearly 8,800 items, as China seeks to boost African imports to US$300 billion by 2025
Nearly a year ago, President Yoweri Museveni of Uganda requested that the East African country be allowed to export more products tariff-free to the lucrative Chinese market.
China's trade restrictions made it impossible to export some items, he explained.
"[Chinese] companies are
very active
. They [see opportunity] … and they come and invest. So I think that is going very well," Museveni told Bloomberg in November, ahead of the 8th
Forum on China-Africa Cooperation
ministerial conference.
"The only
new thing now
I should insist on is the issue of market access," he said, urging China to "allow our products to enter their market, quota-free, tax-free".
"We would like … a broader spectrum of access to the market, without tax and without quantitative limit."
Last week, that request was granted.
From December 1, China will waive tariffs on 98 per cent of taxable items originating in 10 least-developed countries (LDCs), including Uganda and eight other African nations.
The policy, announced on November 9 by the Chinese customs tariffs authority, covers nearly 8,800 items, including agricultural goods, chemicals and chemical products.
The move will aid the building of "an open global economy" and help LDCs speed up their development, China's Customs Tariff Commission of the State Council said.
This is the second set of LDCs to benefit from such cuts, after another nine African countries were among those granted tariff-free access to the Chinese market in September.
Benin, Burkina Faso, Guinea-Bissau, Lesotho, Malawi, Sao Tome and Principe, Tanzania and Zambia are the African nations set to get duty-free access from December 1, alongside Uganda.
Djibouti, Togo, Rwanda, Eritrea, Guinea, Mozambique, Sudan, Chad and the Central African Republic were on the earlier list, with several Asian and Pacific nations completing the overall line-up.
Chinese President Xi Jinping introduced the upcoming tariff cuts last year, as he promised to open "
green lanes
" for African agricultural exports to China,
expand the range
of products covered by zero-tariff treatment, and speed up border processing.
China aimed to import products worth
US$300 billion
from Africa by 2025, Xi told the FOCAC in Senegalese capital Dakar last November.
Last week, meeting Senegalese President Macky Sall on the sidelines of the Group of 20 summit in Bali, Xi promised to boost Chinese economic cooperation with the West African nation.
"China will continue to support Senegal in building infrastructure such as roads and industrial parks, expand the import of agricultural products from Senegal, step up cooperation on the entire industrial chain of peanuts and on rice farming, and ensure implementation of the measures under the FOCAC framework," Xi said, according to a Chinese foreign ministry statement.
On the diplomatic front, he said China and Senegal held "highly aligned" positions on issues such as safeguarding world peace and promoting common development. He also
reiterated Beijing's support
for the African Union to join the G20 – currently made up of 19 countries and the European Union.
A week earlier, China's envoy to the East African country of Somalia underlined Beijing's commitment to open markets and narrowing the global wealth gap.
"China will continue to promote trade and investment liberalisation and facilitation, advance bilateral, regional and multilateral cooperation, and boost international macroeconomic policy coordination," ambassador Fei Shengchao wrote in a signed article for the Somalia National News Agency on November 10.
"China opposes protectionism, 'fences and barriers', decoupling, disruption of industrial and supply chains, unilateral sanctions and maximum-pressure tactics. China is prepared to invest more resources in global development cooperation and help narrow the North-South gap by supporting other developing countries in accelerating development," Fei wrote.
Granting market access is part of China's plan to increase imports of agricultural products from Africa – a source market dominated by raw materials such as oil, cobalt and copper. Most Chinese exports to Africa are finished products – such as textiles and electronics.
The tariff moves come amid long-standing concerns about the bilateral trade deficit, where African imports of Chinese goods far outweigh exports to the country.
Chinese customs data showed trade with Africa last January to October rose 14.3 per cent on-year to reach US$236.54 billion, on course to surpass the US$254 billion for all of 2021, when it posted a record high with a surge of 35 per cent.
African imports for the 10-month period totalled US$101.08 billion, compared with US$106 billion for the whole of 2021.
China has remained Africa's largest trading partner since overtaking the US in 2009, but still lags behind the 27-nation EU in terms of African imports. Total EU-Africa trade in 2021 reached €288 billion (US$299 billion), nearly half of which, or €142 billion, was imports, according to EU data agency Eurostat.
Apart from expanding the product list for tariff-free access, China has also signed recent deals with individual African nations to import new agricultural products, including chilli peppers, cashew nuts, sesame seeds and spices.
Tanzania began exporting soybeans to China in 2020, and deals have also been reached for ­avocados, tea, coffee and roses from Kenya; coffee and soybean from Ethiopia; beef products from Namibia and Botswana; fruit from South Africa and coffee from Rwanda.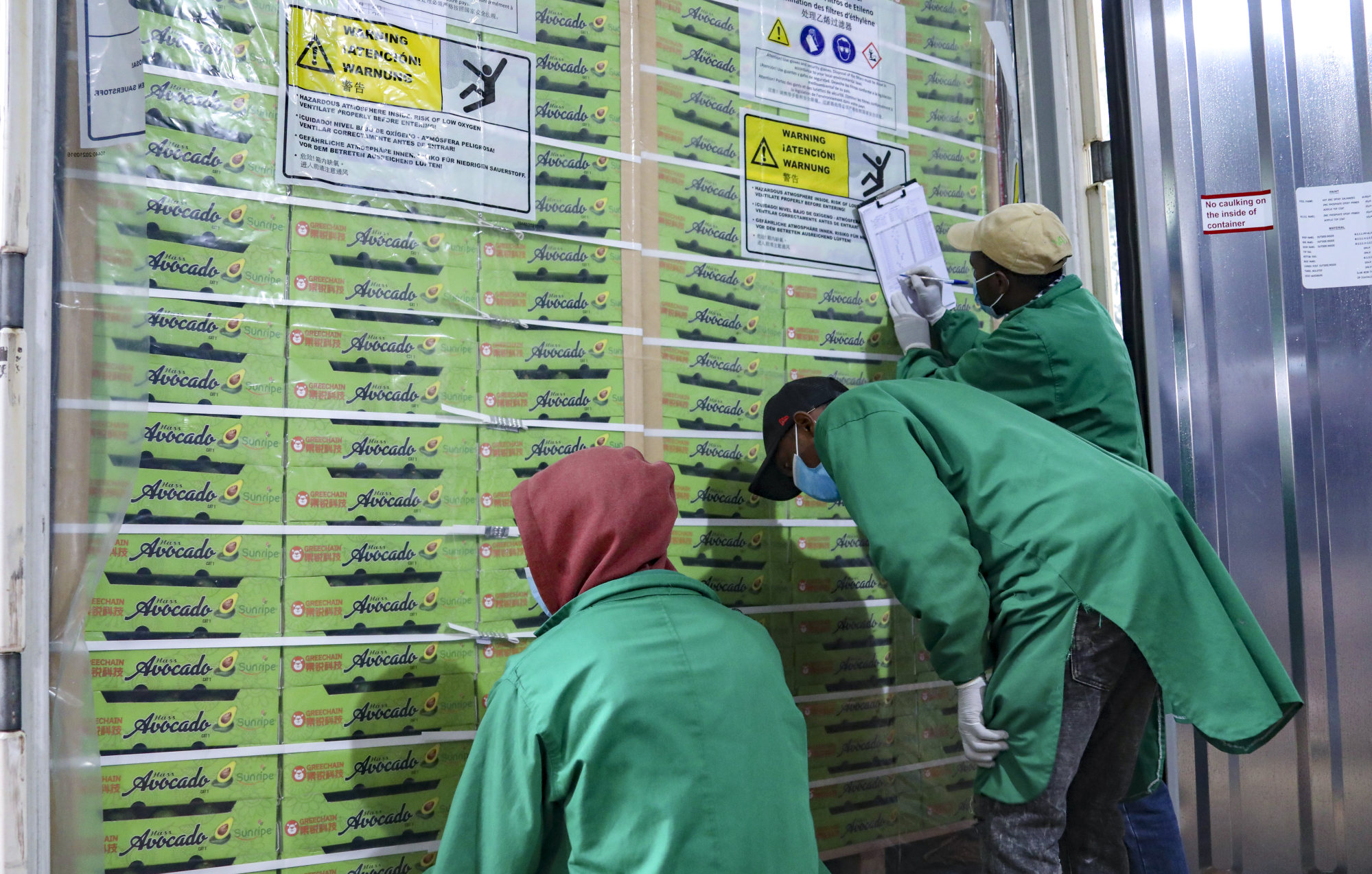 Tanzanian President Samia Suluhu Hassan's
state visit to China
two weeks ago saw bilateral protocols signed to grant duty-free access to 98 per cent of Tanzanian products, with Beijing promising to increase imports of its specialty goods.
Tanzanian avocados and wild seafood will also soon enter the Chinese market, thanks to newly signed sanitary certification, inspection and quarantine protocols.
Yike Fu, a policy analyst at Development Reimagined, a Beijing-based think tank that advises African traders on ways to access the Chinese market, said African nations needed to increase the range of products eligible for export so as to make the duty-free, quota-free scheme work more effectively for them.
She said such interventions would include agricultural extension services – offering technical support to farmers – and more funding for the farm sector, such as for cold storage and logistics.
"From the Chinese side … sharing technical know-how in agriculture could also help with boosting productivity. This is now possible since FOCAC 2018 and FOCAC 2021 gave agricultural cooperation special attention," Fu said.
"There is still considerable confusion among African stakeholders about the meaning and implementation of green lanes. We are hoping this will be addressed very soon by the [Chinese] customs authorities," she added.
Lauren Johnston, a China-Africa researcher at the South African Institute of International Affairs, said the logic around expanding zero-tariff access was that China was "preparing to become a trade powerhouse".
"I think there's going to be a useful role for the Hainan free-trade zone," Johnston said, referring to Xi's pledge at last month's
20th Communist Party congress
that China would "work faster to develop the Hainan Free Trade Port and upgrade pilot free-trade zones".
"[Hainan] might even become something of a visa-on-arrival hub for trade with China … so people can arrive just to this island, but not go from there to the mainland."
However, some observers do not expect the tariff waiver to significantly transform China's imports from the LDC nations.
"Most of these countries' exports to China are concentrated in fuels and metals, which face low or zero tariffs anyway," said Jamie Macleod, trade policy fellow at the London School of Economics' Firoz Lalji Institute for Africa.
As much as 87 per cent of China's imports from African countries are fuels, ores and metals, Macleod noted.
"[Nevertheless], the move is a promising start that could be more impactful if China buttressed it with targeted awareness campaigns, investments, and support to assist these countries in diversifying their exports."