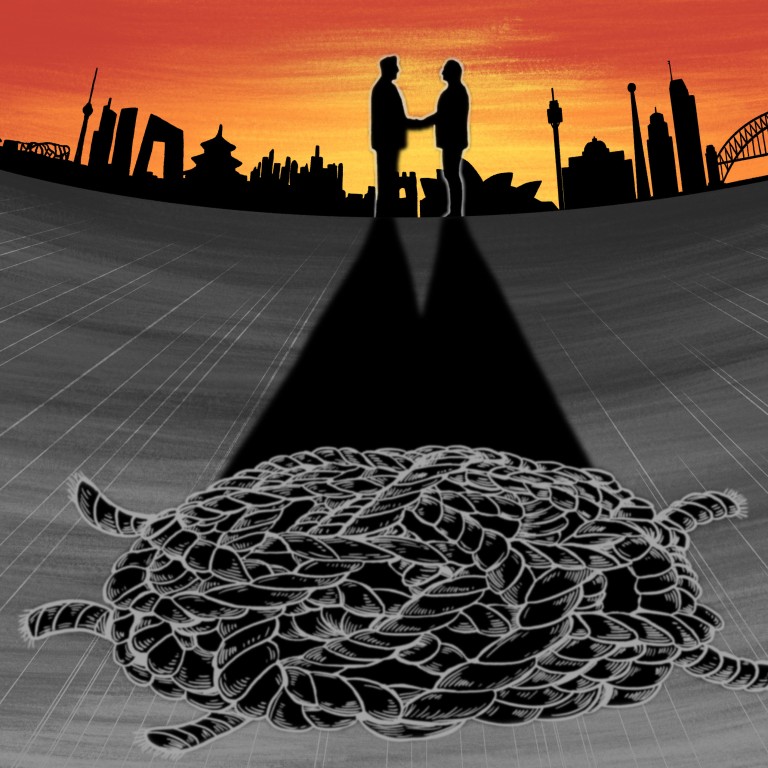 Xi-Albanese meeting signals thaw in China-Australia ties, but experts say tensions remain
Trade at top of Australian PM's agenda in first formal talks between leaders in six years
Chinese president says 50-year-old relationship needs 'to be cherished by both sides'
After a long diplomatic freeze, Xi and Albanese met on the sidelines of the
G20 summit
in Indonesia in the first formal meeting between the leaders of the long-time trade partners in six years.
Xi had not had a formal bilateral meeting with an Australian prime minister since 2016, and only had a brief discussion with Albanese's predecessor, Scott Morrison, during the G20 summit in Japan in 2019.
Tuesday's half-hour meeting was widely seen as representing a thaw in bilateral ties, even though no breakthroughs were made on points of contention ranging from trade to human rights and national security concerns.
The two leaders expressed their willingness to stabilise relations, which Xi said would be beneficial to regional and global peace and development. He added that Sino-Australian ties needed "to be cherished by both sides" as next month's 50th anniversary of the establishment of bilateral relations drew near.
They acknowledged their economies were "highly complementary" and talked about trade, which seemed to be at the top of Albanese's agenda. Before his trip to Bali, he said he would ask Xi to lift restrictions on A$20 billion (US$13.4 billion) worth of Australian exports, but no progress on that front was announced following their meeting.
Xi also called for a better investment environment for Chinese businesses in Australia, a topic Albanese did not touch on in his statement or news conference after the meeting.
Bates Gill, executive director of the Centre for China Analysis with the Asia Society, said the overall atmosphere between China and Australia had "definitely improved from a very low point" as a result of the meeting, but he did not expect Xi would make any "immediate concessions" to Albanese's demands.
"I think if there's going to be some movement on these matters … it's going to require continued negotiation between the two sides," he said. "And obviously, China is going to be seeking some concessions on Australia's part in order to meet those requests.
"I think we need to be patient and not expect a quick breakthrough."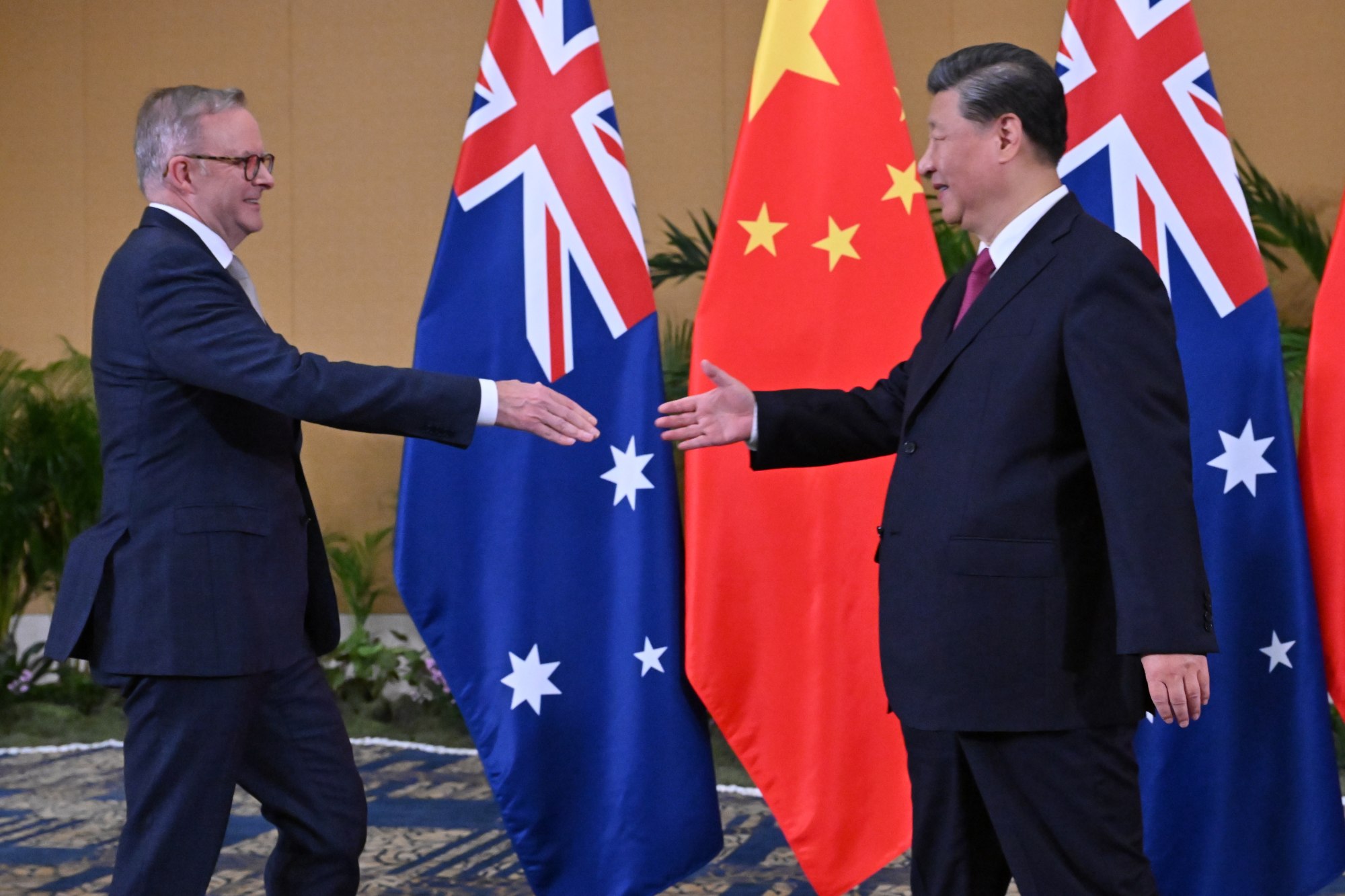 Einar Tangen, a senior fellow at Taihe Institute, a think tank based in Beijing, agreed that while it was "cordial in tone", the meeting did not achieve any breakthroughs.
"As the global recession sets in, Albanese is trying to regain access to the Chinese markets, without angering Washington," he said.
"For Beijing, such meetings are about getting countries to think regionally and globally about their economic and political interests."
Zhou Shixin, an Asia-Pacific politics and economy expert at the Shanghai Institutes for International Studies, said China-Australia ties had some foundation for improvement, as their economic cooperation had shown great potential.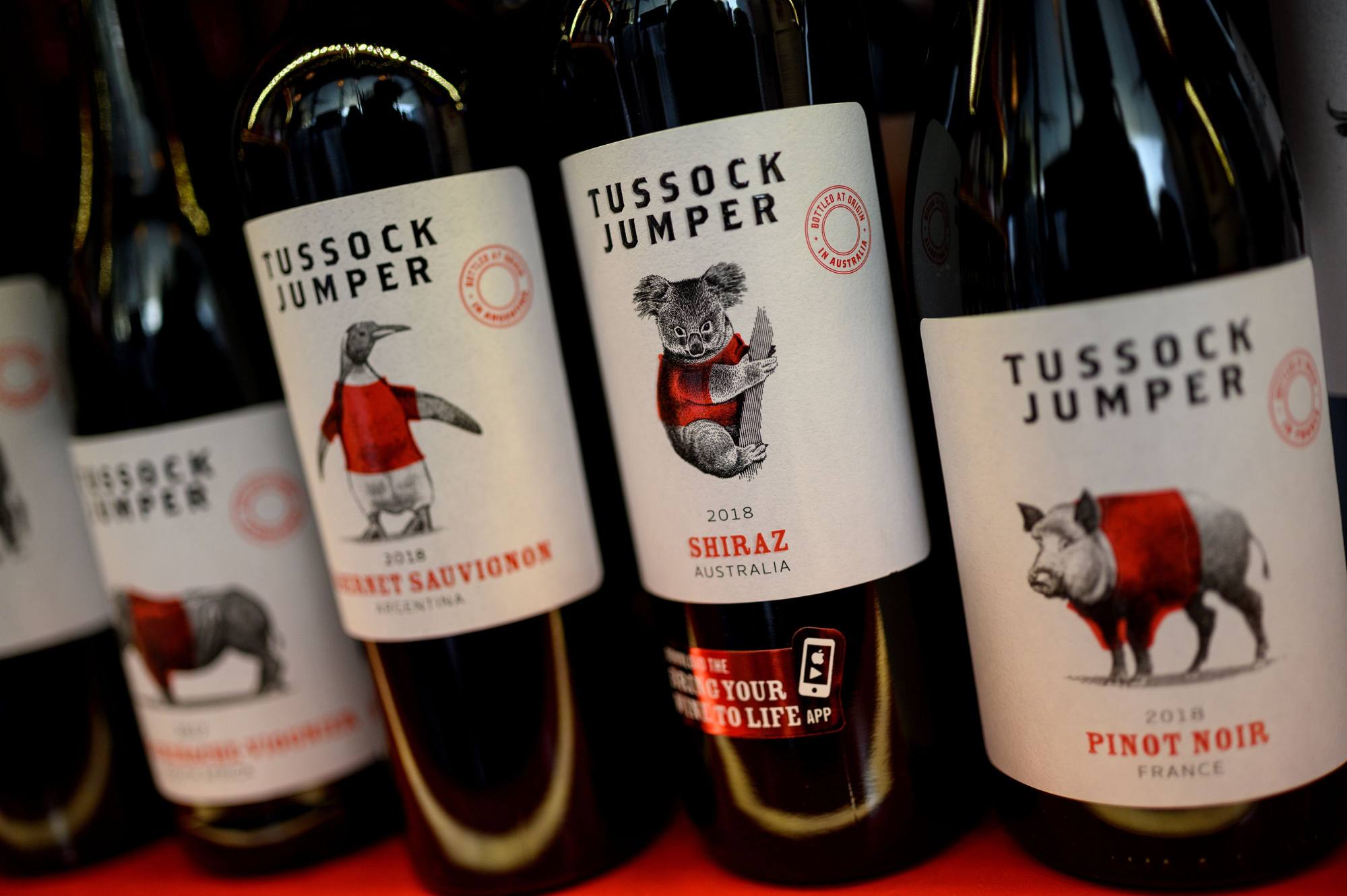 "The investment of Chinese enterprises has played an important role in promoting the economic development of Australia," he said. "Australia should not set up barriers for Chinese investment any more. China hopes that Australia will also take concrete measures to provide favourable preconditions for improvement of their relations."
Australia's relations with China experienced a sharp downturn in early 2020, when Beijing imposed sanctions on a wide range of imports from Australia – including coal, barley, wine, beef and seafood – after Canberra called for an
international inquiry into the origins of Covid-19
. Most of those restrictions remain in place.
Chinese investment in Australia plunged 70 per cent last year from the US$1.9 billion seen in 2020, according to a study by KPMG and the University of Sydney. Chinese businesses have faced tightened scrutiny, especially on deals involving critical infrastructure, since Australia revamped its foreign investment law to meet national security concerns in 2020.
According to Australian media reports, China Merchants Port Holdings could be forced to give up its 50 per cent stake in the Port of Newcastle in the Australian state of New South Wales because the area is being considered as the
home for the nuclear submarine fleet
Australia will acquire through the Aukus deal it signed with the United States and the United Kingdom last year.
The trade disputes led to the suspension of diplomatic talks between Australia and China for more than two years, until the Albanese-led Labor Party won a federal election in May and ousted Morrison's conservative coalition government.
Defence Minister Wei Fenghe met Australian counterpart Richard Marles at the Shangri-La security summit in Singapore in June, in the first ministerial meeting between the two countries since the trade disputes started. Foreign Minister Wang Yi then met Australian counterpart Penny Wong at the G20 foreign ministers' meeting in Bali in July, and Albanese met Premier Li Keqiang at this month's Asean summit in Cambodia before his meeting with Xi.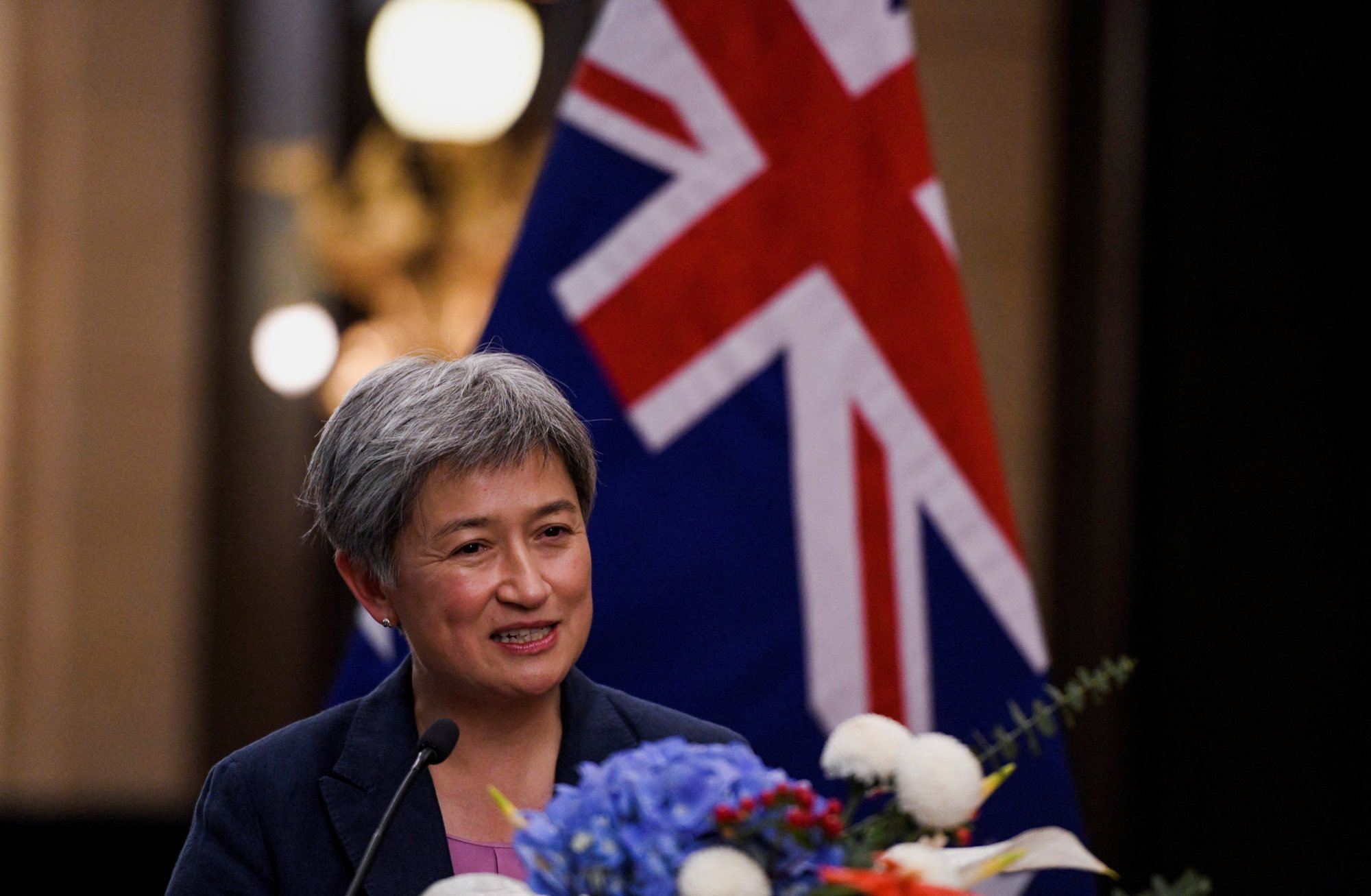 On November 14, Australian Trade Minister Don Farrell also signalled Canberra was open to ending the WTO dispute with Beijing – a move seen as creating the ground needed for the next day's Xi-Albanese meeting.
Besides trade disputes, Canberra's ties with Beijing have also been clouded by a range of other issues including alleged Chinese interference in Australia's elections, human rights concerns in Xinjiang, and national security.
In 2018, Australia became the first country in the Five Eyes intelligence alliance – which also includes the US, UK, Canada and New Zealand – to ban Huawei and ZTE telecommunications equipment, citing national security concerns. It was also unsettled by a China-Solomon Islands security pact this year that prompted speculation about the establishment of a military base in Australia's backyard, something denied by Beijing.
The two have also engaged in occasional muscle-flexing in the South China Sea, with an Australian P-8 reconnaissance aircraft being intercepted by a Chinese J-16 jet fighter in May. The Australian Defence Ministry accused the Chinese fighter of causing a "dangerous manoeuvre" in mid-air, while Beijing criticised Australia for what it said was a "provocative" act and insisted the measures taken by the Chinese aircraft in response were professional.
As tensions have grown between Washington and Beijing, Australia joined the US and Japan in condemning mainland China's military actions near Taiwan following August's visit to the island by Nancy Pelosi, the speaker of the US House of Representatives. However, many observers said Australia's stand also exhibited restraint because it had called on both Washington and Beijing to de-escalate the situation.
Meanwhile, a growing perception that Taiwan could become the next flashpoint in the Asia-Pacific region has prompted discussion about whether Australia would want to be involved in any cross-strait contingency. Australian opposition leader Peter Dutton said in November last year, when he was the country's defence minister, that "it would be inconceivable that we wouldn't support the US" if a crisis broke out.
Mainland China and Taiwan split in 1949 at the end of a civil war, when the Kuomintang was defeated by Communist Party forces and fled to Taipei. Beijing sees the island as part of China and has not ruled out the use of force to take control of it. Most countries, including the US, do not recognise Taiwan as an independent state. Washington, however, opposes any attempt to take the island by force.
US President Joe Biden has repeatedly said he would defend Taiwan, and seems to be actively preparing his Indo-Pacific allies for a possible crisis in the Taiwan Strait. Apart from the controversial Aukus deal that was criticised by Beijing as "triggering a regional arms race", Australian media reported last month that Washington plans to deploy six nuclear-capable B-52 bombers to an airbase in Darwin, the capital of Australia's Northern Territory.
Hugh White, emeritus professor of strategic studies at the Australian National University and a former deputy secretary for strategy at the Australian Department of Defence, said Australia's involvement in the Aukus deal and the B-52 bomber plan show Canberra would support Washington militarily in a war with Beijing over Taiwan.
"It still unconditionally supports America's efforts to contain China and preserve the US-led regional order – by going to war with China if necessary," he said.
Speaking before the Xi-Albanese meeting, he said it would be a welcome development in Australia-China relations, but "fundamental differences in strategic outlook between the two countries will remain".
"The new Albanese government has softened Canberra's rhetoric on China but it has not changed Australia's basic strategic position," he said. "Australia remains committed to opposing China's bid for more influence globally and especially in this region."
However, James Laurenceson, director of the Australia-China Relations Institute at the University of Technology Sydney, said Canberra's "deft diplomacy" in the aftermath of Pelosi's visit showed it was starting to diverge from the path adopted by Washington.
"On tensions in the Taiwan Strait, Australia's position has been far more consistent than Washington's," he said. "I think Beijing can live with Canberra's position, albeit monitoring it closely for changes."
He added it would also take years for Australia to "meaningfully be involved in a Taiwan Strait crisis" as the outcome of the Aukus deal remained unclear.
There is no delivery date for the nuclear submarines the US and UK will help Australia develop. Australian Defence Minister Richard Marles signalled in June that the likely delivery date will be in the 2040s.
While acknowledging there was "no going back" to 2015, when bilateral ties prospered in trade, investment, tourism and education, Laurenceson said: "Australia is now closer to getting its China relationship back on par with the more calm and constructive engagement maintained by other US allies and partners in the region".
And as Biden seems to have softened his tone on Taiwan following his meeting with Xi at the Bali summit, former Australian prime minister Kevin Rudd told Bloomberg last week that it may create "greater space" for American allies in the region, including Australia.