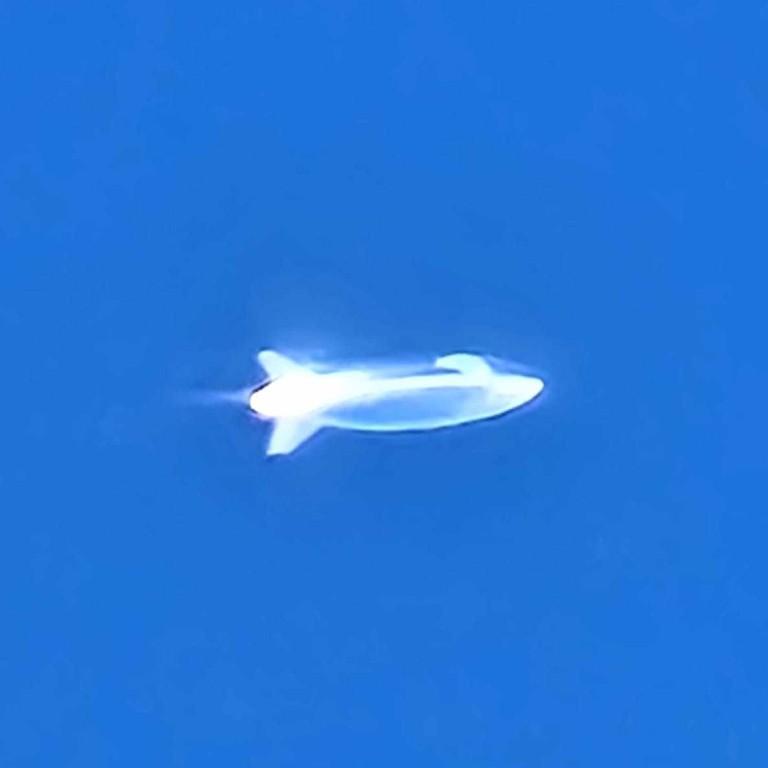 Mystery airship spotted over Philippines near South China Sea
Images of an unidentified craft near Subic Bay have sparked speculation it could have been collecting military intelligence
There is no evidence the airship was from China, though its design appears similar to types on display at the Zhuhai air show
An unidentified high-altitude, long-endurance airship spotted near a former US naval base in
the Philippines
has raised concerns that some countries in the region are using stratospheric airships to collect military intelligence.
Images of the stratospheric airship – allegedly taken in Pangasinan province, about 100km (62 miles) from
Subic Bay
in the northern Philippine island of Luzon – were first posted on Facebook last weekend. The pictures were deleted, but not before they were also shared on Twitter.
There is no evidence that the airship was from China, although its design appears to be similar to several unmanned types developed by the state-owned Aviation Industry Corporation of China's Special Aircraft Research Institute and other scientific academies.
These have been displayed at the biannual AirShow China in Zhuhai, in the southern province of Guangdong, since 2014.
The proximity of the airship to the former US base in Subic Bay, which adjoins the
South China Sea
– subject to competing territorial claims from China, the Philippines and other countries in the region – has led to speculation Beijing may be collecting military information.
A report published by the American website The Drive on its War Zone blog said the general shape of the apparent airship had "broad similarities" to a number of high-altitude, long-endurance types known to be under development in China.
"The Chinese military … is known to be exploring high-flying lighter-than-air platforms capable of performing intelligence, surveillance, and reconnaissance missions … which would be well suited to operations in this region," the report said.
Stephen Burgess, a professor in the department of international security studies at the US Air War College, said US bases in the Philippines were replaced with a visiting forces agreement in 1991.
"So surveillance would be for joint exercises," he said, adding that he had not heard that China's military was using airships.
The stratospheric airship is a new concept in autonomous atmospheric flight platforms. Its ability to operate for extended periods at very high altitudes makes its suitable for a range of military and commercial uses, including monitoring, surveillance, and scientific exploration.
While China has achieved significant results in its development of stratospheric airships, Beijing has stressed they are only used for scientific research.
"The utility of such a platform to conduct surveillance would depend on the altitude it's being deployed at, and the physical range to any target of interest in the Philippines," said Collin Koh, a research fellow at Singapore's Institute of Defence and Strategic Studies.
"Hence, it's not the case that deploying such an airship will address all of China's intelligence, surveillance and reconnaissance (ISR) needs in the South China Sea. At best, the airship would be part of the entire array of such ISR tools Beijing may tap on."
Former PLA instructor Song Zhongping said if the airship was flying above Philippine airspace it would have been in accordance with international law.
"No matter what country the airship belongs to, or what it is doing, it has rights to fly freely if it doesn't intrude into the airspace of the Philippines," he said.
The alleged sighting has coincided with a row between Beijing and Manila over an incident last month, in which the Chinese coastguard was accused of "forcefully retrieving" rocket debris from Filipino soldiers in the disputed waterway.
Beijing has denied the claims, arguing the coastguard was merely retrieving parts from the launch of China's Long March 5B rocket.
It is not the first time an apparent airship has been spotted in the South China Sea. In November 2019, Israeli satellite company ImageSat International (ISI) captured images of an airship-shaped object floating over Mischief Reef, a disputed atoll controlled by the Chinese military.
Besides China, the US, France and other Western countries are also developing high-altitude airships powered by green energy. China Aviation Industry General Aircraft has been working with French partner Flying Whales since 2016 to develop a 60-tonne capacity airship, dubbed LCA60T.
In May, Chinese scientists announced the launch of the latest model Jimu-1 aerostat, a helium-filled tethered airship weighing 2.6 tonnes and with a volume of 9,060 cubic metres (320,000 cubic feet).
According to a report by state-owned China Daily, the airship will collect weather data at a world-record altitude of 9,032 metres (29,600 feet) from the Qinghai-Tibet Plateau.
The War Zone blog reported in July last year that China had built giant hangars – which it speculated could host military airships – near Bosten Lake, site of a secretive PLA Air Force base for unmanned platforms in the Xinjiang Uygur autonomous region.