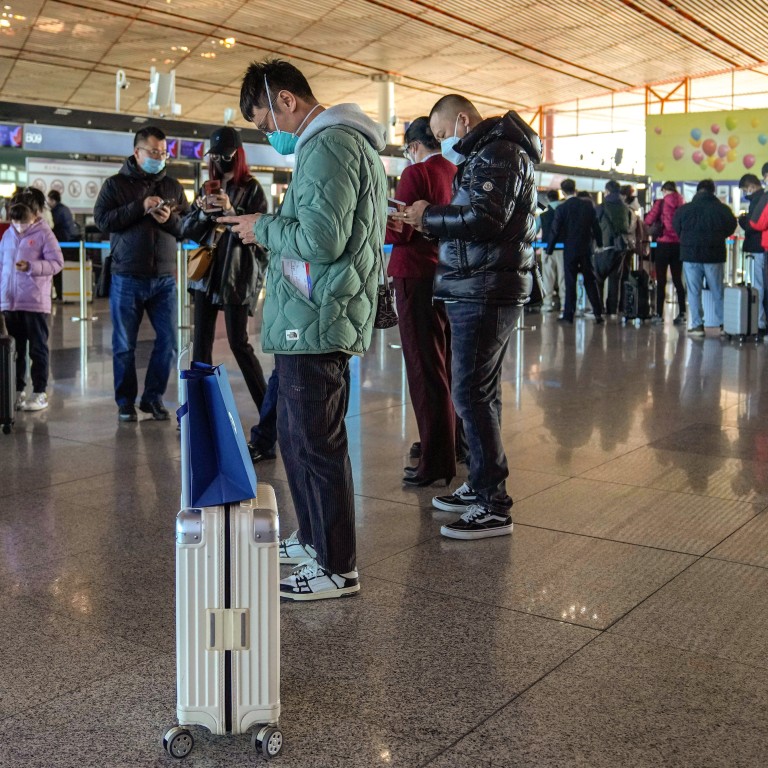 China's reopening presents rest of world with dilemma: put out the welcome mat or tighten border controls?
Countries such as the US, Japan and Italy are testing new arrivals, while other countries are actively courting Chinese tourists
Many European countries as well as Australia and New Zealand have started campaigns on social media saying they welcome visitors from China
At least six governments have announced new restrictions on new arrivals from mainland China, but other countries have launched or stepped up campaigns aimed at attracting Chinese visitors with slogans such as "waiting for you" or "waiting until I see you".
The tourism boards in many European countries, as well as Australia and New Zealand, are among those trying to lure visitors on Chinese social media.
Spain's tourist board posted pictures of Barcelona with slogans that read: "After three whole years, Spain is finally done waiting for you!", while similar posts were made by other countries, including Norway, Austria, Portugal, Switzerland and the Netherlands.
The hashtag "many countries have posted on Weibo to welcome Chinese tourists" trended and reached over 2.3 million views on the platform as of Thursday noon.
On Tuesday a post from the French embassy that read "Chinese friends, France welcomes you with open arms" received an overwhelmingly positive reaction online, attracting comments such as "our French friends are also welcome to be our guest and travel in China".
Other web users contrasted France's approach with those of the US, Japan and Italy, who now mandate travellers from China to be tested before or upon arrival.
The Italian authorities have said they will begin testing all arrivals from China after almost half of the passengers on two flights to Milan were found to have the virus. Stricter curbs could also be imposed if the Milan tests indicate there are new variants.
Meanwhile Indonesia and the Philippines said they had no plans to impose extra restrictions on Chinese travellers, with the latter saying it needed to open up its economy and there was no need to shut the country's borders.
On Sunday Beijing announced that starting on January 8, limits on the number of international passenger flights will be removed, and the authorities will start renewing passports and permits to visit Hong Kong and Macau after almost three years of tight restrictions.
The changes are expected to boost outbound travel for tourism, business and students as well making it easier for people to enter mainland China.
But the changes come amid a surge in infections following the lifting of many internal curbs and growing concern that the rapid spread of the virus could lead to the emergence of new variants.
However, Xu Wenbo, director of the national institute for viral disease control and prevention at the Chinese Centre for Disease Control and Prevention told the state news agency Xinhua on Tuesday that all nine subvariants of the virus detected in China since December "belong to the Omicron strain".
Yet, official government figures estimated that almost 37 million people had been infected on a single day last week.
China was a major spender in global tourism before the pandemic struck, accounting for US$255 billion, or almost 20 per cent, of all overseas tourism spending in 2019, according to the World Tourism Organisation.
This halved to US$131 billion the following year and dropped further to US$106 billion in 2021.
On Thursday, Chinese foreign ministry spokesman Wang Wenbin, for the second day in a row, urged foreign governments to adopt a scientific approach and treat all travellers equally.