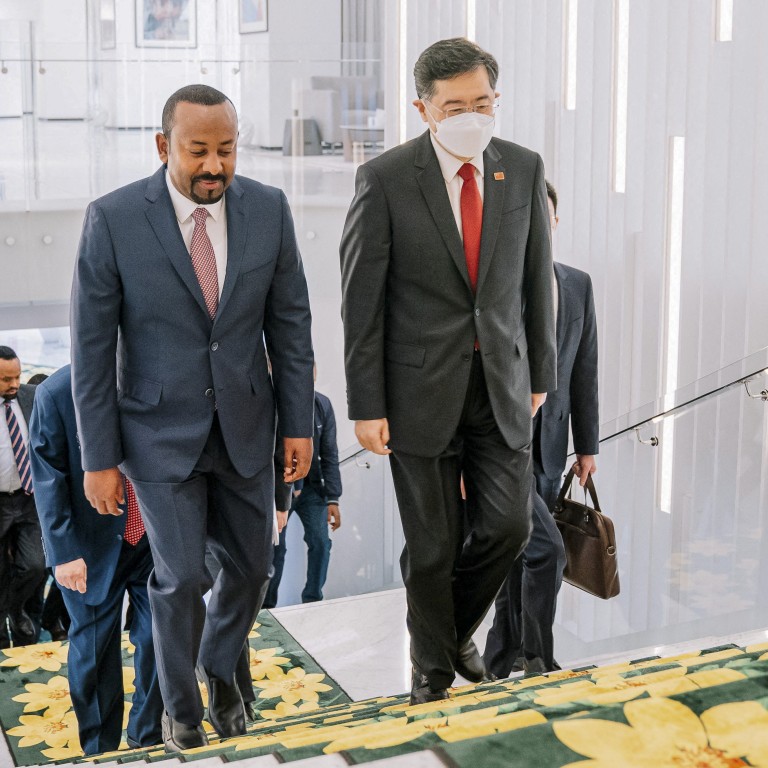 China pledges support for reconstruction efforts in war-torn Ethiopia
Foreign Minister Qin Gang said Beijing would encourage more Chinese investment there during talks with Prime Minister Abiy Ahmed
Qin also attended a ceremony to open the new Chinese-financed Africa CDC headquarters in Addis Ababa, his first stop on a week-long tour
China will support reconstruction efforts in the northern region of Ethiopia devastated by the Tigray war, newly appointed Foreign Minister
Qin Gang
said.
Qin made the pledge during a meeting with Ethiopian Prime Minister Abiy Ahmed in the capital Addis Ababa on Tuesday, his first stop on a
week-long tour
of five African nations.
Beijing was willing to expand bilateral cooperation in various fields and would "encourage more Chinese companies to invest in Ethiopia and participate in the reconstruction process", he said, according to a Chinese foreign ministry readout.
Qin said China had sent food, vaccines and other humanitarian aid to help people in war-torn areas. "We will continue to do so and will be actively involved in rebuilding conflict-affected areas," he added.
During the talks, Qin also expressed hope that Ethiopia would provide a good business environment and take effective measures to protect the safety and legitimate rights and interests of Chinese workers and institutions.
China evacuated about 600 citizens working on engineering projects and industrial parks in Tigray in 2020, when fighting broke out between the Ethiopian National Defence Force and the Tigray People's Liberation Front (TPLF). Many of the Chinese companies had to suspend operations.
Ahmed noted that Ethiopia was the first stop on Qin's first overseas trip as foreign minister, which showed "the profound friendship between our two countries and the importance of bilateral relations".
He said cooperation between Ethiopia and China in areas such as infrastructure, the green economy and agriculture had seen remarkable results. "It has helped Ethiopia's economic growth rank among the top in Africa. More Chinese companies are welcome to invest in Ethiopia," he said.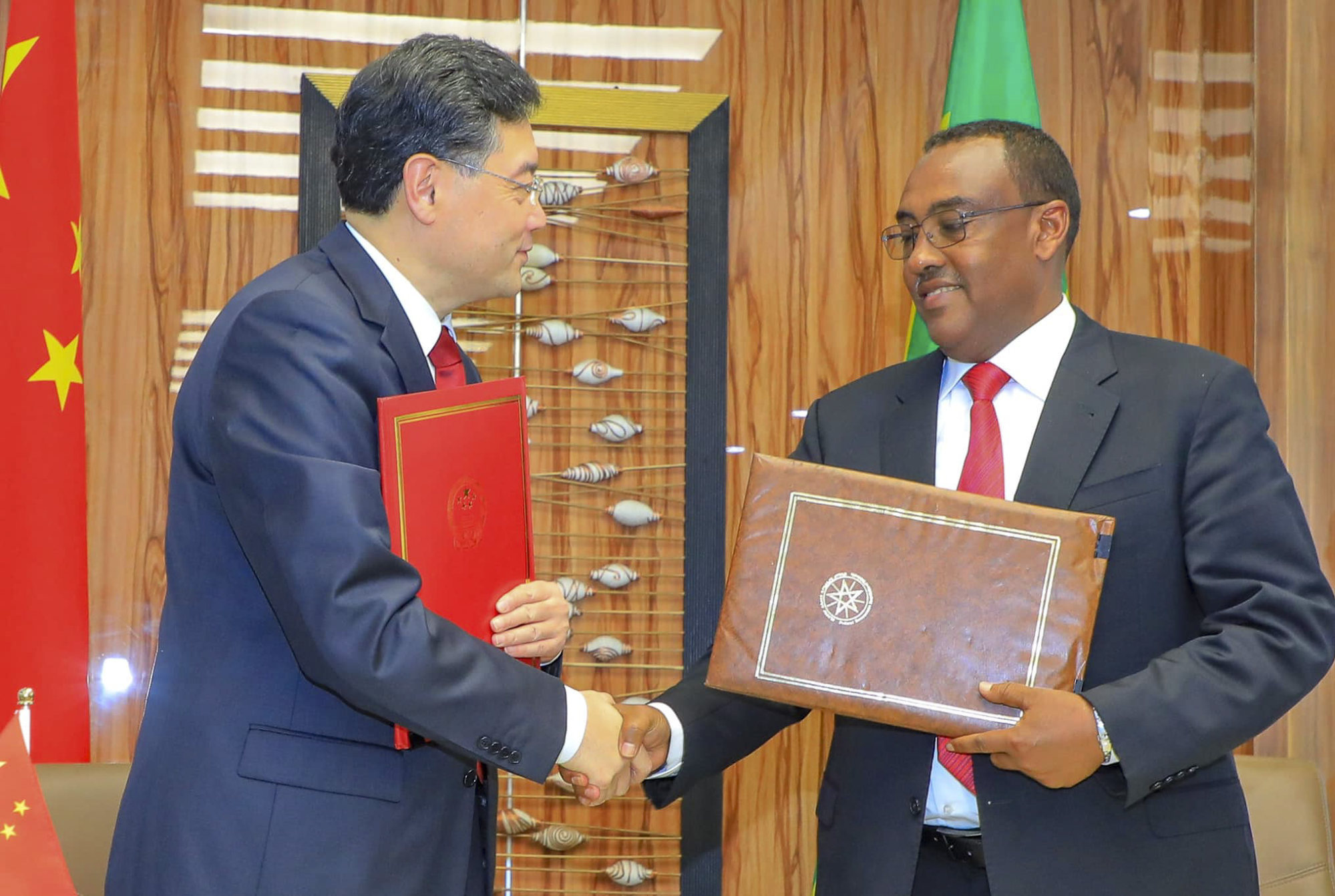 Qin, who until recently was ambassador to the US, also held talks with Ethiopian Deputy Prime Minister and Foreign Minister Demeke Mekonnen, with the two sides signing a memorandum of understanding on political consultations between their foreign ministries.
The visit comes two months after the Ethiopian federal government and the TPLF signed a peace agreement to end hostilities in the northern part of the country.
The civil war – which has claimed thousands of lives – erupted in November 2020 after Ahmed's government accused the TPLF, a leftist political party, of attacking its military base to steal weapons.
China has been a key supporter of the Ahmed government as the country faced pressure from Western countries over alleged human rights violations committed by Ethiopian forces in Tigray.
While the United States cut aid and suspended Ethiopia from the Africa Growth and Opportunity Act – which provides African countries duty-free access to US markets – China accused the US of "meddling" in Ethiopia's internal affairs.
On Tuesday, Qin said China was pleased with the implementation of the ceasefire agreement between the federal government and the TPLF, and that it "believed in the wisdom and ability of the Ethiopian people to independently resolve internal differences". He said China supported "Africans in solving African problems in African ways".
Qin also noted that China had organised a
peace conference
in the Horn of Africa in June last year, saying it made "positive contributions to building consensus among all parties and promoting peaceful development".
To help broker peace in Ethiopia and other Horn of Africa nations – including Somalia, Sudan, South Sudan and Eritrea – Beijing last year appointed Xue Bing as China's peace envoy for the Horn of Africa. Xue has since visited the region several times.
Tim Zajontz, a research fellow at the Centre for International and Comparative Politics at Stellenbosch University in South Africa, said the Ethiopian government's handling of the conflict in the Tigray region had caused lasting damage to the country's reputation, especially in the West. "Beijing, however, has remained a staunch supporter of Abiy Ahmed's government which is keen to receive more Chinese aid and investments," Zajontz said.
Ethiopia is a key Chinese ally, partly due to its geopolitical significance in the Horn of Africa since the country is the seat of the African Union. It is also strategic for China as it seeks to expand its multibillion-dollar
Belt and Road Initiative
.
According to the Chinese Loans to Africa Database at Boston University's Global Development Policy Centre, China pledged US$13.7 billion in loans to Ethiopia between 2000 and 2020 that have gone into building roads, power dams and railways.
Qin said a number of key cooperation projects – such as the Addis Ababa-Djibouti Railway, the Addis Ababa Light Rail, Riverside Green Development and the African Leadership Academy – had been successfully completed or implemented.
On Wednesday, he joined African Union Commission Chairman Moussa Faki Mahamat to inaugurate the new Chinese-financed Africa Centres for Disease Control and Prevention headquarters in Addis Ababa.
Qin called it "another landmark project of China-Africa cooperation" that "will surely make greater contributions to Africa's health cause and people's health and well-being".
The building has been built, furnished and equipped by China as a gift for Africa at a cost of US$80 million.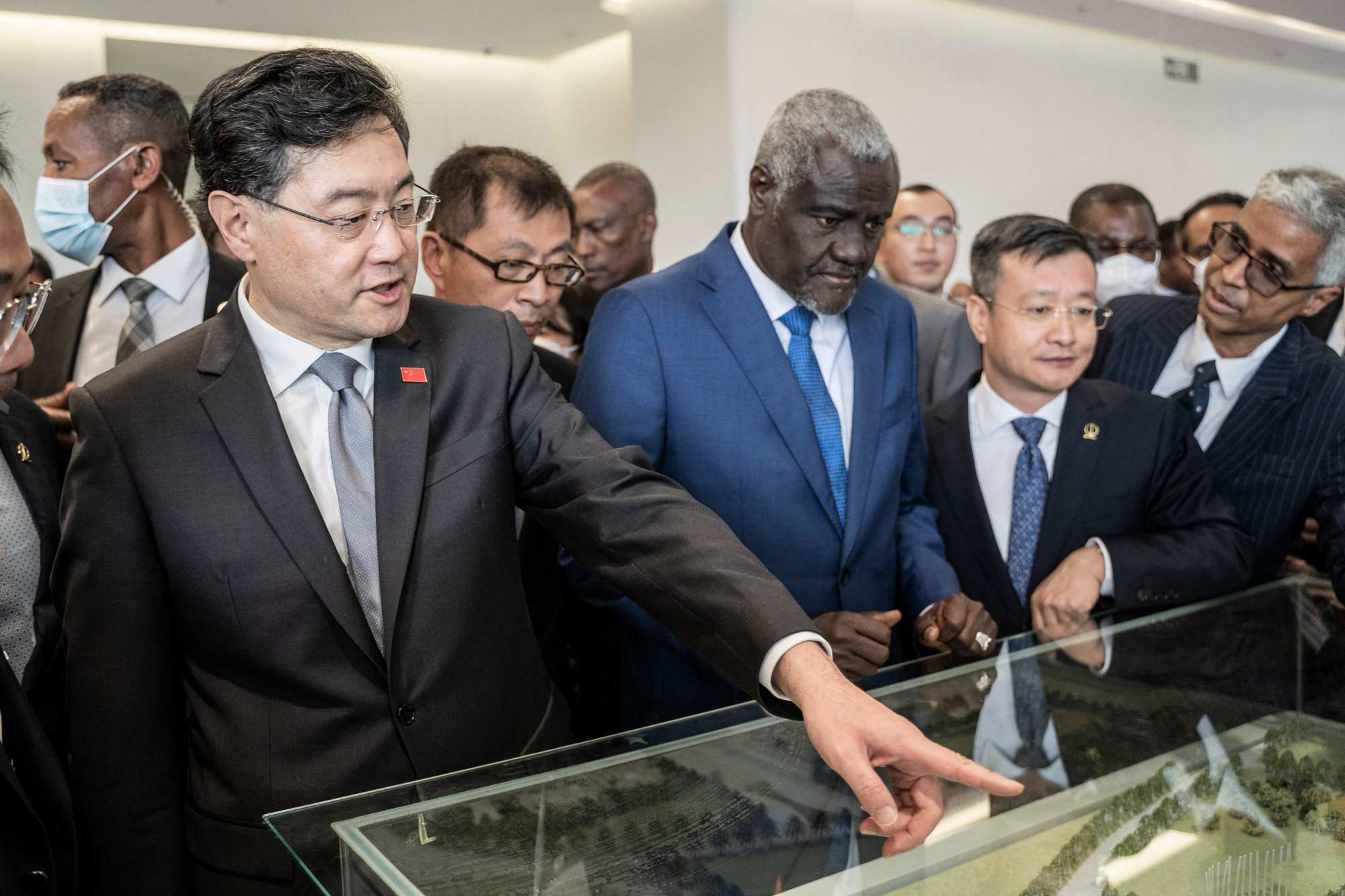 China's foreign minister will also visit Gabon, Angola, Benin and Egypt during his tour.
Seifudein Adem, an Ethiopian global affairs professor at Doshisha University in Japan, said the trip showed China was keen to continue a long-standing commitment to put relations with Africa at the top of its diplomatic agenda.
"If there was a desire on the part of China to do otherwise, this would be the right time to make the necessary adjustments – when one top diplomat was replaced by another," he said, referring to Qin taking over from Wang Yi as foreign minister. "The visit is good news for Sino-African relations."
Lauren Johnston, a China-Africa researcher at the South African Institute of International Affairs, said Ethiopia was almost always on the itinerary since the African Union headquarters is located there, but it was especially important in times of conflict, drought and debt fears.
She noted the politics over the Grand Ethiopian Renaissance Dam, a US$4.6 billion hydropower project that Ethiopia is building across the Blue Nile. The dam has been a source of tension in the Nile basin since the project broke ground in 2011. Sudan and Egypt have said that using water from the Blue Nile – on which Egypt is heavily dependent – to fill the Ethiopian dam could lower the river's water levels.
Lukas Fiala, coordinator of the China Foresight project at the London School of Economics, said the trip was an opportunity for Qin "to lay the foundation for future engagement with African counterparts".
Fiala noted the length of the tour and inclusion of key partners such as Angola and Egypt. "This reflects China's heightened diplomatic outreach as [President] Xi Jinping has returned to the world stage after years of isolation due to the pandemic," he said.