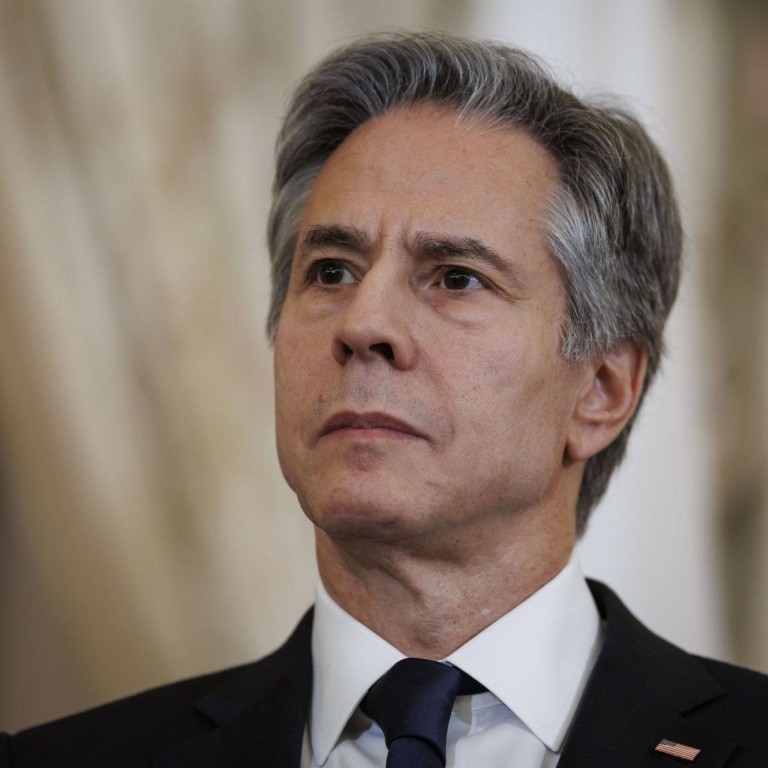 China signals desire to work with US on trade and climate change but remains defiant on defence
Officials discuss business and global warming ahead of US Secretary of State Antony Blinken's China trip, marking thaw after talks suspended in summer
However, security is still a sticking point as Beijing reportedly refuses South China Sea talks and Washington strengthens Tokyo ties
China has signalled to the United States that it is willing to cooperate on trade and climate change but will remain defiant on issues related to defence and security ahead of an anticipated trip to Beijing by US Secretary of State
Antony Blinken
.
Blinken is expected to visit Beijing in February to help reset China-US relations following years of rising tensions over the South China Sea, Taiwan, trade and human rights. The trip was agreed upon by Chinese President Xi Jinping and his US counterpart Joe Biden
during their November meeting
on the sidelines of the G20 summit.
Trade and climate change officials from the two countries have spoken in recent days and agreed to hold further dialogues. But Beijing has reportedly turned down a US offer to hold military talks on
South China Sea
tensions.
During a video conference with US-China Business Council president Craig Allen on Thursday, Chinese Commerce Minister Wang Wentao said China was willing to listen to the opinions of American companies and work with Washington to promote cooperation.
Wang said China was willing to "continuously improve" to foster a market-oriented, law-based and internationalised business environment, according to a Commerce Ministry statement on Friday.
"Both sides agreed to keep communicating to jointly handle the challenge of climate change," said a brief statement from China's Ministry of Ecology and Environment on Thursday.
"China and the US are seriously exploring the parameters of a series of mutual compromises aimed at normalising their relations via their recent resumption of high-level diplomacy," said Andrew Korybko, a Moscow-based international relations analyst, who described the two sides as "pursuing a new detente".
In an opinion article in The Washington Post earlier this month, Qin Gang – now China's foreign minister after serving as ambassador to the US – said bilateral ties would remain open.
"My time here also reminds me that China-US relations should not be a zero-sum game in which one side out-competes the other or one nation thrives at the expense of the other. The world is wide enough for China and the United States to both develop and prosper," he wrote.
But Beijing is maintaining a tough stance on security. After Washington and Tokyo vowed to boost defence ties, citing concerns over China, the Chinese foreign ministry warned the US and Japan not to "harm the interests of third parties".
The Voice of America reported on Monday that Beijing had turned down a call between US Defence Secretary Lloyd Austin and his Chinese counterpart Wei Fenghe on January 6, citing unnamed US diplomatic sources.
The Chinese Defence Ministry did not comment on the Voice of America report.
Chinese military observers said tensions over the South China Sea and closer security ties between Washington and Tokyo had overshadowed China-US relations.
"The 'two-plus-two' dialogue between the US and Japan is unfriendly towards China," said former People's Liberation Army instructor Song Zhongping, referring to a defence and diplomacy dialogue held in Washington on Wednesday. During the talks, US and Japanese officials agreed that Beijing presents a "challenge" to the world.
However, Song said Blinken's trip would not be affected, and Beijing expected the US to continue its "containment strategy".
Climate change, trade, security and Taiwan are likely to be on Blinken's agenda. But analysts doubted whether any major agreements would be reached – even on climate change, which was once seen as a showcase for China-US cooperation.
"Climate cooperation has been hampered by the decline of bilateral ties, especially after Pelosi's Taiwan visit in August," said Li Shuo, senior climate and energy policy officer for Greenpeace East Asia. He added that Beijing has yet to show willingness to separate climate issues from the broader context of bilateral ties, as the US has requested.
"Hopefully Blinken's visit can help stabilise bilateral ties on climate and promote consensus on bilateral climate talks and possible cooperation," he said.
Li said that if a planned bilateral working group on climate starts operating soon, it would be a sign of eased tensions that could help pave the way for a US-China summit later this year.
Additional reporting by Shi Jiangtao and Cyril Ip