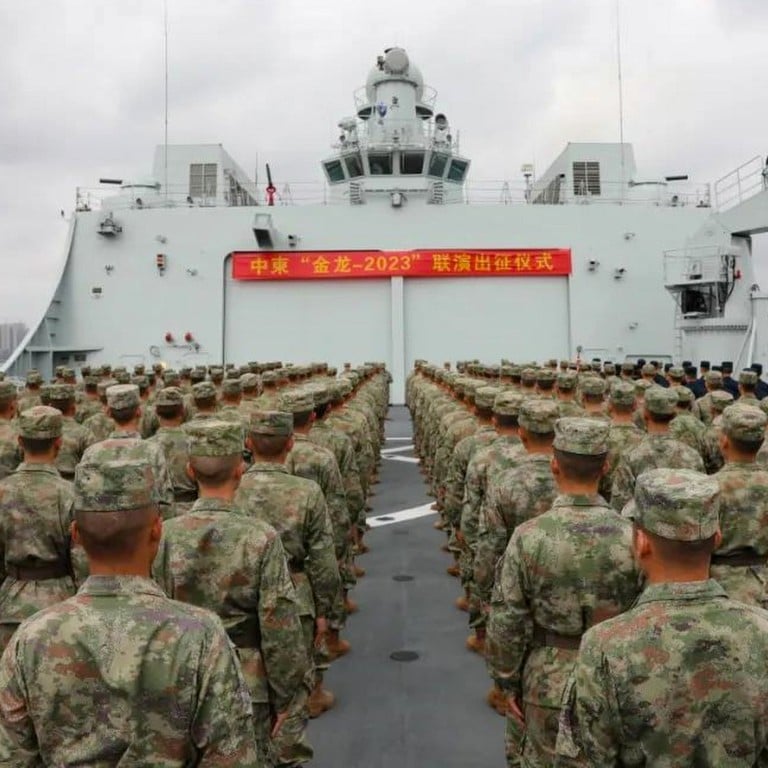 China, US draw on regional forces to scale up mutual deterrence
Joint exercises with Asia-Pacific partners have become common practice in competition between Washington and Beijing
But the strategy to deter the use of force is creating a situation with more risks than the Cold War, according to one analyst
The competition between
China and the US
in the
Asia-Pacific
region has seen the two powers scale up
military
exercises with their regional counterparts in a bid to discourage each other from using force, analysts said.
Defence observers said joint exercises with countries in the region had become common practice for the PLA and US forces, as a way to indicate their deterrent capabilities.
A team of 200 People's Liberation Army troops from the Southern Theatre Command naval base in Zhanjiang, Guangdong province, will take part in Golden Dragon 2023, 20 days of drills with Cambodia from March 20.
At the same time, the US and the Philippines announced their biggest ever annual war games will be held from April 11 to 18, with 17,600 personnel from both sides taking part, including around 12,000 Americans.
Colonel Michael Logico, director of the Philippine military's training centre, said the drills would include "live-fire exercises into the water" for the first time, according to Reuters.
The war games announcement comes less than six weeks after Manila and Washington agreed to restart joint patrols in the South China Sea. They also struck a deal to give US troops access to another four military bases in the Philippines.
Logico said the two militaries would stage an amphibious landing on the western island of Palawan, the closest Philippine land mass to the Spratly Islands – a flashpoint for Beijing and Manila – which are nearly 300km (190 miles) south of Taiwan.
Last week, the leaders of the US, Britain and Australia said Canberra would buy up to five conventionally-armed, nuclear-powered submarines from the US under the Aukus partnership, as part of an effort to thwart China's growing regional footprint.
The Pentagon advanced the concept of integrated deterrence last year in its National Defence Strategy (NDS), which seeks to use all tools of national power – across domains, geography and spectrum of conflict – to deter Beijing from attacking Taiwan.
Part of the strategy is persuading regional allies like Japan, Australia and the Philippines to be more inclined to support Washington's efforts to defend the self-ruled island, according to Bonny Lin, director of the Washington-based think tank Centre for Strategic and International Studies' China Power Project.
"This partnership [of Aukus] has deepened defence cooperation between the three militaries trilaterally and in various bilateral forms," Lin wrote, in a submission to the US Senate Armed Forces Committee in February.
"It has also raised concerns in Beijing about the extent to which Australia will be more active and capable of supporting the United States and other regional allies and partners in a crisis or conflict involving China."
Lu Li-shih, a former instructor at Taiwan's Naval Academy in Kaohsiung, said the US had implemented a more complex deterrence to link up its allies and partners, with Aukus helping Washington to promote the new concept.
Beijing has already expressed its strong opposition to Aukus and analysts warned that any expansion of the partnership would further complicate the existing hostile Sino-US bilateral ties and push China to speed up its combat-ready deterrence approach.
Retired PLA senior colonel Zhou Bo said Washington had realised its advantage was shrinking as the gap between the two countries' military strength narrowed year by year.
"Building a world-class military is Beijing's immovable goal and national policy," said Zhou, a senior fellow from the Centre for International Security and Strategy at Tsinghua University.
"But a stronger power like the US would not allow a rising rival like China to keep its rapid military modernisation, as it believes Beijing would challenge its [global] status once it becomes powerful enough," he said.
Zhou said the resulting situation was more risky and complicated than the Cold War era, when the US and the former Soviet Union's equal military capability and nuclear stockpile meant they were able to come up with a series of arms control treaties.
"In terms of overall military might and nuke capability, there is still a gap between Beijing and Washington, but both sides have yet to reach any specific consensus in the military domain," he said.
"That means we are now facing a more dangerous reality that might lead to any crisis at any time."
Beijing-based naval expert Li Jie noted that the US had not declared a war against a major power since the second world war, while Beijing would still prefer to solve the "Taiwan problem" through peaceful means.
"Beijing understands that Washington is trying to instigate and lure other countries as pawns to deplete the PLA's military strength, just like it has done in the Ukraine war to exhaust Russia," he said.