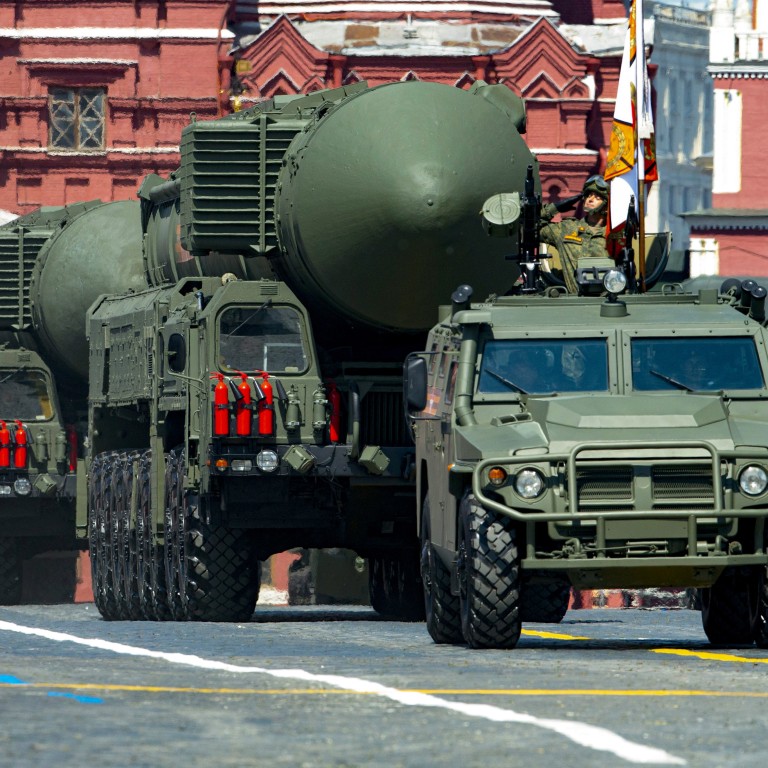 How Putin's Belarus nuke plan tangles China's Ukraine peace push
The Russian and Chinese presidents vowed just last week to not station nuclear weapons abroad
A series of European leaders are expected to visit Beijing to urge it to pressure Moscow
Moscow's plan to
deploy tactical nuclear weapons
in neighbouring Belarus may complicate Beijing's efforts to broker peace in the Ukraine war, with observers raising concerns about nuclear proliferation risks.
While the White House said there were no signs Moscow planned to use its nuclear weapons, Russian President Vladimir Putin's announcement on Saturday was seen as a warning to the US-led Nato over its military support for Ukraine.
"All nuclear-weapon states should refrain from deploying nuclear weapons outside their territories and should withdraw those deployed outside their territories," the document says.
The announcement also came as China, facing widespread criticism of Beijing's quasi-alliance with Moscow, stepped up its efforts to position itself as a peace broker on Ukraine ahead of a slew of diplomatic visits to China by European leaders.
China's recent proposal to negotiate a peace agreement between Russia and Ukraine is expected to be high on the agenda when Spanish Prime Minister Pedro Sanchez meets Xi in Beijing this week.
French President Emmanuel Macron and European Commission President Ursula von der Leyen, the EU's chief executive, are also likely to travel together to China next week, in their bid to push Beijing to help rein in Putin's aggression against Ukraine.
Russia's deployment of nuclear weapons in Belarus would exacerbate tensions between Moscow and the West and make it more difficult to
push for peace talks
, said Zhou Chenming, a researcher at the Beijing-based Yuan Wang military science and technology institute.
"China will definitely continue its efforts to push for talks, but Putin is clearly trying to gain more leverage before returning to negotiations," he said.
In a phone conversation with Emmanuel Bonne, a diplomatic adviser to the French president, China's top diplomat, Wang Yi, last week urged France and other European countries to "play their due role" in supporting peace talks for Russia's war in Ukraine.
"A ceasefire, stopping the war, resuming peace talks and a political settlement of the crisis should become the strategic consensus between China and Europe," Wang said, according to the Chinese foreign ministry.
The United States and some of its allies have effectively rejected China's peace initiative because Beijing has refused to condemn Putin's invasion or call on Moscow to withdraw its troops.
Putin welcomed the plan
but so far shown little sign of stopping Russian military operations in Ukraine. Ukrainian President Volodymyr Zelensky, whom Xi has not spoken to since the war broke out over a year ago, has vowed to continue fighting until the Russian troops leave.
Despite China's growing alignment with Russia, the two countries may not see eye to eye on every strategic issue, according to Zhou.
"We share Moscow's concerns that the US may try to undermine the peace talks between Russia and Ukraine and understand Putin's strategic dilemma on Ukraine. But Russia has not been as fully open to China as we hoped," he said.
Zhou said Putin's nuclear deployment plan did not appear to be in line with his commitment in the joint China-Russia communique the Russian leader signed along with Xi in Moscow last week.
European Union foreign policy chief Josep Borrell, who was also planning a trip to China soon, praised Xi's Moscow visit on Friday, saying it "reduces the risk of nuclear war", according to the Financial Times.
But both Zhou and Yun Sun, director of the China programme at Washington's Stimson Centre, said the risk now was more about nuclear proliferation.
"The deployment [of nuclear weapons] to Belarus is a matter of nuclear proliferation, not a matter of use of nukes. But Russia could say that the US has tactical nukes deployed in its allies, too," Sun said.
During his televised announcement on Saturday, Putin defended his decision, saying Russia would not be in breach of its non-proliferation obligations because Moscow would not hand control of the weapons to Belarus.
"There is nothing unusual here either: firstly, the United States has been doing this for decades. They have long deployed their tactical nuclear weapons on the territory of their allied countries," Putin said.