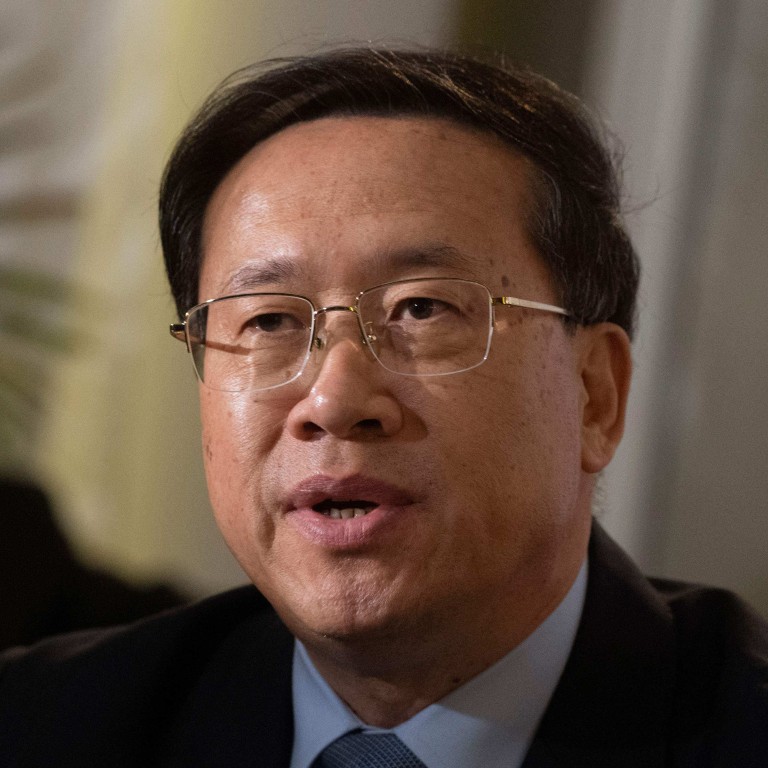 In Blinken meetings, China signals new point man on US relations is vice-foreign minister Ma Zhaoxu
Ma's seat next to Chinese foreign minister and top diplomat at their meetings with US secretary of state seen as indication of new crucial role
While tense US ties will see Ma's work cut out, a lack of direct North American affairs experience will not be an issue, observer says
Ma was seated next to Chinese Foreign Minister Qin Gang and top diplomat Wang Yi when they met US Secretary of State Antony Blinken separately in Beijing earlier this week, indicating that he had taken on the role.
Ma, a former foreign ministry spokesman and ambassador to Australia and the United Nations, was promoted to be
Qin's top deputy
in January with full ministerial duties, making him the No 3 official in the ministry.
He was also the highest-ranking Chinese official to meet Daniel Kritenbrink, the US assistant secretary of state for East Asia and the Pacific, and Sarah Beran, the White House National Security Council senior director for China and Taiwan, when they visited Beijing earlier this month.
His new role is in keeping with Chinese diplomatic tradition, where a vice-foreign minister is usually assigned to oversee US ties. In guiding dealings with Washington, the incumbent will generally work closely with the foreign minister, the ambassador to the United States, as well as the ministry's North American and Oceanian affairs chief.
Ma's role will be especially crucial in the present climate, amid attempts to maintain dialogue as tensions reach unprecedented heights. Bilateral fence-mending meetings have revealed the same grievances that have rocked relations for years, such as the issue of Taiwan, tit-for-tat sanctions and Beijing's military advancement.
This was the conclusion also after Blinken met top Chinese officials as well as
President Xi Jinping
during his two-day trip to Beijing. The visit, which ended on Monday, was originally scheduled for February but had been put off in a diplomatic row over a suspected Chinese "
spy balloon
" in US airspace.
Ma does not have direct North American affairs experience but that is not likely to be a hurdle, according to Yun Sun, director of the China programme at the Stimson Centre in Washington.
"I don't think the lack of experience working at the North America department will be a problem," Yun said.
Alfred Wu, an associate professor at the Lee Kuan Yew School of Public Policy in Singapore, said China not only accounted for experience but also seniority when deciding whom to promote into vice-ministership for managing US-China ties.
Wu said Ma's seniority was demonstrated by his tenures as ambassador to Australia from 2013 to 2016 and as the Chinese representative to the UN in Geneva from 2016 to 2018, and in New York from 2018 to 2019.
"Since being promoted to a ministerial rank, he has had more space and greater power to allocate resources."
Ma became the first-ranked or "executive" deputy minister last June, with his ranking officially upgraded to ministerial level in January.
According to his official biography, Ma began his diplomatic career in 1987 in the foreign ministry's international department, which oversees multilateral diplomacy.
In 2019, he became vice-foreign minister in charge of China's participation in international organisations, the global economy and arms control. His portfolio was eventually expanded to include international law and Latin American affairs.
As the executive vice-foreign minister, Ma oversees issues that are key to US-China relations, according to Yun.
"Also, the great power competition is eventually about which power the rest of the world identifies with and supports."
Ma's predecessor in the role managing US ties was Xie Feng, China's new ambassador to the United States, a role held by Qin until he became foreign minister.
Xie had been a counsellor at the Chinese embassy in the US from 2000 to 2003 before returning to Beijing to work in the foreign ministry's North America department until 2008. He then went back to the Washington embassy as a minister, and returned to Beijing again in 2010 to lead the North America department.
In 2021, Xie succeeded Zheng Zeguang in the role now held by Ma. Zheng also had extensive experience in the North America and Oceania department before becoming the vice-minister for US-China affairs.
But while the lack of direct North American affairs experience might not be an issue, Ma is likely to have his work cut out all the same.
Shi Yinhong, an international studies professor at Renmin University in Beijing, was not optimistic that a change in personnel could alter the course of worsening US-China ties.
"Can one diplomat cause a significant and long-term change in China-US relations? Not even the presidents of both countries could do it."