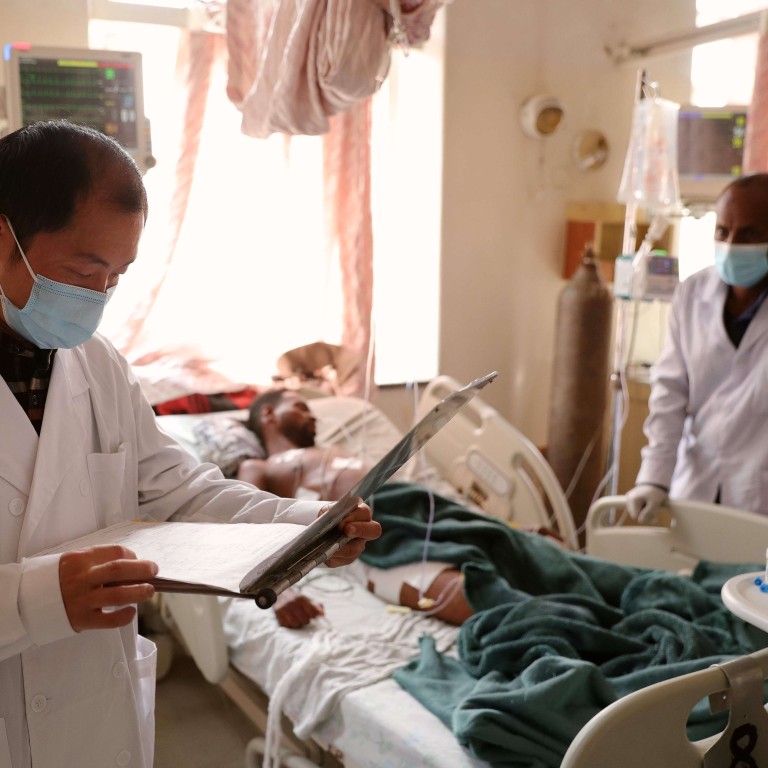 China builds on 60-year record to strengthen medical ties with Africa
Beijing's support for African countries has expanded beyond sending thousands of healthcare workers to vital infrastructure
China-Africa health cooperation has also included funding for medicines and treatments as well as disease prevention
A southern suburb of the Ethiopian capital Addis Ababa is home to the US$80 million headquarters of the African
centre for disease control
– built and funded by China as Beijing strengthens its medical diplomacy with
Africa.
The building includes administration offices, an emergency operation centre, a biological laboratory, resource centre, conference halls and offices – all built, furnished and equipped by the Chinese government as a gift for the continent.
The Africa Centres for Disease Control and Prevention (CDC) headquarters, unveiled by Chinese Foreign Minister Qin Gang
in January,
is intended to improve Africa's epidemic response, as well as its disease prevention and monitoring capability.
The gift is part of China's plan to strengthen its medical diplomacy with African countries as it positions itself as a major player in the international global health market.
Beijing is continuing to send hundreds of medical workers to African countries each year and has also devoted financial resources to the fight against infectious diseases. China has also built other healthcare infrastructure on the continent, in addition to its funding of the Africa CDC.
Observers say China aims to challenge US dominance in global healthcare, including in Africa where Washington has funded multibillion-dollar projects on malaria and HIV-Aids.
China sent its first medical team to Algeria six decades ago and has followed up with more than 30,000 healthcare workers to 76 countries since then, most of them in Africa. This year marks the 60th anniversary of China-Africa medical ties.
According to Chinese officials, an average 3,600 medical workers served 9.56 million overseas patients between 2018 and 2022. Generally, a province is paired with an African country with teams rotating there on a continuous basis, they say.
National Health Commission official He Shaohua told delegates at a trade expo on Tuesday in Changsha, provincial capital of Hunan in central China, that Beijing would continue to provide medical aid and health infrastructure to African countries.
Speaking at the third China-Africa Economic and Trade Expo, He said Beijing would also continue to promote pharmaceutical cooperation with African countries, according to Chinese tabloid Global Times, affiliated to Communist Party mouthpiece People's Daily.
Lina Benabdallah, a China-Africa specialist at Wake Forest University and a visiting fellow at the Centre for African Studies at Harvard University, said China's medical diplomacy served to enrich people-to-people engagement in a positive way.
"Chinese doctors and nurses provide important care for patients across the continent, including eye surgeries, baby deliveries, and so on," Benabdallah said.
She said traditional Chinese medicine had also been growing in popularity and was the focus of several recent Luban workshops – named after Lu Ban, a woodcraft master who lived during China's Zhou dynasty (c1046-256BC) – including one in Bamako, Mali.
"[This cooperation is] a gesture of goodwill on the part of China and generally received warmly by African patients."
China-Africa expert David Shinn, from George Washington University's Elliott School of International Affairs, said that while China's programme of sending medical workers to African countries remained in place, there had also been an expansion in other aspects of healthcare.
In the 1990s, China's help expanded to include donations of medical supplies and equipment, the construction of clinics and hospitals, as well as training programmes, he said.
According to Shinn, China's focus during the early part of the 21st century was on providing basic health personnel, before turning to include the building of healthcare infrastructure and, most recently, countering infectious diseases.
"In recent years, China has devoted more attention to the treatment and elimination of infectious diseases such as malaria, Ebola, and Covid-19," he said.
Shinn said China had focused especially on malaria, building antimalarial centres, providing artemisinin combination therapies, and offering training workshops.
But it was during West Africa's Ebola outbreak in 2014-15 that Beijing really stepped up its infectious disease response, he added.
A study by researchers at AidData, a research lab at the College of William and Mary in Virginia, said China delivered 1,026 health projects, totalling US$1.6 billion, across 51 African countries between 2000 and 2017 alone.
Most of the funds were spent on basic healthcare including medicines and vaccines, malaria control, and health infrastructure, the study found.
AidData senior researcher Dr Ammar Malik, one of the study's authors, said that unlike other donors "China has been incredibly demand responsive since 2004".
This included transferring the benefits of China's breakthroughs in antimalarial treatments to Africa from 2006-09 and ramping up the infectious disease response at the height of Ebola in 2012-14, he said.
According to the study, China-Africa cooperation has built on the success of the malaria elimination programme, expanding in scale and depth. Funding related to the disease has increased, including Chinese support for 30 health facilities designed to strengthen Africa's response.
"China discovered and now plays a significant role in supplying artemisinin-based combination therapies, now standard WHO treatment recommendations for malaria. China is a substantial supplier of long-lasting insecticidal nets," the study said.
The researchers also noted that during the Ebola crisis, Chinese healthcare teams provided prevention and treatment equipment such as protective suits, gloves and thermal scanners. China also bought ambulances, built disease control centres, and sent public health experts to help with response activities, they said.
"China's active engagement and significant funding for Ebola-related prevention and care indicate its growing role as a leader within the global health community."
Chinese support for Africa continued during the Covid-19 pandemic, with President Xi Jinping's promise of a billion doses of vaccine for the continent.
Speaking at the 2021 Forum on China-Africa Cooperation (FOCAC), Xi said China would also undertake 10 medical and health projects for African countries, and send 1,500 medical personnel and public health experts to Africa.
Shinn, from George Washington University, said it was in China's interests to reduce infectious disease in Africa "as this is one of the primary concerns of the growing number of Chinese – at least prior to Covid-19 – living and working on the continent".
According to Shinn, studies into the rationale for China's health help to Africa have arrived at mixed conclusions.
"Some suggest the cooperation is linked to countries rich in natural resources, while others do not. There may be a stronger tie to China's long-term goal of selling its medicine and health equipment to African countries," he said.
Lawrence Gostin, director of the O'Neill Institute for National and Global Health Law at Georgetown University in Washington, said China had developed its own model for international health help, which differed sharply from Western aid.
Gostin said the US and Europe had given generous funding to help African countries with key health threats, such as Aids, TB and malaria, as well as child/maternal health and survival.
"The signature US programme is PEPFAR which arguably saved the continent from a health and economic disaster during the peak of the Aids pandemic," he said, referring to the US President's Emergency Plan For Aids Relief launched in 2003.
In contrast, China has focused on deploying Chinese health professionals, as well as building infrastructure such as roads, electricity, and hospitals.
"China's deployment of health professionals has been a net benefit for Africa, and it follows in the footsteps of a long time commitment to sending health professionals to lower income countries by Cuba," Gostin said.
"China clearly is using its Belt and Road Initiative and its deployment of health workers to gain favour in Africa. It sees Africa as a major strategic partner, and has been aggressively courting diplomatic favour in the continent as well as building economic ties."