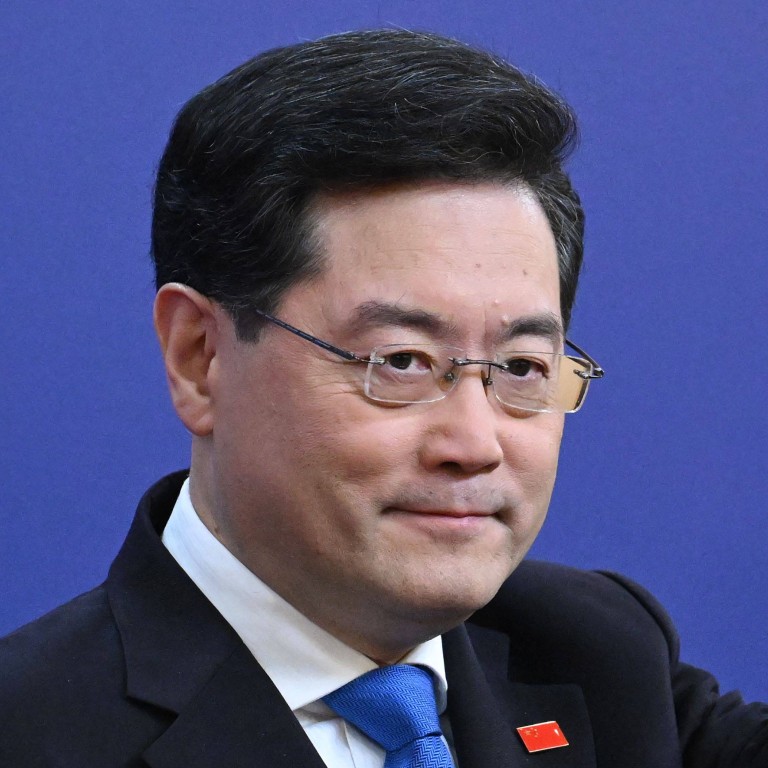 China replaces Qin Gang with Wang Yi, but big political questions linger after foreign minister change-up
Qin's replacement has been named, ending weeks of speculation, but it's still not clear what prompted the former foreign minister's removal
Wang's appointment makes him the most powerful person to hold the position in decades
The reports did not elaborate or say what will happen to the former senior diplomat or his other responsibilities.
Qin, who was promoted by Chinese President Xi Jinping just seven months ago, is also a state councillor and a member of the ruling Communist Party's Central Committee.
While he is now most likely to lose these positions as well, there was no mention of them in Tuesday's terse statement, leaving the public guessing as to the cause of this abrupt change.
Equally puzzling was his replacement. Instead of promoting another candidate, the leadership passed the position to Wang, who was promoted to the powerful Politburo just months ago and was a rank higher than Qin.
Observers said that both Qin's removal, which made him China's shortest-serving foreign minister, and the reappointment of Wang, who was foreign minister during Xi's first two terms, as his successor were unprecedented.
While details about the nature of the sudden reshuffle remain scant, they noted the announcement was deliberately vague, raising questions about Qin's fate, which may yet be undecided.
Wang, the director of the Office of the Central Foreign Affairs Commission, has been standing in during Qin's absence over the past few weeks.
"The fact that Wang is picked to replace Qin as the country's new foreign minister in the middle of a major personnel crisis in mainland politics says a lot about Wang's close ties with the top leader," said Alfred Wu, an associate professor at the Lee Kuan Yew School of Public Policy in Singapore.
Apart from reinforcing Wang's status as the country's highest-ranking diplomat, it also underlined the veteran diplomat "remains Xi's most trusted foreign policy aide to oversee foreign affairs", Wu said.
Wang, who turns 70 in October, was promoted to the Politburo, the party's top echelon of power, at the Communist Party's national congress last year.
The decision to remove Qin from his post was made at a special session of the National People's Congress Standing Committee, which took place one day after the Politburo convened.
According to rules updated in June last year, the NPC Standing Committee holds a session once every two months, but in practice it usually holds them near the end of even-numbered months. An interim session for special cases can be scheduled by the committee's chairman.
Qin's removal as foreign minister is in line with the Organic Law of the National People's Congress, which came into effect in March 2021. The rule empowers the Standing Committee rather than a national congress to appoint or remove from office some members of the State Council.
But the brief announcement by state media suggested the top legislature made no decision to remove Qin as state councillor, a position that ranks above a cabinet minister.
Analysts said the move was rather unusual, considering the NPC Standing Committee's removal in 2018 of Yang Jing, a top assistant to former premier Li Keqiang, as both state councillor and secretary general of the cabinet.
Qin was last seen in public during a meeting of senior diplomats from Russia, Vietnam and Sri Lanka on June 25, according to China's foreign ministry.
When asked on Tuesday before the official announcement about who would take on Qin's responsibilities, foreign ministry spokeswoman Mao Ning said: "I can tell you this, China's diplomatic affairs or work on the front is being smoothly advanced."
But Beijing's secretive handling of the drama has raised questions about the Chinese government's opaque decision-making process and increased confusion and mistrust in the West.
Last week British Foreign Secretary James Cleverly postponed a planned trip to Beijing scheduled for the end of this month, citing Qin's prolonged absence from public view.
In the absence of details about what led to Qin's removal, Wu said the reshuffle had yet again underlined a lack of transparency in mainland politics.
"The saga has been a big embarrassment for China that has exposed the non-transparent nature of China's close decision-making," he said.
Wu said it had occurred at a bad time for Beijing, as the government was trying to ease tensions with the United States and its allies and reboot foreign business confidence in the country.
Zhiqun Zhu, an international relations professor at Bucknell University, said Wang's reappointment was aimed at stabilising the situation and offering assurances about the continuity of China's foreign policy.
Qin was considered to be part of a new generation of rising Chinese diplomats that were mostly born after 1963 and went on to complete formal education without interruption after the end of the Cultural Revolution.
Owing to his close ties with Xi, Qin rose rapidly through the ranks – from ministry spokesman and deputy foreign minister in charge of protocol and European affairs to the country's second-ranking diplomat.
Qin, who was descibed as "a fighter" when he was a spokesman, was appointed China's ambassador to the United States in July 2021, and 17 months later was elevated to foreign minister, and then state councillor in March.