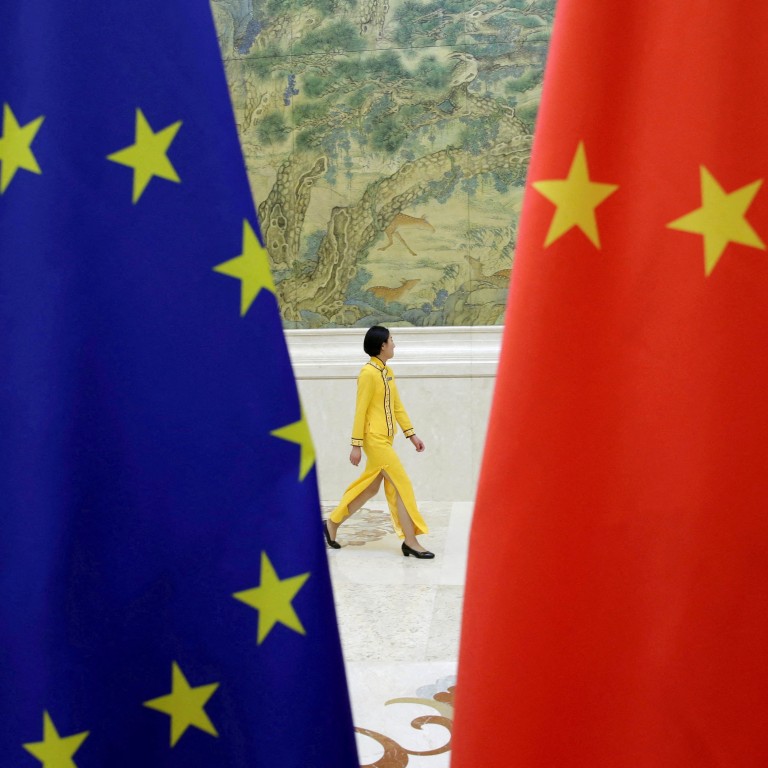 Rumblings in the EU ranks as 'de-risking' plan for China gains momentum
Economic strategies in both the EU and Germany are seen by some as the start of a decoupling process with China in all but name
Plans seek to restrict trade between Europe and China of cutting-edge technologies and goods that could be weaponised
Future historians might look back at a three-week period this June and July as a defining moment in Europe's ties with China.
The one-two of the European Union's economic security communique – an early-stage manifesto for de-risking – and Germany's first China strategy have the potential to cause
serious ruptures
in one of the world's largest trading relationships.
Both seek to recalibrate how European countries and companies trade with and
invest in China
. They want to keep cutting-edge technologies away from the Chinese military and reduce dependencies on China for goods and minerals that it is feared could be weaponised by Beijing.
But each is also carefully vague on execution, reflecting the need to get the broad churches of Germany's coalition government and an EU membership that ranges from Lithuania, a sworn adversary of China's, to Hungary, a close ally,
on board
.
After a meeting of EU foreign ministers in Stockholm in May, top diplomat
Josep Borrell
proclaimed that all 27 members had vouched
support for de-risking
. One diplomat responded, in a private conversation, that if they had all agreed, it was only because nobody really understood what de-risking actually was.
In Berlin, an early draft of the foreign ministry's hawkish proposal was watered down by Chancellor
Olaf Scholz
, known to favour continued engagement with Beijing.
In Brussels, meanwhile, the strategy was first announced during an
infamous speech
about China by European Commission president Ursula von der Leyen in March. At the time, the German said a new approach was needed to counter Beijing's pursuit of "systemic change of the international order with China at its centre".
At its launch, however, von der Leyen proclaimed the strategy to be country-agnostic, with a succession of commissioners declining to name
China
when asked during a day-long series of press events.
"They need to have the space for pretending," a senior EU official said about the linguistic gymnastics on display that day in Brussels.
"There needs to be some plausible deniability for member states so that they can tell China that this is not just about them," a second official said.
Despite these efforts, some see the pair of strategies as the start of a decoupling process with China in all but name. Few in Europe argue for full-on economic divorce, and the gung-ho US China policy is viewed in many capitals as over the top.
"We could live with a small yard that is very small and a high fence, if it is guaranteed to be very high. But in the American context, this yard is not small," a European business leader said on condition of anonymity, referring to the Biden administration's description of its own restrictive policies towards China.
But the direction of travel is familiar, even if the pace and route are not quite the same.
"We don't call it decoupling because for some people, the meaning of decoupling is too sharp. But in the end, it is a different description of the same process," the business figure said.
Viking Bohman, an analyst at the Swedish National China Centre, wrote in a recent paper that while EU bureaucrats use the term "de-risking synonymously with 'reducing risk'", in business circles, it usually applies to the termination of business relationships, "indiscriminately with broad categories of customers".
"In other words, the Commission seems to have chosen a word that expresses precisely the scenario that the EU has been trying to avoid – a sweeping decoupling that goes beyond national governments' intentions," Bohman wrote.
For Chinese observers too, the policies are loaded with terminology that point to long-term fragmentation.
"The choice of the term 'de-risking' rather than 'decoupling' has allowed Brussels to find a suitable middle ground between pro-decoupling and pro-engagement voices in Europe. This should allow for greater unity within the EU when it comes to China," wrote Jian Junbo, deputy director of the Centre for China-Europe Relations, Fudan University, in a recent article for The Paper, a state-run digital outlet based in Shanghai, and summarised in the Sinification newsletter.
However, the infighting that plagued both strategies during their development and, in the case of Brussels' economic security paper, after its launch, show how challenging they will be to deliver on.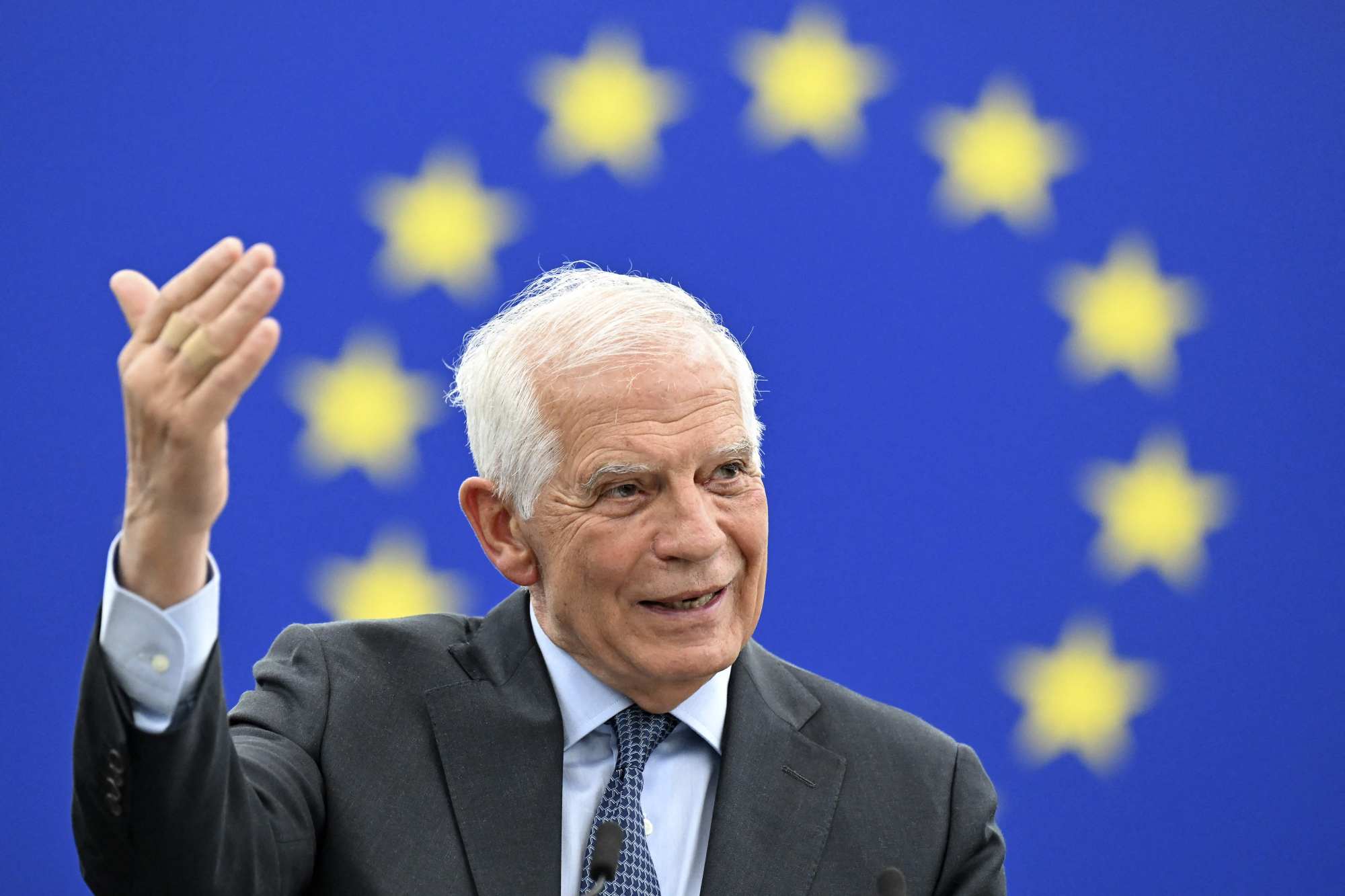 In Brussels, the economic security strategy is seen as the handiwork of Bjoern Seibert, the cabinet chief to von der Leyen, who diplomats and officials say is close to US National Security Adviser Jake Sullivan.
In the weeks leading up to its release, Seibert presented his plans to ambassadors from the EU's 27 member states and was told in no uncertain terms that he was going "too far, too fast", multiple diplomats said.
Some representing the bloc's freest trading members worried that provisions like outbound investment controls were too protectionist. Others worried about a power grab from Brussels, due to Seibert's citing of "national security" and promoting a "Europeanisation" of export controls, powers that usually sit in the 27 capitals.
More still told Seibert that he was flying too close to US policy for comfort. A senior official said the "cool and cautious" feedback from some the bloc's most powerful members was: "We are Europe, not the United States."
Last-minute edits to the strategy failed to assuage some members.
At an event hosted with trade officials and think tank members just days after its launch, ambassadors pelted experts with questions about outbound investment restrictions, which would see companies being told they could not put their own capital into Chinese tech sectors deemed sensitive, such as robotics, artificial intelligence or semiconductors.
"I think on some of the stuff that was pitched, especially on outbound investment, it seems like a political mistake. I think the Commission committed on paper to an instrument without being able to specify the risks. And so they really built this world the wrong way around," said Tobias Gehrke, an expert in economic statecraft at the European Council on Foreign Relations.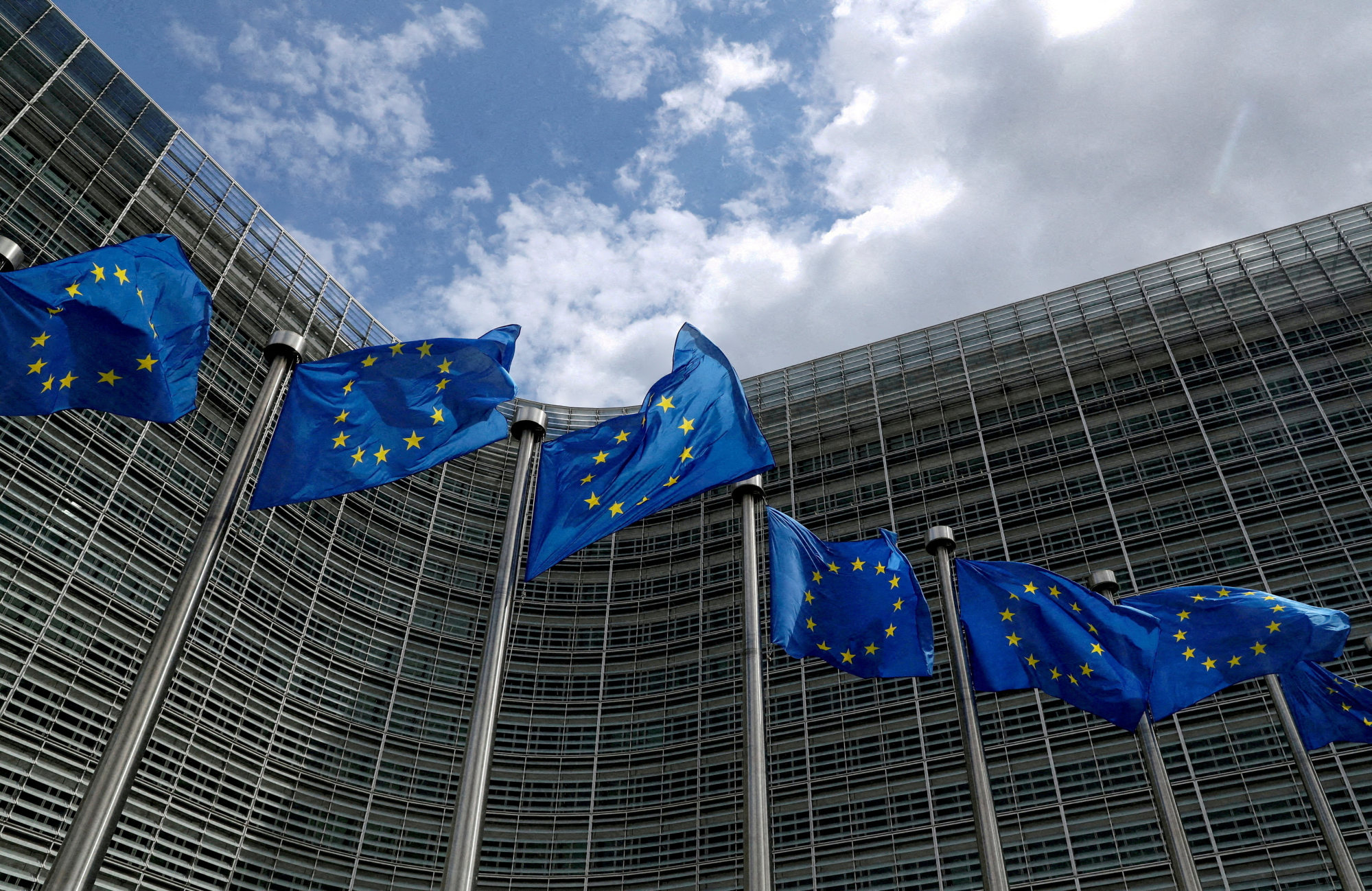 Trade officials complained that the plan was cooked up too hastily, with less than three months between von der Leyen's announcement and the communique's unveiling in June. "If all you want is an announcement, we can have it ready tomorrow," one official said, adding that a substantive policy would take more time.
But von der Leyen will have been encouraged to see unqualified support for de-risking in the
German strategy
announced three weeks later.
"Everyone benefits from competition when it is based on fair rules. It is not our intention to impede China's economic progress and development. At the same time, de-risking is urgently needed," it read.
Berlin said outbound investment screening "could be important as a supplement to existing instruments", but the fact that it was in there at all showed observers that Germany is unlikely to stymie any proposal at EU level.
"They have chosen to repeat all the buzzwords that come out of Brussels, and somewhat formulate support for that; some elements with more enthusiasm, some with less enthusiasm," said Tim Ruehlig, an expert in EU-China geoeconomics at the German Council on Foreign Relations.
"On outbound investment screening, it's a formula that reflects the internal divergences within the German government, but you can't read it as Germany will certainly block anything on outbound foreign investment screening."
The consensus among a dozen business figures, diplomats and officials spoken to in recent weeks is that events in Brussels and Berlin have set a process in motion. It is impossible now to put the genie back in the bottle, even if nobody is sure where exactly the de-risking agenda will end up.
Last week in Brussels, Germany's Foreign Minister Annalena Baerbock hoped to present the strategy to other EU foreign ministers. As the largest EU economy and China's biggest European trading partner, there is a sense that where Berlin leads on China, others may follow.
However, items on China and economic security were bumped off the agenda as the meeting focused on contentious debates about Turkey's path to EU membership and committing more arms to Ukraine.
Europe's omnicrisis means non-neighbourhood issues – such as China – are often the first to be sacrificed during important meetings.
These time restraints in themselves present a logistical challenge to reaching consensus on the thorniest parts of the strategy. The legislative clock is ticking towards European elections next year that will see an overhaul of commissioners – even if von der Leyen is fancied to keep the top job, offering the prospect of some continuity.
"This Commission has a very short window to push this economic security agenda, which makes it all the more important that the big member states engage now on this issue," said Noah Barkin, an analyst of Europe-China relations at the Rhodium Group research house.
"I don't think we have the luxury to kick this into the long weeds. If we don't have real progress by the first quarter of next year, then you can kiss this agenda goodbye until 2025, when a new Commission is in place."