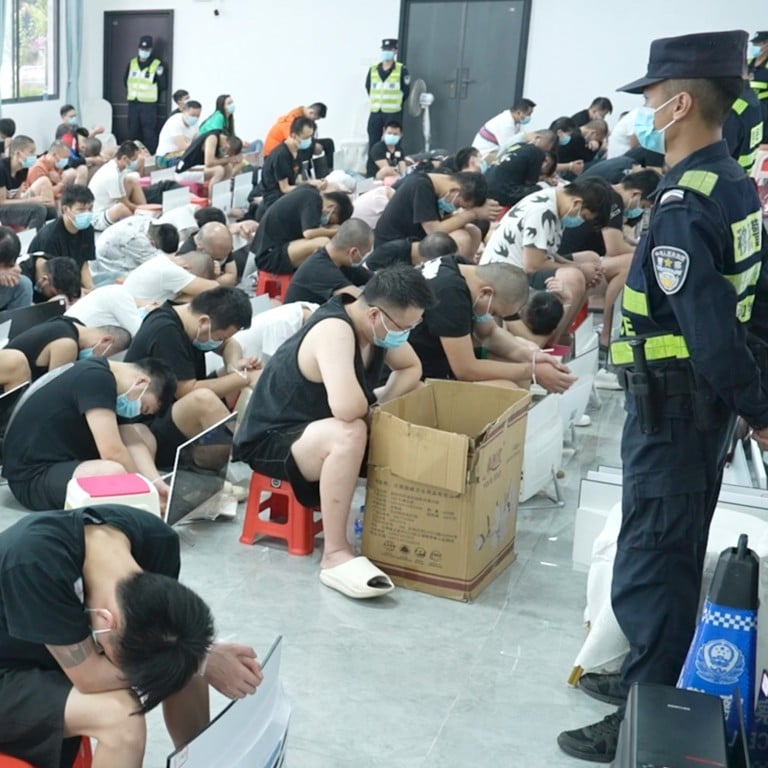 Police in China and Myanmar detain 269 in cyber scam crackdown
Joint operation brings down 11 criminal bases in northern Myanmar in one of biggest stings on cybercrime gangs in Southeast Asian country
It is the latest in Beijing's efforts to root out fraudsters who frequently target Chinese nationals
More than 200 suspects involved in Myanmar-based cyber scams have been detained by police in one of the largest joint crackdowns between Beijing and the Southeast Asian country, China's Ministry of Public Security announced on Tuesday.
The operation brought down 11 cyber scam bases in northern Myanmar, where 269 fraud suspects were detained, including 186 Chinese nationals who have been repatriated, according to a statement from the ministry.
Among those detained were 21 people who played key roles in scams involving 120 million yuan (US$16.5 million).
The joint operation was carried out on Sunday by local public security forces in
Myanmar
and police in Xishuangbanna Dai autonomous prefecture in Yunnan province through a cross-border law enforcement mechanism, according to the statement.
It did not give details about how the crackdown was carried out. Photos showed suspects being escorted off buses in the presence of Chinese police officers. The Chinese Ministry of Public Security has yet to respond to questions from the Post.
The operation is the latest in China's efforts to root out Myanmar-based gangs that frequently target Chinese nationals, luring them with investment schemes and promises of love or employment, then detaining them and forcing them to work as phone operators, computer programmers and other jobs as part of online scams.
Last month, China vowed to crack down on cybercrime by collaborating with
Myanmar, Thailand and Laos
. The four countries have set up a coordination centre in Chiang Mai in northern Thailand to help police work together to tackle cybercrime gangs.
Beijing has conducted a series of crackdowns targeting criminal bases in Myanmar amid growing concern in China about overseas telecoms fraud, especially after the
cyber scam-related film No More Bets
topped the country's box office over the summer, sparking a national discussion about the issue.
Last month, police in central China's Henan province arrested 225 suspects at a scam base in northern Myanmar, Henan Television reported.
In unrelated cases, six Chinese fraud suspects were repatriated from Myanmar last month, according to state-owned broadcaster CCTV, including one suspect who was reportedly the leader of a gang.
In June, another six Chinese fraud suspects were arrested and escorted back to China under a joint security action between China, Thailand and Myanmar.
Most of the scam bases in northern Myanmar are in regions such as Shan state and Kayin state, parts of which are de facto independent. These areas are not under the effective control of Myanmar's government, making cooperation with China difficult.