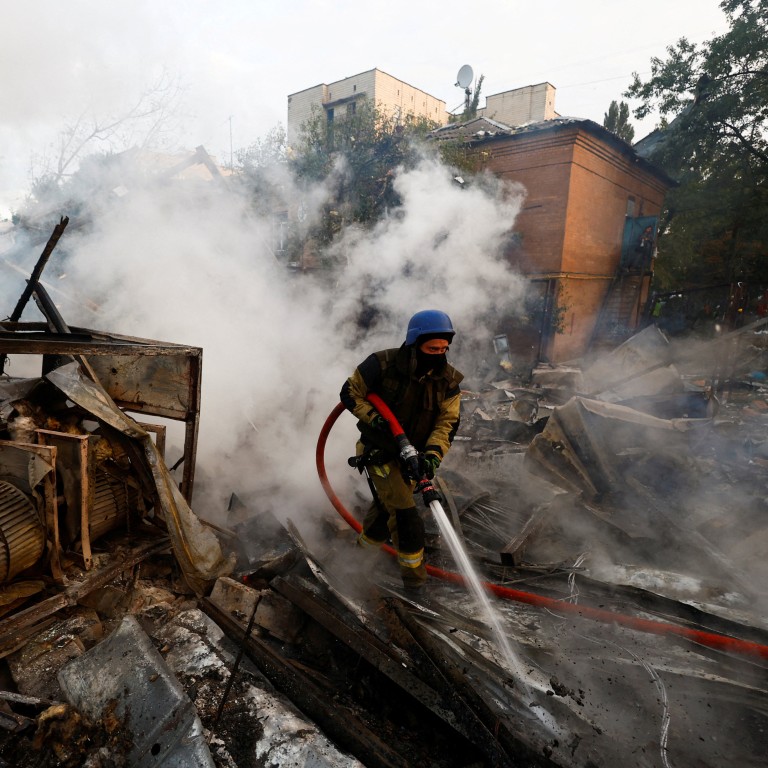 EU says up to 70% of hi-tech imports 'killing Ukrainians' are reaching Russian military via China
Brussels sanctions chief David O'Sullivan says the bloc is 'actively engaged' in talks with Beijing about how to stop Moscow getting such products
O'Sullivan says many of the products in question are 'normally innocent' but are being used in weapons found on the battlefield in Ukraine
The European Union estimates that up to 70 per cent of sensitive, hi-tech products reaching the Russian military are
coming via China
.
Officials in Brussels are currently wrestling with how to stem the flow of such goods, which its sanctions envoy David O'Sullivan said "
are killing Ukrainians
".
Speaking at an event in Brussels on Wednesday, O'Sullivan said he was "actively engaged" with China in a "conversation that will be challenging".
"Now we need to understand better exactly what that means. How much of this is actually produced by China, copying our technology, how much of it is produced in China but with Western technology, and how much is coming directly from other sources and then re-exported via China," said O'Sullivan, who was named as the EU's first special envoy for the implementation of sanctions in January.
"These products are killing Ukrainians, and if they go to Russia, you may consider them normally innocent. But once they go to Russia, we know they're not going into consumer goods or innocent activities. They will go straight to the military industrial complex and produce weapons that are more lethal and more deadly."
The products referred to are part of a new field of dual-use goods that have both civilian and military purposes.
O'Sullivan said the Russian military is "now short of ... and struggling to get" hi-tech components such as microchips, integrated circuits, flash memory cards and optical readers.
"These are the sorts of products which would not be qualified as dual use in the classical sense of that term, because they have genuine, innocent civilian application in normal circumstances," O'Sullivan told an event hosted by the European Policy Centre.
He added: "Latest figures would indicate that as much as 70 per cent of the re-export of these sensitive products is happening through China."
The EU is working with the United States, Britain and Japan to choke Moscow's supply lines of these goods, he added.
EU sources said they preferred to raise such issues privately in the hope that Beijing would discreetly work with them to prevent sanctions breaches and backfilling.
Work on this front has been ongoing for months. In June, the EU removed five Chinese companies from a blacklist of businesses helping Russia evade sanctions after intensive consultations with China's ambassador in Brussels Fu Cong.
The Chinese side said it would work to ensure those businesses stop hi-tech goods made in Europe reaching the Russian military.
"We suggested to the Chinese authorities that the companies themselves might like to reconsider their activity in light of EU sanctions policy. This is obviously going to be a complicated discussion – any discussion with China is complicated," O'Sullivan said.
He said "this is going to be something which we will continue with all places" where the EU sees battlefield goods being re-exported, and "unfortunately China is definitely part of that discussion".
Elsewhere, Fu's recent comments at an event sponsored by the Chinese mission to Brussels that the EU is interested in working on joint infrastructure projects in Central Asia have been challenged.
"We hope that we can cooperate and we are willing to do that. Actually, there are some projects that have already been carried out in Africa," Fu told the event to mark the 10th anniversary of China's Belt and Road Initiative, hosted by media firm Euractiv.
"I personally have met with the special envoy of the EU on Central Asia, and she is very interested in having joint projects in Central Asian countries."
However, EU sources deny that its Central Asian envoy Terhi Hakala made any such comments when she met Fu in January, or when she travelled to Beijing earlier this month.
"In these meetings, the EU special representative reiterated that our approach on connectivity remains based on the importance of market rules, transparency, public procurement, a level playing field and fair competition," said an EU official.
The official said the Global Gateway, the EU's belt and road alternative, "is based on the key principles of trusted connectivity: being sustainable, comprehensive, rules-based, human-centric and geographically adapted".
They added cooperation with the Belt and Road Initiative "is not excluded, but should be based on these principles".
,