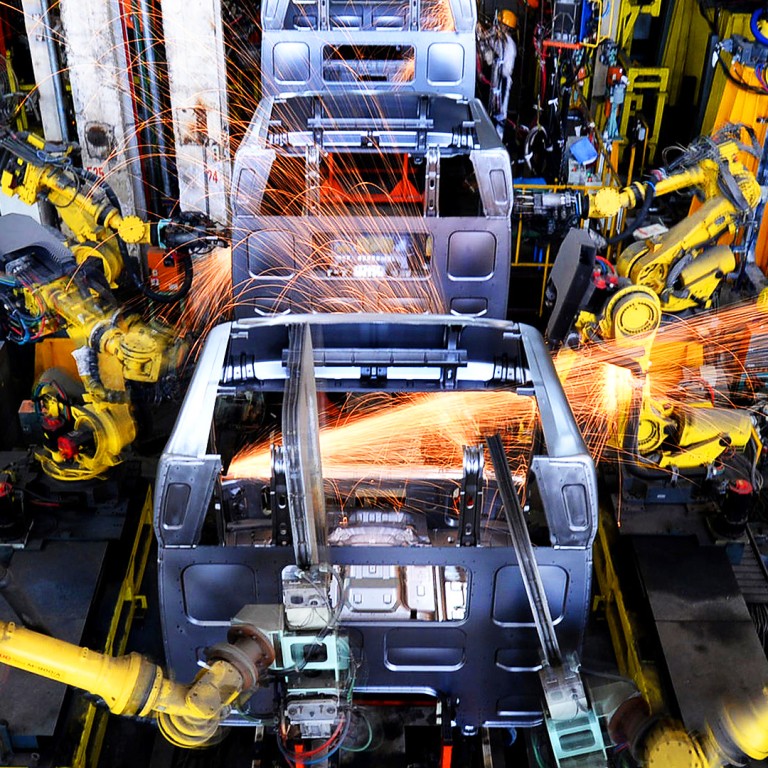 'Made in China': the smart revolution blueprint set to bring Beijing into the digital age
Beijing's plan to fully bring manufacturing into the digital era is ambitious but success requires careful coordination with wider reforms, experts say
The "Made in China 2025" blueprint rolled out by Beijing last month is widely seen as a counterpart to Germany's "Industry 4.0" strategy - an effort to create a manufacturing revolution underpinned by smart technologies.
The ambition is to turn China into a "strong" manufacturing nation within a decade, with the priority on digitalisation and modernisation of 10 sectors, including aerospace, railways, new-energy vehicles and new materials. If successful, it would be a huge step up for China from the "world's factory", which for decades saw it churn out mainly cheap, low-quality clothes, toys and other goods.
The plan, briefly announced during the national political meetings in March and fleshed out in more detail on May 18, has excited the market, pushing manufacturing stocks to new highs.
Beijing is keen to cut its reliance on technology imports from the West. Promoting high-end manufacturing is also China's response to worsening productivity, slowing economic growth, and a shrinking workforce that has made its labour costs no longer cheap compared with other emerging markets such as Vietnam and Brazil.
According to Citigroup, China plans to invest 8.02 trillion yuan in the next few years to modernise and transform its industry - a far more ambitious programme than Europe's plan to spend an estimated €1.35 trillion (HK$11.50 trillion) on similar improvements over a much longer timeframe of 15 years. Yet some observers fear "the loud thunder might result in little rain" - as one Chinese proverb puts it.
Stephen Roach, former chairman of Morgan Stanley Asia and a veteran China watcher, called the vision "another of China's classic goal-oriented plans".
"'Made in China 2025' is a very ambitious and aspirational goal, but until the path to that goal is clarified, it smacks more of rhetorical flourish than a credible commitment," Roach, now a Yale University professor, said.
For Roach, a key question is: "How does the new plan fit into the broad framework of SOE [state-owned enterprise] reforms?"
The blueprint was also unclear about who would implement the plan - market forces or the National Development and Reform Commission, the powerful agency in charge of economic planning, Roach said.
Beijing should move faster to reform state monopolies, which have stood in the way of greater productivity and technological innovation in the manufacturing sector, observers say.
SOEs sitting on a mountain of subsidies, cheap land and easy access to loans have aggressively expanded their market share over the decades without carefully considering commercial returns. They are usually headed by senior officials appointed by the Communist Party through a politically focused evaluation system.
But as economic growth slowed in the first quarter, SOEs saw an almost 30 per cent drop in profits, while their private-sector counterparts recorded growth of 6.8 per cent over the same period last year.
China National Erzhong Group, a state-run maker of heavy equipment based in Sichuan province, was forced to delist from the Shanghai Stock Exchange on May 22 after a string of continuous losses since 2011. Last year, its net losses amounted to 7.9 billion yuan (HK$10 billion). The poor performance was linked to the company's participation in a large government-led aircraft manufacturing project, estimated to have tied up 200 billion yuan in investment.
Since the era of Deng Xiaoping , China has sought to introduce technology from abroad by opening up its previously state-regulated markets to foreign players. The 1980s saw tie-ups between state-owned carmakers, such as the FAW Group and SAIC Motor, and global giants including Volkswagen, General Motors and Toyota.
Since then, the mainland's car market has expanded into the world's largest, producing 23 million vehicles a year. However, the sector still lacks domestic brands that can rival world-class car companies and home-grown technology.
Last year, German car-part supplier and technology group Bosch reaped €6.4 billion in sales in China, a jump of 27 per cent over the previous year, thanks to its technology found mainly in vehicle braking, engine and train systems.
"The quality, stability, and reliability of auto parts must go through all kinds of experiments and numerous tests before they can be put into commercial use," said Jinan Zhang, a sales director at Bosch Rexroth in China. "The process is lengthy - probably taking five to 10 years."
Yale Zhang, managing director of advisory firm Automotive Foresight (Shanghai), said SOEs had not shown the patience to wait such periods if they were still making profits through their joint ventures.
Asked whether Deng's policy to "exchange market share for technology" had worked well in the carmaking sector, Yale Zhang said: "Honestly, no."
"We should first implement our Industry 1.0 and Industry 2.0 plans" before dreaming bigger.
To be sure, China is catching up, and has even become a technological leader in some industrial areas such as high-speed rail, driven by growing market demand and massive government spending.
There was a moment of national pride in 2011 when a test on the Beijing-Shanghai express railway achieved a record speed of 487km/h. But a deadly collision in Wenzhou in Zhejiang province in July, 2011, quickly punctured the bubble of euphoria. Dozens of people died and nearly 200 others were injured when a bullet train stalled on the tracks and a second train slammed into it.
But the tragedy spurred the nation to overhaul its high-speed rail safety, and China is now a global leader in exporting the sector's technology.
Sun Bangcheng, chief engineer at state-owned CNR Tangshan Railway Vehicle Company, said China had developed faster rail speeds and had a lower product defect rate than European rivals thanks to more than a billion yuan in government investment on automation technology research since the accident.
"I expect the country will spend at least as much on R&D in this area in the next five-year period," Sun said.
The funds would be partly used to improve forecasting of natural disasters, such as tsunami or typhoons, so coastal railways could automatically cut their power to prevent accidents, he said. Sun described the project as "massive" and in need of closer cross-sector cooperation.
Miao Wei , the minister of industry and information technology, told Caixin Media the "Made in China 2025" strategy and Germany's "Industry 4.0" shared similar goals, with both aiming to "deeply integrate" information technology with advanced manufacturing to drive a new wave of industrial development. "China has regained the title of the biggest manufacturing nation after losing the position for 150 years. We are big, yet not strong," he said.
China might be able to quickly narrow its gap with developed nations by applying internet technology to manufacturing, Miao said. But the nation still faced many challenges, including a shortage of top-class talent, resources and environmental bottlenecks, and a shrinking supply of migrant workers, he said.
Network security was also a big concern for China as it developed big data services, he said. "Some Chinese companies have yet to go through the 2.0 and 3.0 versions," Miao said, while most German manufacturers were in a stage somewhere between 3.0 and 4.0.
However, Morgan Stanley Asia chief economist Chetan Ahya said China's innovation depended less on talent supply and more on releasing the potential of the private sector.
"I don't think talent is an issue in China. Talent is there," he said. "The most important macro policy would be: reform the public sector and also clean up the banks."
Some analysts have also drawn comparisons between Beijing's blueprint and the "Make in India" policy touted by the nation's leader, Narendra Modi.
Ahya said they shared a broad objective of keeping the manufacturing sector competitive through adjusting the structure of the production chain. But India, with per capita income at US$1,500, a fifth of China's, would be adding about 130 million people to its working-age population over the next 10 years, while the mainland's workforce declined for the third year in a row in 2014. "India was trying to do what China did 10 years back," Ahya said.
Taiwan must pioneer Internet of Things to maintain tech edge over mainland, experts say
"Smart living" and wearable technology will take centre stage at Asia's biggest tech trade show which kicks off tomorrow in Taipei with gadgets promising to do everything from analyse your state of mind to identify burglars.
Computex will see 1,700 exhibitors from Taiwan and around the world draw an expected 130,000 visitors over the five-day event, now in its 35th year.
Mobile technology and 3D innovations will also be key areas of this year's show.
Though Computex continues to attract big names like Intel, Microsoft and Ford, it comes at a time when Taiwan is fighting to maintain its tech edge in the face of intense competition from the mainland.
Taiwan in April lowered its growth forecast, blaming increased competition from the mainland in the technology industry.
The mainland has been forging ahead with the development of domestic smartphone brands and home-grown hardware, putting pressure on the export-driven technology hub. Industry observers say that Taiwan must innovate in the burgeoning Internet of Things (IoT) market - web-connected objects from watches to kitchen appliances - if it is to keep its position.
The IoT market is forecast to grow 19 per cent this year, according to US research firm IDC.
"In the years ahead, the Internet of Things will include millions of wearables for consumers as well as sensors and networks used in smart city roll-outs throughout the world," said Singapore-based tech blogger Alfred Siew.
David Liu, of the Taipei Computer Association, said this year's Computex would feature more mature products than previous years. While stand-alone smart products were on show previously, tech firms were now broadening their ambitions, Liu said.
"Many of the exhibitors demonstrated their smart home devices last year, like plugs, lights or locks, but those devices did not work as systems," he said.
"The latest products use an app and infrared sensors to come up with a total solution. So in the case of home security, say, users can now automatically receive images of any intruders into their home."
More than 1,000 Taiwanese firms would set out their stalls at Computex and be anxious not to lag behind in the nascent IoT market, said Siew, having struggled to compete in the mobile sector. "If they could offer managed services, software interfaces and data analytics to go with their traditional technical expertise in hardware, that could make their offerings even more interesting," Siew said.
Liu Meng-chun of Taiwanese think tank Chung-Hua Institution for Economic Research agrees the island needs to reinvent its tech identity. "Mass manufacturing is no longer a proper way. Taiwan companies should put to use their innovation if they hope to survive the challenges," he said. "It's no easy task, but they have no choice."
Agence France-Presse