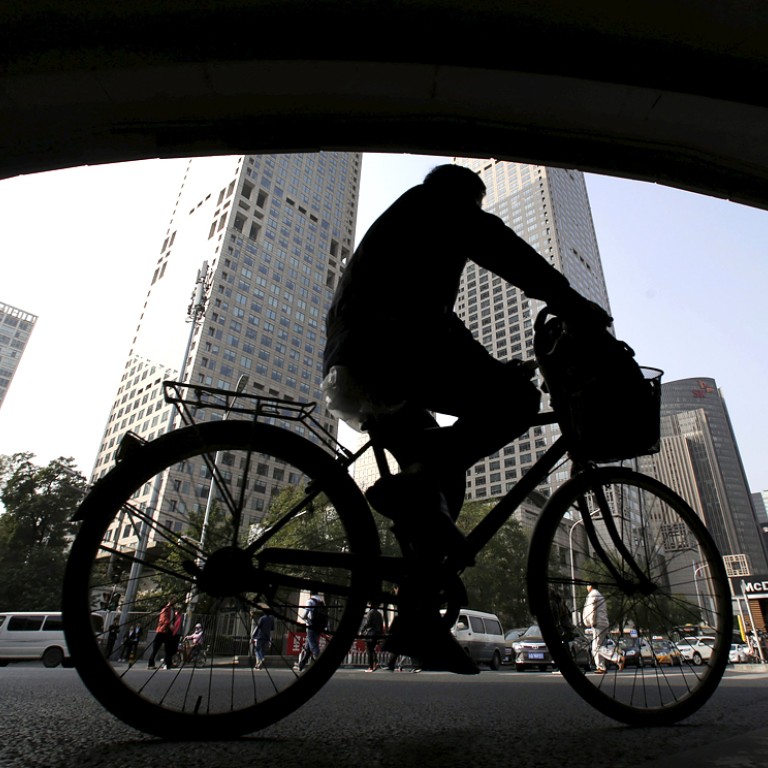 More gloom than cheer over mixed economic data as China's growth slows to 6.9pc
Third-quarter GDP turns out slightly better than expected, but mixed economic data still elicits more disappointment than delight
China's economy faced a bleak outlook amid mixed data released on Monday - slightly better than expected growth but disappointing investment and output figures - fuelling calls for more intensive policy support to boost economic activity.
The third quarter's 6.9 per cent growth in gross domestic product year on year, although higher than the forecast 6.8 per cent, was the worst quarterly performance since 2009 during the global financial crisis.
The GDP data buoyed market sentiment - but only temporarily.
The Shanghai Composite Index gained 0.92 per cent shortly after the figure was released, but soon reversed into negative territory, ending down 0.14 per cent at 3,386.70. Hong Kong's Hang Seng Index traded weak for most of the course, closing up 0.04 per cent at 23,075.61.
National Bureau of Statistics spokesman Sheng Laiyun said downward pressure was here to stay until the mainland completed its economic restructuring.
"Deep winter will continue, but the poor data also adds possibilities for intensified stimulus policies," China Merchants Bank economist Liu Dongliang said.
Authorities would likely step up fiscal policy, and further cuts in interest rates and banks' reserve ratio would be imposed sooner than expected, Liu said.
Fixed-asset investment, a key economic driver, continued to lose momentum, expanding just 10.3 per cent year on year from January to September, marking the slowest growth since 2000. This compared with 10.9 per cent in the first eight months.
The pace of investment in railways saw a sharp drop to 1.8 per cent from 9.9 per cent in the first eight months. Industrial output grew 5.7 per cent last month, the lowest growth in six months, according to the statistics bureau. Car output dropped more than 20 per cent for the third straight month, signalling falling demand for durable goods.
Electricity consumption, a key indicator of economic activity, fell 0.2 per cent in September. Industrial use of electricity alone fell 2.9 per cent, according to the National Energy Administration.
"The overall economic data was weaker than expected, indicating insufficient economic momentum" China International Capital Corporation said.
"Property sales slowed last month … Sales and prices of construction materials … have not shown signs that property investment will stabilise."
Retail spending was one bright note amid the gloomy data, however, growing 10.9 per cent last month, compared with 10.8 per cent in August.
The service sector accounted for 51.4 per cent of GDP in the first three quarters, compared with the industrial sector's 40.6 per cent, the statistics bureau said.
GDP expanded 1.8 per cent quarter on quarter on a seasonally adjusted basis, unchanged from the previous three months. The bureau said it had adopted the International Monetary Fund's standards in compiling quarterly GDP data but that the change would not affect year-on-year GDP growth figures.
The latest economic data would affect the authorities' setting of the national growth target for the upcoming 13th five-year plan as it was becoming increasingly difficult to achieve 7 per cent annual growth, said Minsheng Securities.
The central bank has cut benchmark interest rates five times since November and lowered banks' reserve ratio by at least 200 basis points. Economists have expressed disappointment at the cuts' limited impact on boosting the economy.
This article appeared in the South China Morning Post print edition as: More gloom as China's growth slows to 6.9 pc