Focus
Get more with myNEWS
A personalised news feed of stories that matter to you
Learn more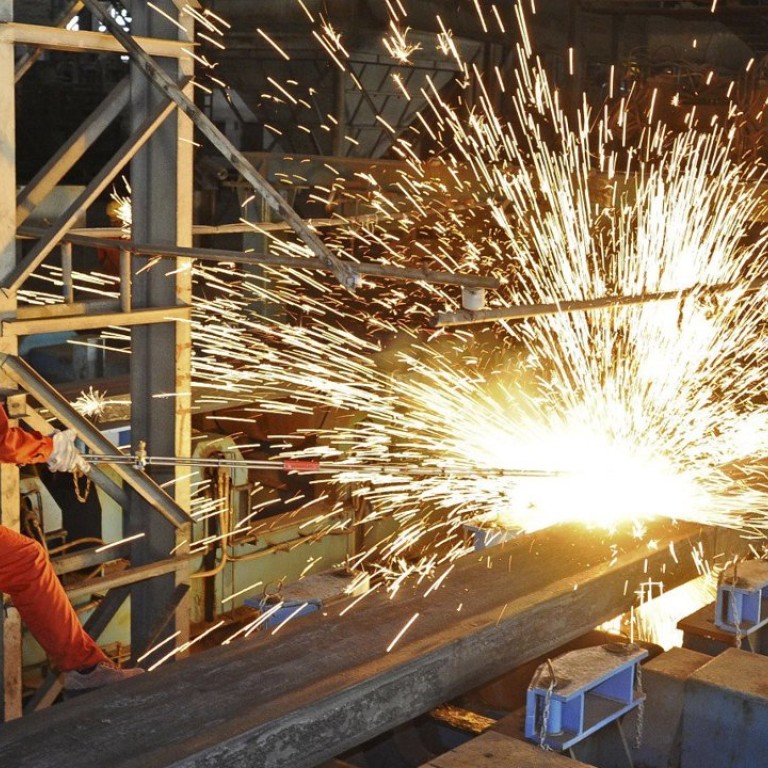 Reviving China: can 'Xiconomics' help mainland's economy the way 'Reaganomics' boosted US?
President Xi Jinping's call for 'supply-side' reforms, such as cutting government controls and allowing the free market to operate, means it could become a distinctive feature of China's economic and social policies in 2016 and beyond
China's economic growth may be losing steam, but business is soaring at e-commerce firm Bolo.me.
The company, based in Shanghai, launched just five months ago and its mobile app has already chalked up 1.3 million users, who use it to buy everyday items like cosmetics, shampoo and napkins from overseas manufacturers, mostly based in Japan and South Korea.
It also allows consumers to view live feeds of the factories that pump out the goods, and the brick-and-mortar stores selling them in Seoul or Tokyo, letting mainlanders tap into the "local shopping experience".
"Orders are flying in like snowflakes," said Bolo.me co-founder Xu Sheng. "Chinese consumers just can't get enough of high-quality products."
The company, which is valued at US$200 million, is riding a wave of success thanks to Chinese outbound shopping demand. Last year, mainland consumers spent at least 1 trillion yuan (HK$1.2 trillion) on foreign goods, with major e-commerce businesses, including Alibaba and JD.com, all jostling to become the favourite gateway.
The influx is a sign of rising Chinese consumer power on the global stage, but it has also set off alarm bells. Why is China, once widely regarded as the "world's factory", not making the goods that its people want here at home? More broadly, what should China be doing to rebalance its growth model so that it can be more sustainable?
According to President Xi Jinping, the answer is "supply-side" economic reform.
Supply-side economics
Supply-side economics, championed by late US leader Ronald Reagan, seeks to increase output and boost jobs by changing the conditions under which goods and services are supplied. It favours cutting government involvement in the economy and allowing an unfettered free market to operate.
The term was used by Xi last month at a meeting of the central leading group on economic affairs, according to state media. Xi reportedly said China needed to make an effort to enhance "supply-side reform".
According to mainland media reports, the idea is expected to be main theme of the upcoming central economics work conference, which sets the economic blueprint for the coming year.
Economist Teng Tai, founder of Winbro Economic Research Institute, a private think tank in Beijing, is one of the most vocal proponents of supply-side reform. The country's previous strategies for boosting economic growth were quickly losing effectiveness.
"The effects of demand-side measures in driving economic growth are getting weaker and weaker," said Teng, who in 2012 sparked debate with the publication of his Declaration on New Supply-side Economics. "Take fixed-asset investment for instance. The government can increase infrastructure investment for sure, but the effects can be easily offset by sluggish capital spending by property developers and manufacturers," Teng said.
However, through "supply-side" measures, such as reducing government red-tape, cutting taxes, and freeing up the labour, land and capital markets, China could prevent economic growth from slowing even more, while creating new sources of growth, said Teng, who attended a recent advisory meeting chaired by Premier Li Keqiang  .
"The global demand for the iPhone was zero before Steve Jobs made it happen, and now many people can't do without their iPhone – that's the power of supply-side changes," Teng said.
Unsustainable
China is in dire need of new economic dynamics as the existing pillars are crumbling. Property investment in the first 11 months of the year rose 1.3 per cent over the same period in 2014, and compared with 11.9 per cent growth recorded in 2013. The official purchasing managers' index for manufacturing pointed to contraction for four consecutive months up to last month. Exports have been falling on a year-on-year basis for four months in a row.
China's stock market remains volatile following the rout this summer, while the yuan exchange rate has dropped to its lowest level in four years, despite the International Monetary Fund deciding last month that the renminbi would be given nominal status of an international reserve currency.
"China's previous growth model has become unsustainable, with rising debt-to-GDP (gross domestic product) ratios, falling capital productivity and persistent producer-price deflation," Michael Taylor, a managing director at rating agency Moody's Investors Service, told a recent conference in Beijing.
As it struggled between short-term growth stability and long-term rebalancing, China also risked "disorderly de-leveraging" in the future, he said.
Four battles
Xi has listed the four big battles of the coming year as addressing overcapacity, cutting financing costs, reducing property inventory and preventing financial risks, China Business News reported.
This is in addition to moving the country towards becoming a "comprehensive, well-off society" by 2021, when the Communist Party marks its 100th anniversary.
"A breakthrough in economic theories is needed since the approaches found in old textbooks can no longer solve today's problems," said Jia Kang, a government researcher and a member of the Chinese People's Political Consultative Conference. After retiring from his research position at the Ministry of Finance, Jia founded the China Academy of New Supply-side Economics in 2013, pulling together a group of economists from both public and private sectors to study the approach.
"The leadership's emphasis on supply-side reform is a new approach for connecting theory with reality."
But China's supply-side economics would be different from its Western version to reflect China's reality. In essence, Jia said, it was a systematic summary of what the country needed to do to restart its economic engine.
Jia has made a series of policy proposals under the banner of supply-side economics, including encouraging innovation, upgrading industry and reducing government controls.
Many of the ideas he has touted have already been adopted, such as boosting investment in other developing countries and ending the one-child policy.
'Reaganomics'
Interest in supply-side economics intensified immediately after Xi used the phrase on November 10, with state media quick to label it the hallmark of the nation's new policy framework. Li followed this lead, saying that China needed to work hard – both on supply and demand.
Traditionally, supply-side economics favours lower tax rates and less government intervention.
Reagan adopted the theory to carry out broad-based tax cuts and government deregulation in 1980s – later dubbed "Reaganomics" – which helped to pull the US economy out of a period of stagflation.
China could copy the Reagan plan and carry out big tax cuts to fuel economic growth, Teng said. "The most effective policy to help short-term growth is cutting taxes," he said.
"If you don't have the guts to cut tax considerably, your policy cannot be labelled supply-side economics."
The Chinese government, headed by the premier, who has a doctorate in economics, is conducting "structural tax cuts", or cutting taxes selectively for small businesses and certain products, rather than introducing across-the-board reductions. China's fiscal revenues from January to October this year still grew faster than its GDP.
Yet for some economists, the talk of supply-side economics merely acknowledges the limited change seen in the past three years, rather than point towards any new approach.
"There's a tension in Chinese policymaking between the short-term desire to support growth and the long-term need to make the economy more efficient," said Mark Williams, chief Asia economist at Capital Economics, in London.
"Emphasis on supply-side reform is a way of saying that those structural reform ideas, intended by the government, haven't proceeded as smoothly or as quickly as the government had hoped."
Aggregate demand
In recent years, the government has been warmly embracing Keynesian-style economic policies that favour powerful government influence and massive government spending.
The late British economist John Maynard Keynes argued a government should act to boost "aggregate demand", especially when consumers were not spending and businesses were not investing.
China's practice of such policies was at its zenith in late 2008 when the nation rolled out a massive 4 trillion yuan stimulus programme, and banks pumped out almost 10 trillion yuan credit in 2009 as the central bank put its renminbi-issuing efforts into full speed.
Although it shielded the country from the economic fallout seen around the world, it left the domestic economy with a hangover of massive debt and unneeded capacity.
Due to the current economic growth slowdown, labour supply changes and environment pollution, China's freedom to adopt similar stimulus measures had narrowed, Jia said.
"The space is already very limited for China to conduct a Stimulus 2.0," he said.
Shen Jianguang, chief economist at Mizuho Securities Asia, said it was difficult to set strict demand-side and supply-side measures.
"If you want to address overcapacity, on one hand, you need to upgrade supply, and on the other hand, you have to create demand," Shen said.
"It's like two sides of a coin – in the past, China has put too much emphasis on the demand side of things, but now the focus is moving towards the supply side."