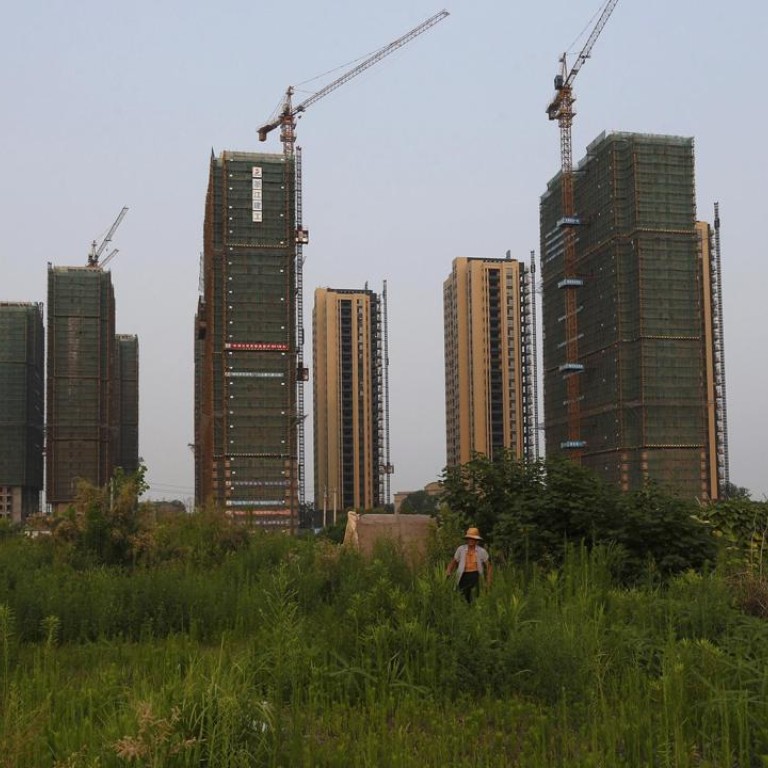 House of cards: property glut could spell doom for Chinese economy
The Chinese economy has a long history of proving its doubters wrong. But a growing number of experts are wondering whether this time the doubters might be on to something. Beijing's goal for 2016 is to keep growth ticking over at around 6.5 per cent but four issues, like horsemen of an economic apocalypse, are threatening those plans: industrial overcapacity, heavy business taxes, sky-high property inventories and financial risks. We examine each threat in a four-part series that starts today. Zhou Xin explores the real estate ambitions that have fallen to ruin in Anyang, Henan province.
Construction on the Venice Impression in Anyang (安陽), Henan (河南) province, started in 2009 during China's boom days and hopes for the project were high.
The mall would be not only the largest in the region, it would give those living in the inland Chinese city a taste of luxury, of designer products and exotic lifestyles.
At least, that was the vision. Today the project appears little more than a complex skeleton of cement and steel.
On a chilly December morning, few signs of work could be seen, though huge red banners promised that the local authorities would "try a thousand ways to keep the project alive and spare no effort to protect the interest of the masses" – promises made, presumably, to comfort creditors.
Wang Teng, who was peeping into the 180,000-square-metre construction site through a hole on a blue iron door, was not convinced.
"It's over, it's over," said Wang, who said he had lent about 300,000 yuan (HK$357,000), his life savings, to the developer in 2010 for a promised annual interest rate of 18 per cent.
"Money invested here is all washed away," said Wang.
He is just one of the 200,000 creditors to Chaoyue Group, a developer and local coal-property conglomerate.
Chaoyue's boss, Yang Qinghe – a Provincial People's Congress delegate, was arrested in November on criminal charges of "illegal fund-raising", leaving an estimated unpaid debt of 4 billion yuan, local media reported.
The Venice Impression is just one of several "rotten-tail" projects in Anyang, and Anyang is just one of hundreds, if not thousands, of Chinese cities and towns with an oversupply of property.
While top Chinese cities such as Beijing and Shenzhen are experiencing property price rises due to a limited supply of new homes, places like Anyang are drowning in vacant or unfinished homes, dragging down nationwide property investment and the economy as a whole.
"China's property market was the biggest growth engine for its economy in the past decade," said Tao Dong, the chief economist for non-Japan Asia at Credit Suisse.
"It is largely over now, and for China, there is no alternative."
Against this background, President Xi Jinping (習近平) has listed property inventory reduction as one of his priorities to revive the world's second biggest economy.
Xi's general idea is to provide housing to 270 million migrant workers who have left their rural roots to work in towns but are not fully covered by state pension, education and welfare.
Property investment growth fell to 1.3 per cent in the first 11 months of last year – from a growth rate of about 20 per cent two years ago.
"China property investment will see a decline of 2 to 3 per cent next year – the first property investment fall on record," Zhu Haibin, chief China economist for JPMorgan said. He said smaller cities would continue to suffer from property oversupply for at least two to three years, even with government incentives to encourage home-buying.
Local governments are already taking action. In Puyang (濮陽), another city in Henan, the local government announced it would provide a 150-yuan-per-square-metre subsidy to rural residents who purchased homes in towns and cities. In Anyang, the government started in August to provide a 20,000 yuan subsidy for anyone willing to buy an apartment in the city, one of the nation's ancient capitals known as the birthplace of the first Chinese characters.
"The days are over when everyone wanted to buy property, the more the better. Everyone is cautious now," said Xiao Li, a property agent in Anyang. "But for people who really need a home, like a new couple ready to live together, then it may be the time to take advantage of the government subsidy."
In Anyang, like other parts of China, the number of sales has been picking up. In Anyang, 3,392 apartments were sold in November, a 75 per cent rise from 1,937 in November 2014, according to data compiled by the local property channel run by Sina.com.
But in terms of area, the combined turnover of 415,000 square metres in November is small compared to the supply. There are at least 100 property projects on sale in Anyang and many have floor areas that match the total area sold in November.
"It will take a fairly long process to solve the problem," said Chen Xingdong, the chief China economist with BNP Paribas in Beijing. "It's a hard reality to face – you can't solve the property inventory problem in just one year however determined you are."
China's property development frenzy started in the late 1990s when urban residents needed to buy homes because most state employers had stopped providing free housing. The market boomed as millions of urban Chinese families moved into new apartments.
"The property industry is not only a pillar for the national economy but also a symbol of China's rising economic power," said Chen Sheng, the executive dean of China Real Estate Data Academy, a research agency in Shanghai. "The wealth of Chinese urban households is mainly in the form of property – it is the bedrock of China's prosperity."
Meanwhile, local cadres have found that selling land to property developers can generate welcome revenue. Land sale revenues were 4 trillion yuan in 2014, and cadres often see property development as the easiest way to promote GDP figures and boost their political careers.
Local governments often take land, sometimes by force, from farmers in return for insufficient compensation and then sell the land to property developers.
They then use the money to build roads, bridges and subway lines that have the effect of making more land available for sale.
Developers, on the other hand, can use acquired land as collateral to obtain credit for development before selling apartments to buyers.
The model has played out countless times across China, reshaping the country's landscapes and skylines at an incredible speed – according to one estimate, China's consumption of cement in the three years from 2011 to 2013 exceeded the US's cement consumption for the entire 20th century.
According to the National Bureau of Statistics, China had over 7 billion square metres of floor area under construction in the January-November period. But total property sales, by floor area, were only 1.1 billion square metres in the same period . On such figures, even if no new buildings were erected, existing supply could meet demand for the next couple of years.
Huw McKay, the head of Asian Economic Research of Westpac Institutional Bank, lists real estate construction as one of the "weakest elements" for the Chinese economy in 2016, along with heavy industry and manufacturing.
"The most important sectoral cycle in the Chinese economy is the real estate building cycle," said McKay. "When the housing market is not strong, Chinese consumers become more anxious about their employment prospects."
Property has also become a hotbed for corruption, a hub of money and power, and a jackpot for many of China's richest.
The Venice Impression mall was part of Anyang's plan to "make a big difference in three years" to its urban landscape and take advantage of the massive stimulus packages Beijing rolled out in 2009 and 2010. From Shenyang (瀋陽) in northeastern China to Erdos in Inner Mongolia (內蒙古), it became common for local governments to announce plans to rebuild cities and develop new towns in ambitiously short spaces of time.
Chaoyue was chosen as the company to realise Anyang's ambitions for the Venice Impression. Despite being a private company, it had a Communist Party committee that received recommendations from the city.
When bank loans couldn't cover its spending, Chaoyue turned to individuals like Wang via investment schemes offering a 1.5 per cent monthly rate, or 18 per cent annually.
Back when money was easily available and China's economic boom seemed unstoppable, local residents rushed into such schemes in search of high returns.
The unlucky ones found themselves involved in developments that were little more than Ponzi schemes.
"It was like smoking opium," said Li Jianjun, a taxi driver in Anyang.
"You put down 100,000 yuan at Chaoyue or Zhenyuan, and you took 2,000 yuan a month in interest payments – nobody wanted to work."
Zhenyuan was another private company based in Anyang that has since been toppled by its unpaid debts.
The carnival came to an ugly end. By the end of 2011, many schemes had collapsed, forcing angry investors to protest on the streets. Billions of yuan evaporated.
In January 2012, the Anyang government published a long list of dozens of "illegal fund-raising" programmes, but to this day many debts remain unpaid.
"It's just wrong to expect [your] money [will come back]," said Zhang, who was stood at the gate of Hong'an Imperial Capital, another unfinished project in Anyang. He was unwilling to give his full name.
"People were just thinking too much about money – a man just needs one bed to sleep on and three meals a day."
For Beijing, it's important that buildings coming on to the market can be filled.
"We must address the property inventory issue," Xinhua reported in a summary of the economic works leadership meeting chaired by Xi on December 21.
"We must accelerate the process of making migrant workers urban citizens, and we must roll out housing reforms to accommodate these new residents as a way to expand demand and stabilise the housing market."
Demand from migrant workers may make a difference.
"If you have an apartment in town, with a good school attached and good price, I don't think a migrant worker will say 'no'," Chen with the Shanghai academy said.
Chaoyue has failed so far to revive its mall project despite government efforts to help and there are plenty of similar failures by other companies. But there are success stories, too.
Wanda Plaza of Anyang, which broke ground in March 2013, opened for business in July 2015. According to local media, the mall attracted 320,000 customers on the day of opening.
On Friday evenings, the three-floor mall is busy with shoppers, film watchers and families queueing to tuck in to Burger King.
So perhaps the dream behind the Venice Impression has not ended. At least, not yet.
[email protected]
Tomorrow, Wendy Wu takes us to coal-dependent Hegang (鶴崗) in the northeastern province of Heilongjiang (黑龍江) to see how industrial excesses are taking their toll.