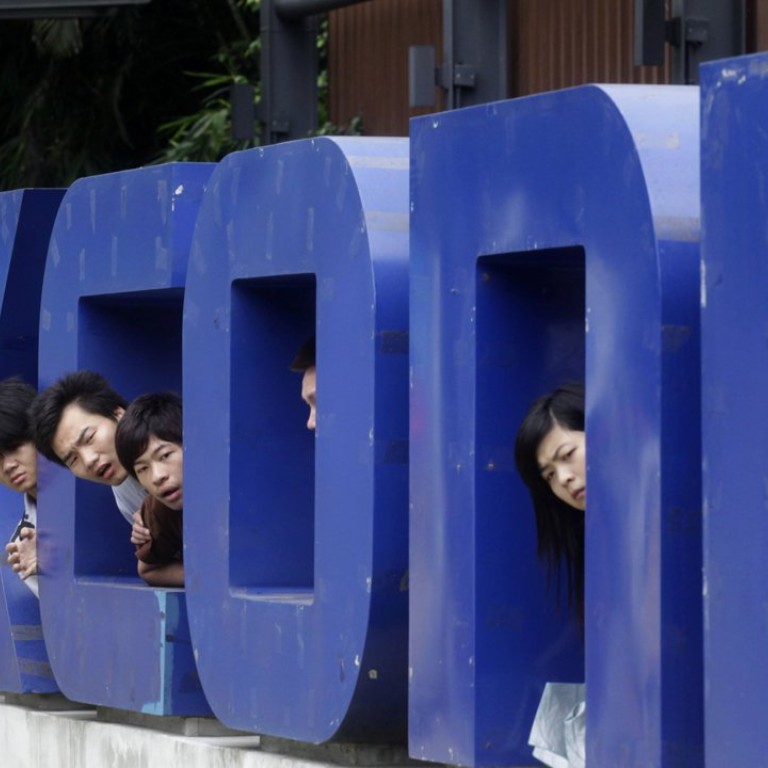 The hidden cracks in China's employment figures
In China's most innovative and exuberant city, where even a drab apartment can sell for 65,000 yuan (HK$77,000) per square metre, jobs at Foxconn Technology Group that offer salaries from 2,120 yuan a month should be a hard sell.
But for the millions of migrant workers in the Pearl River Delta who are bearing the brunt of China's economic slowdown, an entry-level manual labour position at Terry Guo's compound in Longhua of Shenzhen, once regarded as a last resort, seem suddenly to be in demand.
"My current employer plans to relocate to Jiangxi by 2017 to cut costs, so I am making plans," said Xiao Guofei, one of at least a dozen young migrant job-seekers who were reading recruitment posters outside Foxconn's gate as they waited to be interviewed.
"I am not sure if I am still young enough to get into Foxconn, but I will have a try," said Xiao, who is in his early 30s and was the oldest of those in the queue.
For Wang Tian, a 23-year-old from Jiangxi, age was not the problem. "The salary at Foxconn is not good – a 2,100 yuan starting salary, when you deduct 300 yuan as social security, you have 1,800 yuan left – what you can do with 1,800 yuan in Shenzhen?
"But at least it provides a free dormitory, and the boss will not run away," said Wang, who recently left his job in a factory 20km away, after his supervisors refused to give him a pay rise as promised.
Other job-seekers in the line were whispering news about factory closures and the necessity of securing a job before the Lunar New Year.
Such chatter marks a departure from most years, as migrant workers have traditionally searched for jobs after the Lunar New Year holiday, when manufacturing positions are plentiful.
This is just one illustration of the dangerous hidden cracks that lie beneath China's economic data.
China's official urban jobless registration rate released by the labour ministry has barely changed over the years, standing at about 4.1 per cent, while the surveyed jobless rate released by the National Bureau of Statistics shows unemployment at 5.1 per cent – slightly higher than in the United States but much lower than in the European Union.
But not everyone's confident in those figures.
"Unfortunately, it's hard to get a real picture of China's job market via government data," said Steve Wang, a China economist with Reorient Financial Markets in Hong Kong.
"The job market situation will become increasingly grim as growth slows."
Even if China's overall job market is "steady" as Wang Baoan, the statistics agency chief, said at a press conference on Tuesday, tensions are on the rise.
Incidents of worker unrest in China doubled in 2015 compared to 2014 as the economic situation worsened, according to China Labour Bulletin, a Hong Kong-based rights group tracking strikes in China. There was a noticeable rise in protests around the time of the abrupt yuan devaluation and stock market turmoil last summer when growth prospects became gloomier, the agency found.
In many cases, employers simply refused to pay workers or closed their businesses and disappeared, the agency said. Disappearances have become so widespread that "bosses ran away" has became a common phrase for job-seekers explaining their unemployment.
In Dongguan, a city neighbouring Shenzhen, at least eight bosses "ran away" between April and September last year, leaving debts of 13 million yuan in unpaid wages to about 2,500 workers, according to the city's human resources bureau.
In other cases, manufacturers paid everything they owed, and then left.
The Dongguan factory of Hong Kong-listed Stella International Holdings, announced on January 11 that it would cease manufacturing in China in a month's time, shedding about 1,900 jobs. The Taiwanese owner of the plant, which once made shoes for Prada and Nike, decided to relocate its manufacturing jobs to Southeast Asia.
Shenzhen G Credit Electronics, which makes handsets for Huawei and ZTE phones and employed more than 2,600 people at its peak, closed for business last month.
The woes at private factories in coastal areas come as other parts of the world's second biggest economy show signs of crumbling.
Hundreds of thousands of people have already lost their jobs at coal mines in northeastern China to aluminium smelters in Shanxi and steel plants in Hebei (河北).
As President Xi Jinping intensifies his battle against "zombie companies", or those government-backed enterprises kept afloat by external funding, unemployment is set to rise in 2016.
Shao Yu, chief economist at Orient Securities, said Beijing had been very reluctant to shut down state plants in the past because policy-makers were afraid of "large scale of unemployment".
With Xi himself now pushing the painful process, Shao expected China to lay off at least a further 2 million workers from industries suffering from overcapacity – such as coal, steel, aluminum and flat glass.
The Chinese government's ability of creating millions of jobs was once the envy of other countries.
At a G20 ministerial meeting in Sydney in 2014, when Chinese finance minister Lou Jiwei (樓繼偉) told Joe Hockey, then Australian treasurer, that China had created 13 million jobs in the previous year, Hockey responded that it would take 200 years for Australia to achieve that.
Similarly, a scenario in which millions of people were pushed out of jobs in a short period of time would be a dire challenge for any country, including China.
In general terms, Beijing believes the minimum growth rate China needs is about 6.5 per cent – any growth below that could endanger social stability due to under-employment.
China's economic growth slowed to 6.8 per cent in the last quarter of 2015 and is expected to decelerate further. Meanwhile, China's labour population, defined as those aged from 16 to 59, shrank by almost 5 million in 2015, the fourth consecutive yearly fall.
"It's true that the size of China's labour force has peaked, but it's wrong to think that there will be no employment problems," said Lin Yanling, a professor with the China Institute of Industrial Relations in Beijing. "In fact, labour, especially low-end labour, is much more vulnerable to economic downturns than other players."
About 20 per cent of labourers – those who are skilled and experienced – needn't worry about job security. "The other 80 per cent are in a weak position in terms of capital-labour relations – if the economic situation is not good, their position will be even weaker," Lin said.
China's huge labour force has formed the bedrock of the country's economic miracle of the past few decades. Its sweating in Dickensian workshops helped the country ascend from being a backwater Communist state to the centre of the world's economic landscape.
But those who make up that labour force are often marginalised from sharing the fruits of growth.
In Shenzhen today, even Foxconn is getting less and less important for the local economy as the city moves up the value chain, shedding its image as a sweatshop den for a new one as a bustling centre of innovation.
But for the migrant workers lined up at the Foxconn factory gate, whose education and family background deny them the chances to profit from technology, financial or property boom, even jobs that can only cover basic life needs are worth competing for.
China has more than 270 million migrant workers, but only 10 per cent were covered with unemployment insurance, the government's statistics agency said in its annual survey of migrant workers.
China has gone through waves of lay-offs before. In the late 1990s, then Premier Zhu Rongji (朱鎔基) closed hundreds of state factories, putting millions out of work, as part of an ambitious plan to revive the state sector in three years.
The subsequent process was painful, with huge human and social costs.
It is open to debate whether China is better prepared this time.
"The central government has pledged support to the unemployed, but it's unclear who will pay the prices – how much the central government will pay, how much the local government will pay, and how much the employer should pay. There are no clear answers," said Wang with Reorient.
Even workers who kept their jobs could face lower real incomes, said Mo Rong, director of the Institute of International Labour and Social Security under the human resources ministry.
"For some companies, things have become increasingly difficult and they therefore are operating below capacity, leading to shorter working hours and lower wages," he wrote in a recent report.
Even though official data underestimates unemployment, analysts warn against exaggerating the risks. "The problem is serious in manufacturing towns in the Pearl River Delta, in the rust belt of northeastern China, and the coal mine zones in northwestern China," said Tao Dong, the chief economist for non-Japan Asia at Credit Suisse.
"But services businesses in Beijing and Shanghai are in need of more hands – if a migrant worker is laid off from a shoe factory in Guangdong, maybe he can work as a security guard or a supermarket cashier in a big city."
While Beijing is putting a brave face on threats to employment, it is quietly stepping up efforts to prevent any worker-related crises.
The first notice issued by the country's cabinet, the State Council, in 2016 urged local governments to make sure that migrant workers were paid fully and sufficiently.
"The problem of wage arrears is still serious in some industries, especially construction and engineering, and even some government-invested projects are not paying migrant workers on time…[this has] caused public unrest here and there, endangering social stability," according to the notice published on the government website.
It triggered joke among internet users: a migrant worker climbs to the 10th floor of an unfinished building and tells his contractor to pay his wages or he will jump off the building. His contractor, on the 20th floor, calls the property developer and tells him to pay or he will jump of the building; the property developer, on the top 30th floor, calls the mayor and tells him to pay or he will jump off the building. The mayor, in another building, wishes he could have the luxury of jumping off a building as he is under investigation by the Communist Party's discipline committee.
Workers committing suicide by jumping off buildings was a relatively common headache for Foxconn a few years ago, and brought it media and public scrutiny. But its reputation among workers appears to have been rehabilitated – nowadays Foxconn is increasingly seen as an employer that offers job security and career development.
"Despite the economic downturn, Foxconn will continue to invest in developing and expanding our presence and capabilities in locations throughout the country," the company said in a statement to the South China Morning Post, adding that it would continue to maintain a workforce base of over one million employees in China.
The recruitment poster at the Longhua compound where Xiao, Wang and the other migrants were queueing was dated 2015, but remained in effect. The base salaries it was advertising lasted three months before increasing to 2,450 yuan. It said "real income" – basic salary plus overtime – could range from 3,200 yuan to 4,500 yuan.
"I plan to work there for many years if I get in – you need experiences to get a real pay rise," said Wang.