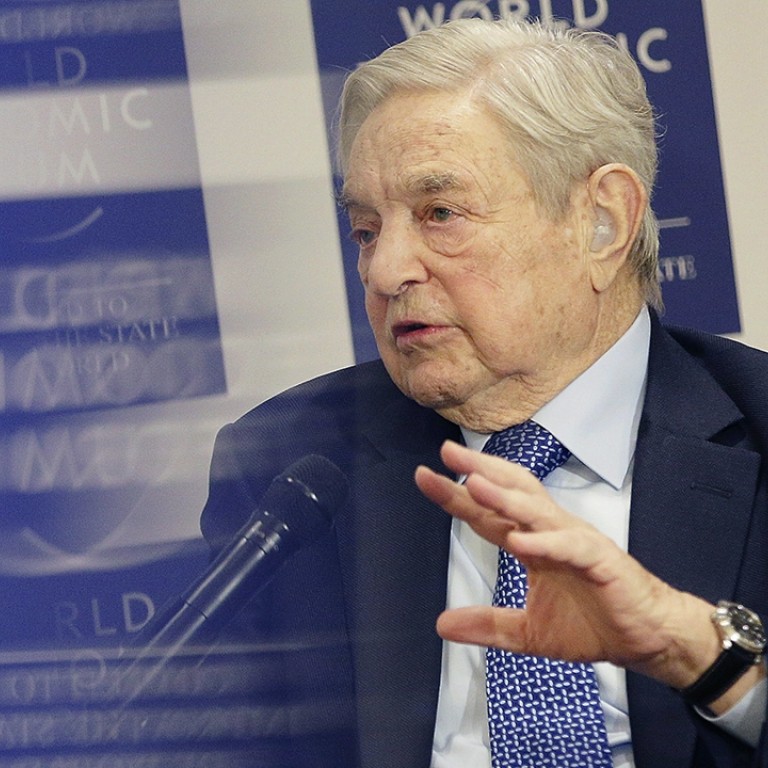 How Beijing and Hong Kong sent billionaire George Soros packing the last time he attacked Asian markets
The history of how George Soros has affected currencies and economies in Asia is remembered with some bitterness
History doesn't repeat itself, but it does rhyme, the American humourist Mark Twain is often quoted as saying.
So when billionaire investor George Soros said last week that a hard-landing in the Chinese economy was "unavoidable" and that he was shorting Asian currencies, the country's central bankers could be forgiven if they recalled the poetic justice of a hard-won financial battle 18 years ago, when Hong Kong was the battlefield and Soros was defeated.
In 1998, Soros, whose aggressive currency trades were blamed for destroying the Thai and Malaysian economies in the Asian financial crisis a year earlier, turned his attention to attacking Hong Kong markets. On that occasion, Hong Kong, backed by Beijing, faced him with an unprecedented HK$118 billion stock-buying spree to prop up stock prices and defend the currency peg in August 1998.
"Today's situation has some similarities to then," said Shen Jianguang, the chief economist with Mizuho Securities Asia in Hong Kong. "It's hard to attack the yuan, but it's possible to attack the Hong Kong markets."
The Hong Kong dollar is pegged to the greenback, but it's also viewed as a proxy of the yuan and the Chinese economy. With bets on a weaker yuan growing, the Hong Kong currency and stock markets have already witnessed turbulence, while Beijing is engaging in a war of words with Soros.
On the surface, 18 years on, China has little reason to fear Soros – its economic size is now 10 times that of 1998 when Zhu Rongji (朱鎔基), then premier, pledged repeatedly that China would not let the yuan follow other Asian currencies in weakening. The country's foreign exchange reserves, despite recent outflows, are still the world's largest at US$3.3 trillion, 20 times the level of 18 years ago.
But Soros' comments about a hard-landing come at a critical time for China.
Decades of dazzling growth have left the country needing to address massive overcapacity, huge piles of debt, and what some believe is an obviously over-valued currency. Public confidence in Beijing's ability to manage its markets is weakening after missteps in both the stock and currency markets.
"Where we are going tomorrow and the problems we face today, are very much a function of what we have been and where we came from," said Stephen Li Jen, a managing partner at SLJ Macro Partners LLP, a London-based hedge fund management and macro-research advisory firm.
As China had done little in the past decade to float the yuan but had allowed accumulative trade betting on its appreciation, international investors like Soros now saw a chance to attack, said Jen, the former global head of currency research at Morgan Stanley.
Whether Soros – who has previously announced his "final" retirement from fund management to focus on "political philanthropy" – can gather enough resources to undermine the yuan or the Hong Kong dollar is open to question.
"A big brother like Soros will have a lot of followers when he says something, but it will be another matter when people are asked to put money down to follow his bet," said Chen Xingdong, the chief China economist with BNP Paribas in Beijing.
"Many are worried that Soros could attack China, the yuan and the Hong Kong dollar as he did to ... the baht, but I don't think he still has that power."
The People's Bank of China controls the onshore yuan market and carries huge influence in the offshore yuan market in Hong Kong, making it hard for Soros to develop shorting strategies against the currency, he added.
In 1998, Soros was forced to walk away from Hong Kong with losses. He later praised the Hong Kong administration's efforts under then-financial secretary Donald Tsang Yam-kuen.
When Soros visited Hong Kong in 2001 he said local monetary authorities had done "a very good job when they intervened to arrest the collapse of the Hong Kong market".
Sun Lijian, a professor with Fudan University in Shanghai, said Bejing could adopt capital account control measures and leverage its state-controlled financial system to fend off speculation.
"When Soros blew the war horn in 1997, many domestic companies and individuals in Thailand or Malaysia followed him, instead of their government, to change money into dollars," said Sun. "China is different – all the major banks listen to the government, the majority of financial assets are in state hands, and a meeting with the financial bosses can put all of them on the same line."
For China, however, the true risks may not be about imminent dangers from investors like Soros, but the country's long-term process of embracing market-oriented reforms.
While Bank of Japan governor Haruhiko Kuroda is advising China to tighten capital account controls, economists are warning such short-term measures bear long-term costs.
When Malaysia adopted strict capital control measures during the Asian financial crisis to defend the ringgit and curb capital outflows, short-term stability was achieved at the cost of undermining investor confidence in Malaysia, said Shen with Mizuho.
"If China is going to be a reserve currency issuer, a genuine reserve currency issuer, it should tolerate more currency flexibility", said Jen at SLJ Macro Partners .
At a meeting in December 1997, Zhu, then a vice-premier, told the country's central bankers and financial executives that China was "lucky" to not be directly involved in the financial crisis in Asia thanks to its closed financial system.
Even so, the crisis had halted moves to open China's capital account, Zhou Xiaochuan, the central bank governor, wrote in an article published in 2014.
"China still lacks a systemic or comprehensive assessment of the [1997] crisis, and especially for the general public and leaders who are not involved in economic work decisions, this financial storm just left them with a few shallow impressions," Zhou wrote.
Now, with Soros knocking on China's door again, it's time to see whether China has learnt any lessons from history.