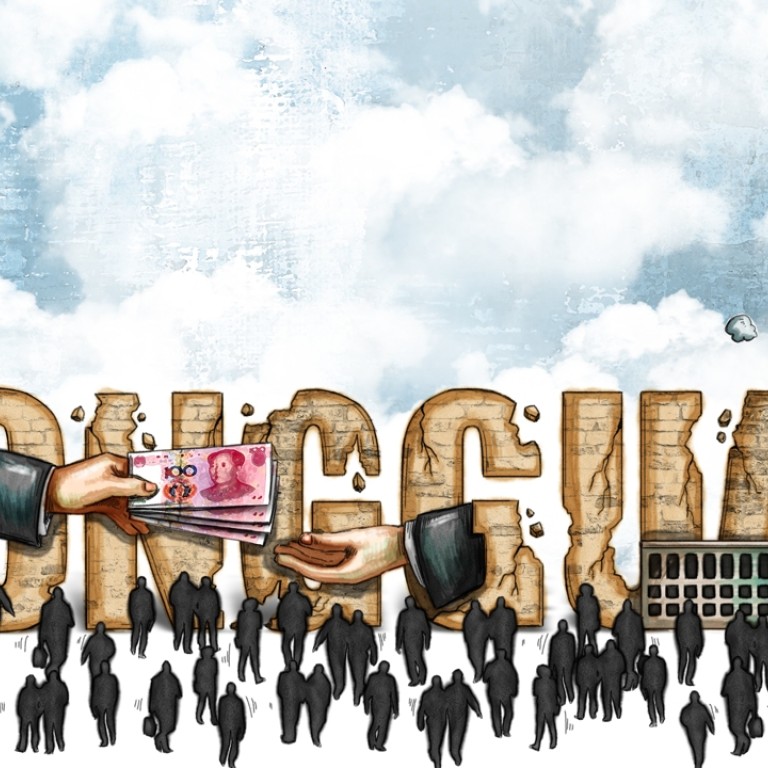 Stuck in the past: how China's manufacturing powerhouse of Dongguan got left behind
the city was once a magnet for manufacturing, but its slow realisation of need for innovation has turned it into a wasteland of moribund factories.
Sichuan native Shu Hucheng is one of a dwindling number of migrant workers in Dongguan. Others have moved home or gone on to more promising cities.
For Shu, 43, Dongguan lifted him from the rural poverty of sweet potato farming.
"Dongguan dragged me out of poverty but it also pushed me to another deep end … Without Deng Xiaoping's reform and opening up policy, we wouldn't be here today," Shu said.
It has also beaten him down – he was assaulted last year after police marked him as the leader of a strike that became the country's biggest industrial action.
"I'm ashamed to return to my hometown now that I don't have any money after being unemployed for a year," he said.
The destiny of millions of migrant workers like Shu is closely tied to the fate of the city.
In just a decade, Dongguan has gone from being a magnet for manufacturing to a wasteland of shuttered low-tech factories. The entrepreneurs, migrant workers and prostitutes that once flocked to the city have gone elsewhere, leaving behind industrial plots that produce nothing but weeds.
This was not the vision former Guangdong party secretary Wang Yang , now vice-premier, set out when he unveiled a blueprint for development in the province by the end of 2001.
What went wrong, analysts say, was a combination of domestic and foreign factors including population shifts, rising production costs, conservative cadres and corruption that dragged on efforts to upgrade industry. Those forces were compounded by the global economic slowdown that caused a drop in overseas orders.
After expanding 11.7 per cent a year on average in the past decade, Dongguan's economy has continued to grow but at a slower pace. It generated 588.1 billion yuan (HK$692 billion) in 2014 – roughly the same as Ecuador.
Now, with a focus on innovation and an industrial overhaul, Dongguan seeks 8 per cent annual growth in the next five years and a gross domestic product of more than 920 billion yuan by 2020.
But it will be an uphill battle. Guangdong governor Zhu Xiaodan said in November the province was being challenged by developed countries encouraging manufacturing and Southeast Asian nations promoting themselves as lower-cost competitors.
"Due to the surging costs of raw materials and diminishing advantage of population, land resources and environment, Guangdong's manufacturing sector development has been severely restricted," Zhu said.
He said in international terms the province's manufacturing standards were medium to low, but a three-year action plan was in the works to change all that.
As part of the "Made in China 2025" campaign, Guangdong plans to transform industry, develop smart manufacturing, and build an advanced equipment manufacturing base on the west bank of the Pearl River.
The plans echo Wang's calls when he took the helm in 2007, urging cadres "to unfetter and innovate, to have the commitment and the guts to blaze a new trail".
Wang's prescription was "to expand the cage and let the right birds in" – shock therapy that did not go down well in Dongguan.
Sun Yat-sen University finance professor Lin Jiang said the policy met local resistance and Dongguan remained stuck in its comfort zone, missing the chance to move up the value chain.
"Dongguan's industrial structure is largely built on original equipment manufacturers relying on foreign orders whose overseas headquarters have little incentive to invest in upgrading their production lines," Lin said.
"In 2007, Dongguan was at its peak of original equipment manufacturing. It dragged its feet on reform until the global financial crisis in 2008, at which time Dongguan was given a break and time was wasted along the way."
Shenzhen and Foshan were quicker off the mark. They moved low-cost production out and lured in hi-tech industries, fostering innovation that helped local brands like Midea and Huawei.
Dongguan was warned, though. In 2008, Wang said "if Dongguan does not start to transform its industrial structure today, it will be transformed [and lose out] tomorrow".
Dongguan finally put innovation and upgrades on its agenda for the 2011-2015 five-year plan but it was too little, too late as rising labour costs and shrinking foreign orders became too much.
Shu felt those changes. Since arriving in Dongguan in 2005, his pay had risen from 350 yuan a month at one shoe factory to 2,980 yuan at another making Nike and Adidas shoes.
But that was before more than 40,000 workers downed tools demanding the employer honour contributions to state-mandated social insurance and housing provident fund accounts.
Shu was marked out as one of the strike leaders and laid off but he denies any involvement.
"I was taken by a dozen uniformed police who beat the life out of me in a police station," he said. "They tried to force me to sign a confession but I refused and they bashed me up. There is no justice for migrant workers."
Shu spent months in hospital recovering. Since then Shu and his son, 13, have lived off his wife's earnings of about 2,000 yuan a month. He was unsure how long the family would survive but was not prepared to leave Dongguan until justice had been served. "I'm not sure what to do. My wife is asking for a divorce," he said.
At least 72,000 firms shut their plants in Dongguan between 2008 to 2012 and the city is a shadow of its former self. The Beijing News said in November that more than 4,000 companies had shut in Dongguan in the past year, mostly in the electronics industry.
Xiao Gongjun, a local entrepreneur, blamed two decades of corruption. He cited the example of the 2 billion yuan in annual research funding allocated by the Dongguan government since 2011 to help businesses upgrade products or invest in technology.
"A business friend told me he had obtained 16 million yuan in three years with the help of agents. His company was even given a technology award," Xiao said.
"I asked him what technological innovation his company had adopted. He told me he didn't know as the money was used to meet cash-flow shortages for his factory. All the paperwork on the innovative endeavour that got his company the award was filed by the agent on his behalf. And the agent ended up taking a cut.
"No one can give a clear, detailed picture of where the money went or if it was well spent."
Qu Jian, deputy director of China Development Institute, also blamed vested interests for putting Dongguan about a decade behind Shenzhen.
"Dongguan takes up the industries Shenzhen rejects … Local vested interests, particularly in the sex and entertainment industries, which generate easy money, compound the problem. Dongguan is stuck … with little incentive to upgrade," Qu said.
He also criticised the conservatism of local politicians: "Dongguan is full of migrants but those in power are mostly locals."
For Xiao, there was only one way forward: "The key is to lower one's expectation for the future."