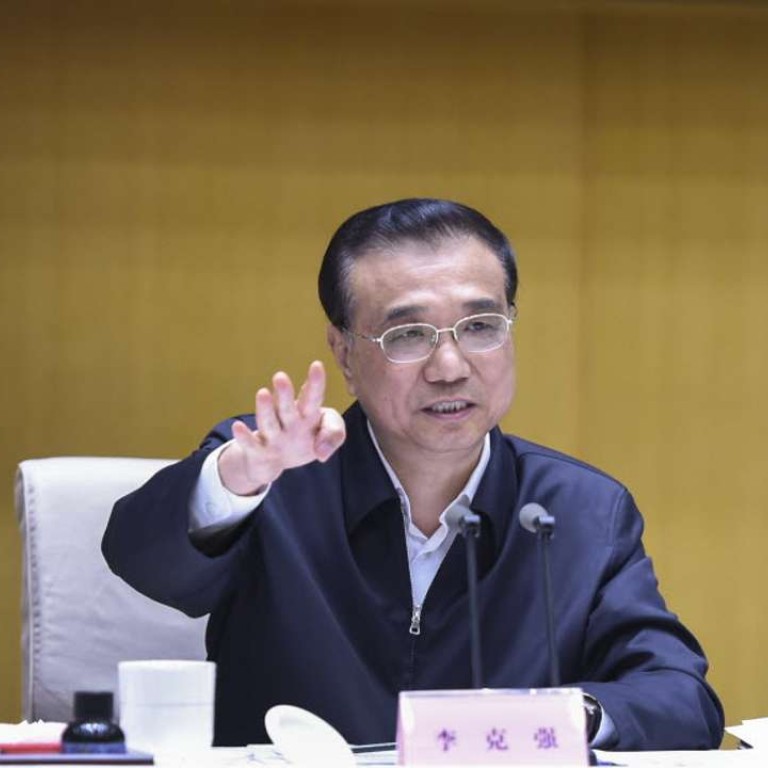 Mixed signals on Chinese economy from the 'authoritative' figures at the top
Just hours after an "authoritative" figure quoted in People's Daily criticised debt-fuelled growth in China's economy, a statement appeared on the cabinet's website in which Premier Li Keqiang said his government had refrained from "strong stimulus".
Li said his government had been focused on structural reforms in recent years to address the slowdown in growth.
A day after Li's statement on Monday, a transcription of a speech by President Xi Jinping, made in January, emerged in People's Daily, presenting Xi's vision of how supply-side structural reforms were key to the nation's future.
"There are so many policy signals flying around these days," Li Weisen, an economics professor at Fudan University in Shanghai, said. "One big voice is criticising stimulus … and then another big voice is denying any stimulus – it's all quite puzzling and we have to wait and see."
While policies by Beijing and market movements in Shanghai can send ripples across the world, some critics say analysing how China's big economic decisions are made, and by whom, can be like "reading tea leaves".
"It sounds nice to just rely on consensus, but at the end of the day … you want to know who the guys in charge are, you want to know what they think and how they are weighing up those views and opinions, and where they want to take this," Louis Kuijs, chief Asia economist at Oxford Economics in Hong Kong, said. "At the moment, perhaps, there's more uncertainty about where the leadership really stands."
Shi Jianxun, a finance professor with Tongji University, criticised the delivery of recent policy messages, as "abnormal" and even "irresponsible".
Shi said hiding behind the guise of an "authoritative figure" was reminiscent of the media strategy during the civil war – Mao Zedong used the name for articles attacking his opponent Chiang Kai-shek, who fled to Taiwan in 1949.
Such a method was not appropriate for the internet age, he said.
"A modern society values transparency and clear definition of power and responsibilities – meaning comments [attributed to an] 'authoritative figure' can easily lead to misunderstanding as well as market chaos and fluctuations," Shi wrote on his blog.
The first article criticising debt-fuelled growth is thought to have been written by Xi's aide.
"My interpretation is that President Xi is in charge … the State Council is not going to buck that," Tim Condon, the head of Asia research at ING Financial Markets in Singapore, said. "They are not going to set themselves to go left when President Xi says, 'We need to go right'."
The State Council statement said Li had told cabinet officials – in a reference to deregulation – that they should "show forbearance for sake of the nation" – employing a 2,000-year-old Chinese idiom rarely used in official documents. Mao used the phrase in 1943 to describe the Communist Party's tolerance of the Kuomintang: "[KMT newspapers] are ­persistently humiliating our Communist Party …but we still show forbearance for the sake of the nation."