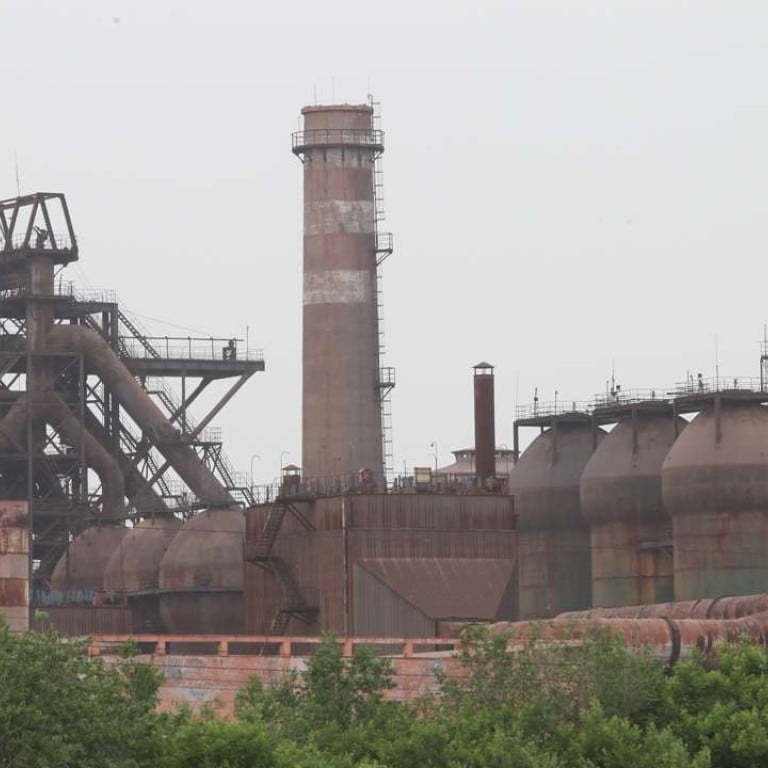 The zombies return: why are steel firms in China coming back from the dead?
Beijing vowed to cut hundreds of thousands of jobs in the steel sector as part of massive economic reforms, but foundries are reopening and production is on the rise
The grey smoke pouring once again into the sky above a rusty steel plant in a town in northern China is seen as a blessing by people who live nearby.
One of the plant's six blast furnaces was put back into operation earlier this month, breathing new life into Dongzhen in Shanxi province.
The plant, formally known as Haixin Iron and Steel, was closed two years ago as demand for the metal plunged in China.
Steel companies with little hope of turning a profit are among the enterprises known as "zombie firms" in China, many operating in ailing heavy industries that the central government has pledged to cut back as it attempts to create a modern, high-tech and innovation driven economy. Millions of jobs are due to be axed in the steel and coal sectors in the coming years.
But the plant at Dongzhen has been given a lifeline.
It has been renamed and taken over by new owners amid signs of a rise in steel prices, plus massive support from the local government.
And there is evidence that increasing numbers of other steel plants are also reopening in China, despite the government's pledges that the industry must be cut back.
Local people in Dongzhen, at least, now dare to believe there may still be hope for their beleaguered industry.
Restaurants have reopened, new food stalls set up, and even watermelon vendors are driving their carts and trucks nearby to serve the thousands of workers coming in and out of the compound.
Uniformed workers in red and blue helmets flow through the foundry gate, heavy trucks and cars blow their horns and there is a renewed sense of dynamism in this dusty town.
Guo Qiang, a 28-year-old steel worker was walking near the gate in his helmet and company uniform and said he was happy to regain his lost job.
"I worked at Haixin and then two years ago production stopped, so I had no choice but to till the land - you know you can never make money from planting crops," he said. "So when I received notice to work again in the factory, I was happy. The job is tough, but I can make much more than farming," said Guo, whose monthly income is about 3,000 yuan (HK$3,600).
Another worker, who only gave his surname Zhang, was sitting on his motorbike waiting for a colleague to come off duty.
He said he was among those kept on at the plant after it was mothballed two years ago to keep it in working order.
"I was one of the hundreds left to look after the equipment, but it was a bit worrying when wages were not paid in full or on a timely basis," he said.
"Ultimately, all due wages have been paid and I'm quite relaxed now the new boss is here," he said, pointing to a huge new sign at the roadside praising the new owners Jianlong.
"A leader in industrial development, a widely respected corporate citizen and a source of pride for all its employees," the slogan exclaimed.
Zhang said he had no interest in China's massive overcapacity in the steel sector. "I don't care. I care about my job and my salary," he said.
The well-being of people like Guo and Zhang and thousands of their colleagues and families is at the heart of the local government's efforts to keep the steel plant alive.
After operations at Haixin ground to a halt, the local authorities first offloaded nearly 20 billion yuan in debts from the plant. It then invited Jianlong to take over and pledged full support to the foundry's new boss.
Wang Yuyan, the local municipal communist party chief, toured the plant with Jianlong's chairman last month and urged local government cadres to serve the company with a sense of "service, efficiency and responsibility", according to the Yuncheng Daily, the local official newspaper.
The fate of the Dongzhen steel plant highlights the dilemma facing many local government across the country: the need for massive economic reforms, weighed against the suffering created by massive job losses and the fear of social unrest.
President Xi Jinping has said cutting overcapacity in ailing industries such as steel is an essential part of the government's "supply-side" economic reforms.
An unidentified "authoritative figure" was also quoted in a prominent article in the Communist Party mouthpiece the People's Daily on Monday renewing calls to terminate "zombie companies".
Haixin, however, is not the only "zombie" steel firming coming back from the dead.
As China pumped unprecedented amounts of credit to boost growth in the first quarter, many steel plants are back on stream to take advantage of a rise in steel prices.
Daily steel output on the mainland in March rebounded to a nine-month high and output in April could be even higher, according to analysts, although the steel price rally has started to fizzle away this month..
"It's difficult to take Chinese pledges to address surplus capacity seriously," said Christopher Balding, an associate professor of economics at Peking University HSBC Business School. "There is a recent track record of talking about the problem and not taking the steps required to solve it: like a dieter who wants to lose weight and still eats chocolate chip cookies."
Haixin, with six million tonnes of annual capacity, is not a game-changer in China's steel industry with about 1.2 billion tonnes of production capacity.
But as the biggest local employer it once contributed 70 per cent of taxes in Wenxi county and it was "too big to fail" for the local authorities and community, especially with little prospect of other industries coming to take its place.
Steel companies like the new owners Jianlong also say they are confident of their ability to survive amid fierce competition and are willing to take every chance to expand, especially when their state-owned competitors are on the retreat.
All these factors are complicating Beijing's efforts to downsize the bloated industrial sector, even though the central government is pledging to phrase out up to 150 million tonnes of steel production capacity by 2020.
Countries around the world have also accused China of dumping its excess and low-priced steel capacity overseas, making it impossible for foreign steel to compete.
The US Republican presidential candidate Donald Trump accused China of "raping" America and threatened to impose punitive tariffs on Beijing imports if he wins the forthcoming election.
The European Commission is also establishing a mechanism to monitor steel imports to check unfair trade after thousands of German steelworkers protested against imports from China.
Hans Dietmar Schweisgut, the EU's ambassador to China, said at a press conference in Beijing on May 9 that China was not doing enough cut overcapacity in its steel industry which has hit European manufacturers hard.
Exports of steel products by China, which produces more steel than the rest of the world combined, increased 7.9 per cent in the first quarter of 2016, according to data from China's customs. It reported a 19.9 per cent rise in steel exports last year.
"I think there'll be tough confrontations ahead over steel" between China, the US and the EU as China's steel output keeps growing, said Jonathan Fenby, managing director of the China team at Trusted Sources, a London-based consultancy.
But in Dongzhen, a small town in a remote corner of China which was officially designated as a centre of poverty a generation ago , its giant steel plant is a source of income and hope.
"It's as simple as that: if the steel plant sinks, everything else sinks with it," said an old resident in Chuankou village next to the plant.
The steel business began in the town in 1987 when Li Haicang, from a poor peasant family, borrowed 400,000 yuan and his business grew into a major player in the province.
Li, a vice chairman of the All-Federation of Chinese Industry and Commerce, was shot dead in 2003 by an old friend in his office in a personal dispute.
Li's only son, Li Zhaohui, then 22, returned from his studies at Australia's Monash University and became the new chairman.
But as China's demand for steel slowed and management at Haixin deteriorated, it started to report huge losses and ceased operations in March 2014. The South China Morning Post was unable to reach Li for comment.
Wenxi county's industrial output plunged 60 per cent after the closure and the local government set up a special task force to save the steel plant.
A local court ruled last year that Haixin owed 19.7 billion yuan in unpaid debts to 981 creditors and declared it bankrupt.
Then came the rescuer, the Jianlong Group, a privately-owned steel conglomerate with 10 million tonnes of annual capacity. It has a track record of taking over loss-making steel plants and turning them around, according to analysts.
"If it's a purely private investment decision, there should be no problem since the private investor will be responsible for itself in terms of losses and profits," said Shen Jianguang, the chief economist at Mizuho Securities Asia in Hong Kong.
"But the key question is about the role of the government. On the ground, the situation is often complicated with commercial interests and government intentions interwoven together."
Jianlong declined a request for an interview, but Zhang Zhixiang, a delegate at the National People's Congress, said in an interview with
China Metallurgical News
last year that the firm took over the plant because it needed a factory in central China to stay close to clients in the region.
Shanxi's cheap supply of coking coal was also good for cost control, Zhang told the newspaper.
Whatever the reasons for the reopening of the Dongzhen steel plant, local people, at least, are grateful that one "zombie firm" has come back from the dead.
"Firecrackers are lit for the restart of every major workshop" inside the plant, one worker said.