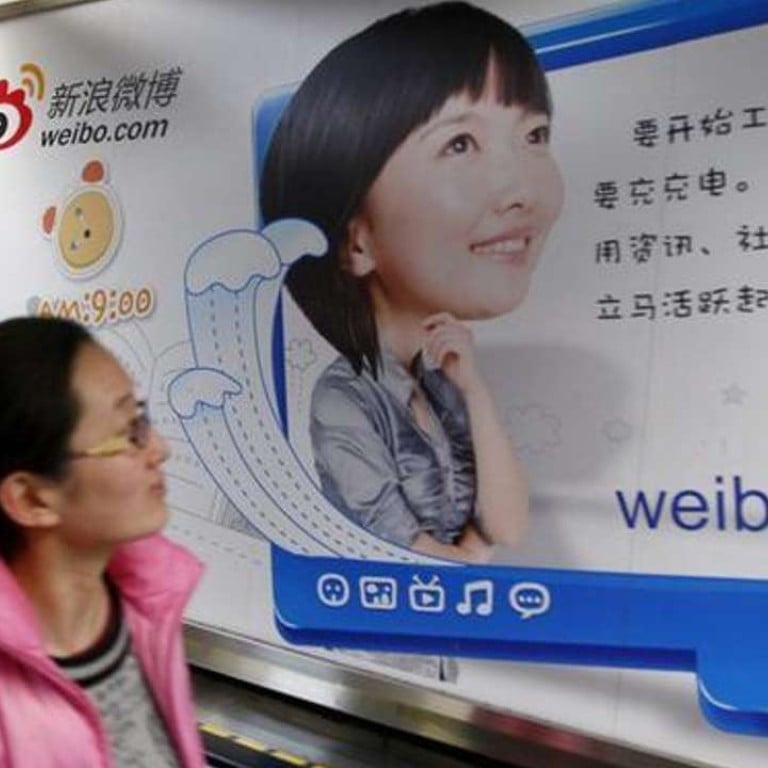 How showbiz stars and pretty boys came to the rescue of China's version of Twitter
Celebrities have flocked to Weibo after censors forced the closure of high-profile social and political commentators' accounts
Weibo, China's version of Twitter, is now dominated by chat about pop stars and show business, information released by the microblogging platform has revealed, after government censors have cracked down on discussions on politics and closed the accounts of outspoken social and political commentators.
Entertainment news and humour are now the top topics discussed on the platform, according to Micro Cao, the senior director of commercial operations at Weibo.
News ranked third, followed by chat about sexual relationships, Cao told a briefing in Shanghai last week.
Pop stars, some of whom are called "Little Fresh Meat" in Chinese slang because of their boyish good looks, have millions of followers on Weibo.
They include Lu Han, Wu Yifan and Li Yifeng , just to name a few, with huge numbers of their fans following their updates on the microblogging platform.
Wang Yue, a college teacher in her 30s from Hangzhou, said the first person she followed on Weibo was Zhong Ruqin , a woman from Jiangxi province who set herself on fire in protest after the government took over her home in 2010.
"At that time Weibo was a good way to learn about what was happening around the nation for me, especially so that I could hear voices that were neglected or kept away from the established media," Wang said.
Once an active user of the service, she now seldom logs on. "Now when I open the app, there are always several advertisements on the top, then comes gossip on celebrities, or some empty, foolish jokes. Many of the newsmakers and critics I followed stopped updating their accounts a long time ago."
The rapid development of Weibo, started by Sina.com in 2009 as an online public opinion forum, created an unprecedented challenge for China's censors.
A group of so-called Big Vs emerged, high-profile commentators who started to gain influence by debating and sometimes attacking government policies.
The authorities started to act to rein in the comments in 2012 and stepped up efforts the following year by shutting down the accounts of high-profile bloggers.
The Chinese-American investor Charles Xue Biqun, known on Weibo as Xue Manzi with 12 million followers, was detained by the police in a Beijing prostitution bust and made a public apology on state television, in an apparent move by the authorities to publicly shame and discredit him.
Ren Zhiqiang, an outspoken property mogul and prominent Communist Party member, was silenced in February this year after he commented on President Xi Jinping's policy the media should be loyal to the party. His Weibo account, with 37 million followers, was closed.
Millions of users stopped using Weibo after the clampdown started. The rise of WeChat, a mobile messaging service provided by internet company Tencent, has also made life tough for Weibo.
One strategy adopted by the service was to attract celebrities to use Weibo so fans could follow them on the platform, Cao said.
Apart from pop stars, there are over 36,000 active online celebrities on Weibo, mainly young women and girls. They were attracting 385 million fans to Weibo, many from small cities and towns, he added.
"They are usually young, tending to like popular photos, videos, pop stars and gossip. They are especially excited when there's a hot topic and are extremely quick to mock when something bad happens," Cao said.
Thanks partly to the popularity of "Little Fresh Meat", Weibo has for the first time attracted more women users than males, Cao said, putting the figure at 51 per cent compared to 46 per cent a year ago.
The success of Weibo in wooing new users through show business and entertainment gossip comes at the cost of silenced public debate, according to Cui Baoguo, a professor at the Tsinghua School of Journalism and Communication in Beijing.
"Even though it's seeing a growing number of active users, I don't think it has an optimistic future. It won't be laughing long," he said.
This article appeared in the South China Morning Post print edition as: Weibo goes pop after plug pulled on politics