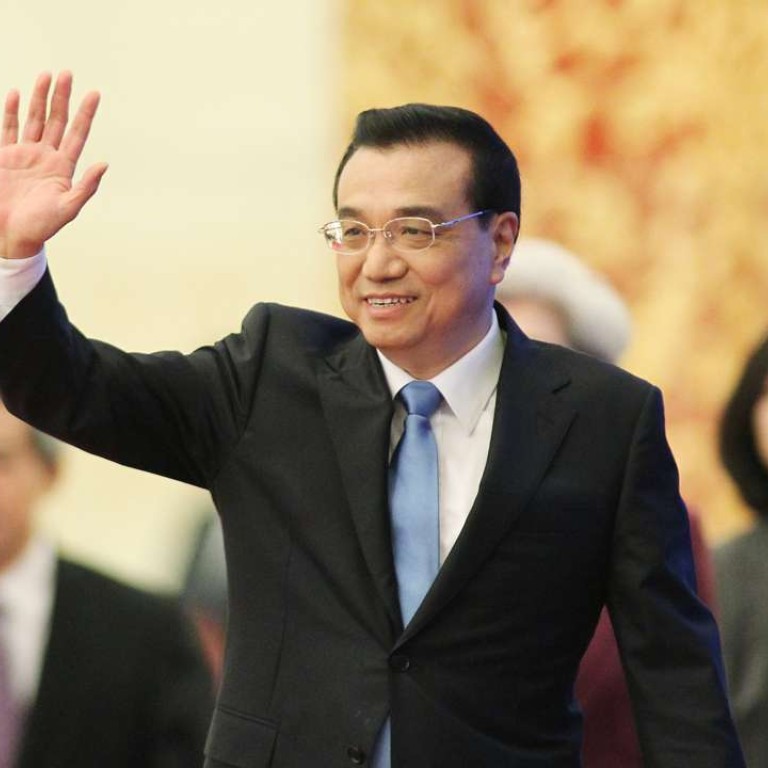 Talks of hard landing should end now – Chinese premier lays out his biggest wins in office
Li says economy can maintain medium to high growth in the medium and long run
Chinese Premier Li Keqiang on Wednesday defended his record of economic management, saying his biggest achievements in his four years in the top office have been steering the country on a steady growth course and avoiding the much talked-about threat of a "hard landing".
Addressing hundreds of journalists at the end of the annual gathering of the country's legislature, Li hit back at the doubters, saying the economy would be able to maintain medium to high growth in the long run.
"I've been hearing talk in recent years about China heading for a hard landing but such talk should end now," Li said.
Li said growth in the last four years had been steady, with annual headline growth differences narrower than 1 percentage point.
That was achieved, he said, thanks to "the leadership of the Communist Party's Central Committee with Comrade Xi Jinping at the core".
The mainland's gross domestic product rose 6.7 per cent last year, and Beijing is aiming for growth of about 6.5 per cent for 2017. Economic indicators in the first two months of this year suggest the economy is gaining momentum, led by expansion in fixed-asset investment.
Li Wei, a Sydney-based China and Asia economist with Commonwealth Bank of Australia, said Li had been "assiduous" and had done what he could within his power, including cutting red tape.
"But the implementation [of policy] may not have been as good as he had expected," Li Wei said.
The premier said his biggest challenges were to cut government intervention in economic activity and to squeeze room for "rent-seeking".
While growth has stayed on track, concerns about the country's economic health remain, especially about its fragile financial system and local government debt. The yuan is also under pressure from the threat of capital ­outflows.
In an clear attempt to address such fears, Li said that the overall financial system was safe and there was no concern about systemic risks. "We still have many tools in our pocket," he said.
China was batting above average in terms of some international indicators, including a government fiscal deficit to GDP ratio of less than 3 per cent, and a capital adequacy ratio of 13 per cent and a provision coverage ratio of 176 per cent for commercial banks. Li said the stable growth was achieved without sacrificing ­sustainability.
"It was achieved without an all-out stimulus, but through upgrading industry and services," he said, drawing a clear line between the economic policies of his predecessor Wen Jiabao, who rolled out a massive stimulus package to counter the fallout from the global financial crisis.
That stimulus package is thought to have led to huge risks. including a mountain of local government debt and rampant shadow banking.
To bolster the country's growth, Li said the government was trying to cut corporate taxes and fees by about 1 trillion yuan (HK$1.12 trillion) this year.
He did not say how the target would be met, but it is much higher than his promise to cut 350 billion yuan of the corporate burden through value-added tax reform and another 200 billion yuan in fee cuts.
Yang Zhiyong, a researcher at the Chinese Academy of Social Sciences, said: "There should be some action this year such as the shrinking the four-tier VAT system into a three-tier one, but the difficulty is how to pass the benefits on to business so they feel it."
The mainland's fiscal revenue has continued to rise despite Beijing's insistence that it is cutting levies on businesses and individuals. In the first two months of 2017, fiscal revenues were up 14.9 per cent from a year earlier, the Ministry of Finance said in a statement on Wednesday.
This article appeared in the South China Morning Post print edition as: Premier stands firm on economic recordCHINA CHARTS THE PATH AHEAD