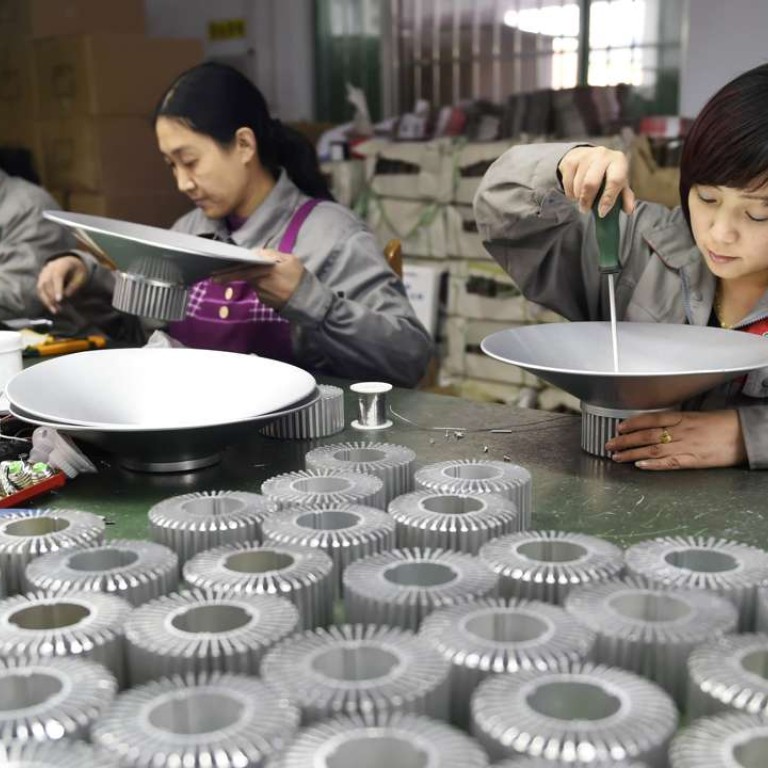 China's April factory growth slows to weakest in seven months
Economic growth still solid, but moderating after strong start to the year, manufacturing PMI shows
China's factory sector lost momentum in April, with growth slowing to its weakest pace in seven months as domestic and export demand faltered and commodity prices fell, a private survey showed on Tuesday.
The findings echoed those in official manufacturing and service sector data on Sunday, reinforcing views that China's economic growth remains solid but is starting to moderate after a surprisingly strong start to the year.
The Caixin/Markit Manufacturing Purchasing Managers' index (PMI) fell to 50.3 in April, missing economist forecasts' of 51.0 and a significant decline from March's 51.2.
The index remained above the 50.0 mark which separates expansion from contraction on a monthly basis, but only just, and grew at its slowest pace since September 2016.
The private factory survey suggested growth faded at a shaper pace than the official reading, but economists largely attributed the softening in both cases to a pullback in global commodity prices and signs of moderating in China's red-hot housing market after a flurry of government cooling measures.
Betty Wang, senior China economist at ANZ, said many companies had "too strong" a bullish view when global commodity prices began rallying late last year, but that trend was now changing, making firms more cautious about spending.
Coupled with more property tightening measures hitting the real estate sector – a major driver for China's economy – since March, market expectations might have started to reverse, she added.
The private survey showed production growth and total new orders rose at the slowest pace since last September, with both showing only slight improvement from the previous month.
Sharp falls in prices of iron ore, steel and other raw materials led to a sharp cooling in producer price inflation, which has helped some firms' such as steel mills and smelters post their strongest profits in years.
The official manufacturing PMI fell less sharply but still slid to a six-month low of 51.2 in April from March's near five-year high of 51.8, according to data at the weekend. Analysts had expected a reading of 51.6.
Growth in China's services sector slowed to 54.0 in April, from the previous month's 55.1, but remained robust.
China's economy expanded 6.9 per cent in the first quarter, fueled by a construction boom. That is likely to give it enough of a tailwind to hit Beijing's full-year target of around 6.5 per cent even if growth slowly fades in coming months as many analysts predict.
ANZ's Wang said the loss of momentum in the monthly activity surveys did not portend a growing risk of a hard landing at least in the short-term, noting the government in general still remained supportive of credit conditions for the real economy despite a crackdown in certain sectors such as real estate and interbank lending.
But analysts do expect growth to slow in the next quarters, estimating the softening seen in the surveys will eventually emerge in hard data such as investment.
Julian Evans-Pritchard, Singapore-based economist at Capital Economics, said in a note that the Caixin PMI fit with his view that underlying investment demand had weakened recently despite faster nominal growth in capital spending.
Those concerns, along with a tightening regulatory crackdown on riskier forms of lending and speculation, saw Chinese stocks post their worst month of the year in April.
Indeed, the degree of business confidence in April was the lowest so far this year, the survey noted, although companies generally expected output to increase over the next year.
Worries about operating costs and economic conditions weighed on confidence, though other survey respondents pointed to positives such as new product launches and a moderation in soaring input prices that have been squeezing profit margins for companies in the middle of supply chains.
Growth in total new orders slowed sharply to 50.9 from 52.7 in March, with the rate of expansion in new export orders also easing.
"The Chinese economy may be starting to embrace a downward trend in the near term as prices of industrial products decline and active restocking comes to an end," Zhong said.
The pace of job shedding also intensified in April to a three-month high as a result of cost-reduction efforts and the non-replacement of voluntary leavers and retirees.
Compared with the official PMI, the Caixin/Markit survey tends to focus more on small- and mid-sized manufacturers. Both reports, however, suggested that smaller firms are under more pressure than their larger, state-backed peers.
This article appeared in the South China Morning Post print edition as: Factory growth weakest in 7 months