Yuan
Get more with myNEWS
A personalised news feed of stories that matter to you
Learn more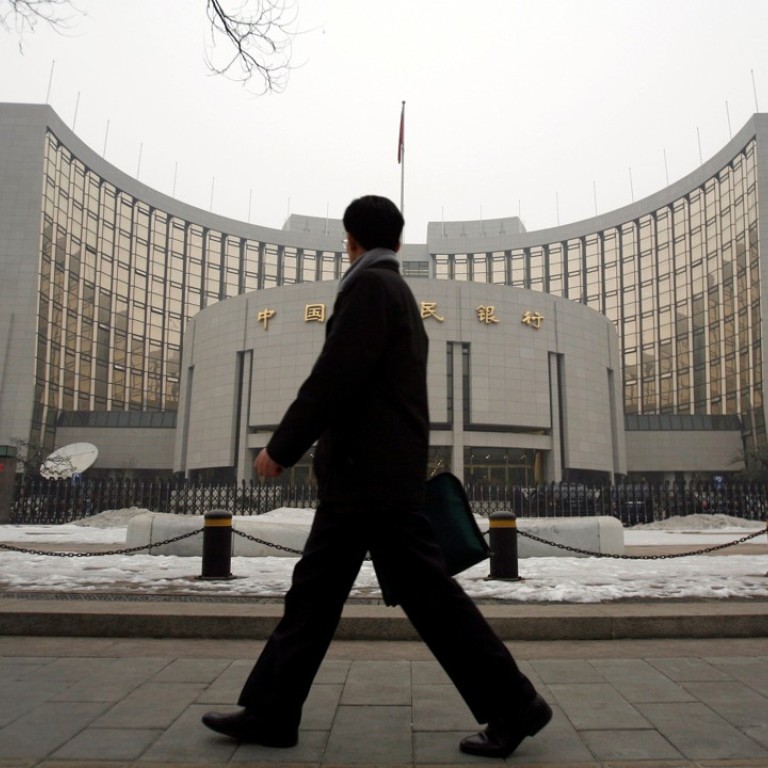 Say goodbye to easy money as China's central bank puts squeeze on liquidity
PBOC moves to tighten funds in the banking system expected to push up short-term rates
China's central bank has got off to a hawkish start on banking system liquidity this month, sending a clear signal that the days of monetary easing are over.
After skipping open market operations on Tuesday, the People's Bank of China released 140 billion yuan (US$20.3 billion) in additional liquidity in the interbank market on Wednesday but did not renew the 230 billion yuan medium-term lending facility that matured the same day.
That move is expected to further squeeze money for banks and push up short-term rates.
"The good economic performance in the first quarter has given room for financial deleveraging, a key theme for this year," China Minsheng Banking chief analyst Wen Bin said.
Wen said the government was confident of meeting its 6.5 per cent growth target this year, after the economy surprised with a 6.9 per cent rise in the first quarter.
Market worries of tighter liquidity drove up the overnight Shanghai interbank offered rate to 2.8451 per cent yesterday, the highest reading in two years.
"China's central bank is responding to changing external factors, including the US Federal Reserve's interest rate hikes and the much-talked-about downsizing of the Fed's balance sheet," Wen said.
The world's second-biggest economy has raised interbank policy rates but held off on an increase in benchmark interest rates.
The central bank also reported a fall of 812 billion yuan on its balance sheet in March.
Wen said the fall was not intentional but the result of fiscal deposits leaving the banking system to help fund construction activities. A similar fall was recorded in 2015 when forex counterparts increased capital outflows.
But China International Capital Corporation warned that the fall suggested the central bank planned to stop monetary easing and rely on open market operations or lending facilities to increase liquidity.
Beijing has made it clear that it will pursue a prudent and neutral monetary policy from this year to remedy the asset bubble and prevent financial risks.
Chinese President Xi Jinping underscored the authorities' tough line on the issue when he used a Politburo meeting late last month to order stricter financial regulation.
Zhou Hao, chief emerging markets economist at Commerzbank, said the central bank seemed to be leaning towards shrinking financial leverage, especially banks' off-balance sheet businesses.
"It has repeatedly issued alerts to the market since last September. It is a prolonged liquidity crunch," Zhou said.
But he added that the central bank always provided help at critical points and its tightening was actually very slow.
Bank of Communications senior analyst Chen Ji said the authorities should control the pace of deleveraging to minimise risks to the stock and bond markets.
"The PBOC has not changed its tactics but maintained a neutral monetary policy with a tightening bias. It is pursuing a steady deleveraging and will not rush for success," Chen said.
This article appeared in the South China Morning Post print edition as: Central bank signals end to easy money era