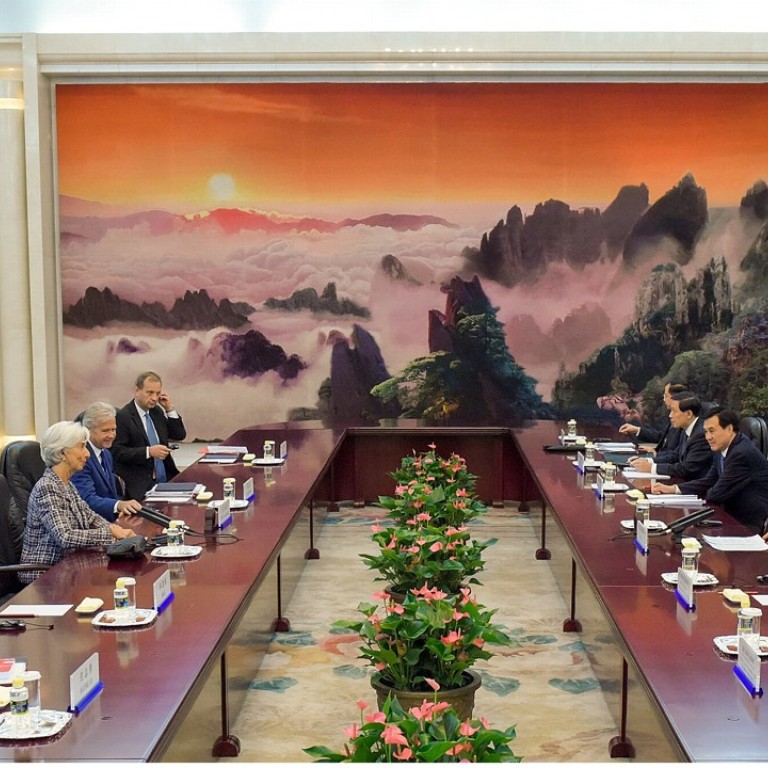 China may ease regulatory squeeze on financial sector to avoid more risk
Premier Li Keqiang, in change of wording, puts financial stability ahead of deleveraging in sign of concern over falls in markets
China has sent a subtle signal that it may back off from some of its aggressive financial regulation and deleveraging efforts after sell-offs in domestic stock, bond and futures markets in the past several weeks.
During a meeting with International Monetary Fund managing director Christine Lagarde on Sunday, Chinese Premier Li Keqiang said China has the ability to maintain the stability of financial markets. In a small but significant change of wording, Li put financial stability ahead of financial deleveraging and economic growth.
The official Xinhua News Agency ran a commentary on Sunday saying that "China should not trigger new risk from managing risks", a tone that is slightly different from a previous series of eight commentaries that urged China to address financial risks despite short-term pain.
The change of tone reflected growing concern among investors that fast deleveraging and strict regulation will weigh down financial markets. The benchmark Shanghai composite index has dropped for five weeks, while Treasury bond yields have risen to a nearly two high of 3.7 per cent.
"Investors may over-interpret Chinese authorities' move to crack down on interbank market investment and their reaction after the Federal Reserve's interest rate rises and downsizing of its balance sheet," said Wen Bin, chief analyst at China Minsheng Banking Corp in Beijing.
Beijing is worried about accumulated financial risks after years of credit expansion and the growth of shadow banking activities. China's overall debt to gross domestic product ratio, a widely used measure of leverage, climbed to 255 per cent by the end of last year, according to the Bank for International Settlements.
On the regulatory front, increasingly blurred lines between banking, insurance, trust and securities markets have been a challenge for the country's system of separate regulatory bodies.
A better economic performance in the first quarter than expected had allowed the government to push further ahead with its deleveraging efforts, although the time window has greatly narrowed as economic growth is projected to slow in coming quarters. The latest official data showed that China's industrial output slowed in April.
Beijing's hesitance on how much it should squeeze its bloated financial sector became apparent on last Friday.
The People's Bank of China conducted a medium-sized lending facility on Friday after it skipped the renewal of 230 billion yuan's worth of such operations at the start of this month and halted open market operations, a routine tool to add market liquidity, for several days .
In the first quarter monetary policy report released on the same day, the central bank vowed to enhance the coordination of financial regulators, and the timing and pace of policy releases. The central bank "will provide necessary liquidity support for reasonable credit growth, and will prevent over-expansion of credit and the future rise of leverage," it said.
"Deleveraging will remain a highlight in the short term, but the central bank will ensure the basic stability of market liquidity and the capital demand of the real economy," China International Capital Corp wrote in a research note.