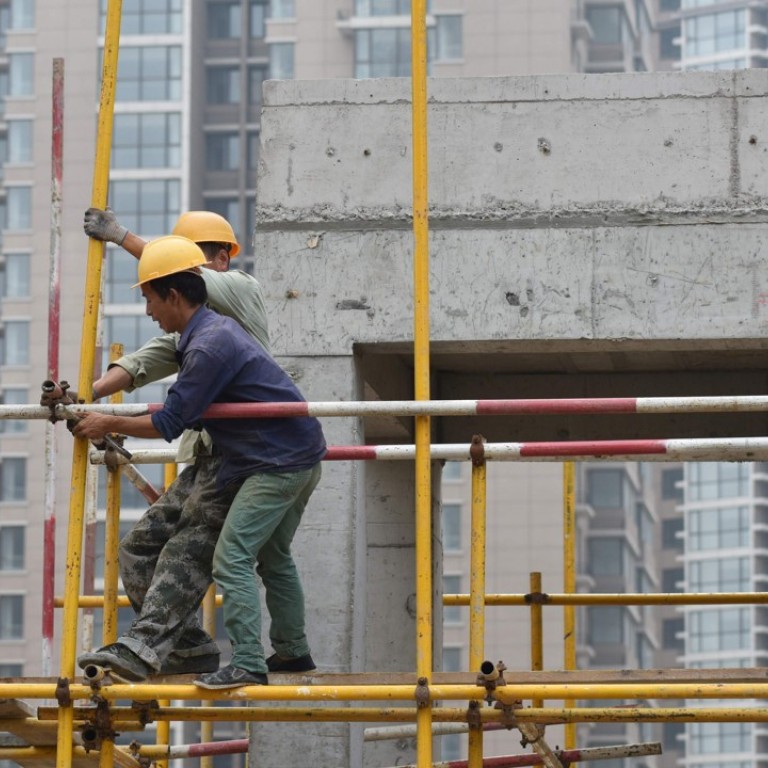 China hints at more government spending to shore up economic growth
Ministers say the authorities need to be more proactive to pursue growth policies, amid concerns world's second-biggest economy is losing steam
China will be "more proactive and effective" in implementing a pro-growth fiscal policy, the country's two powerful economic ministers said, sending a strong signal that Beijing will loosen its purse strings to offset the impact on growth from its financial crackdown.
He Lifeng, the chairman of China's National Development and Reform Commission, the economic planning agency, told the country's lawmakers on Tuesday that China was on track to achieve its economic growth, employment, inflation, fiscal revenue as well as imports and exports targets, but the country was falling behind in its goals for investment and wooing foreign investors.
"China's fiscal policies must be more proactive and effective ... while monetary policy must stay prudent and neutral," He told the National People's Congress Standing Committee.
Xiao Jie, China's finance minister, told the lawmakers his ministry would urge local governments to accelerate spending on approved projects to "release effects of fiscal funding support and policy support". Xiao also said fiscal authorities would try to woo more investment into public-private partnerships and raise funds for "new infrastructure and utilities".
The transcript of the two ministers' reports were published on the congress website.
He, who worked with Chinese President Xi Jinping earlier in his career in Fujian province in 1980s and 1990s, was promoted as the chairman of the development commission in February. Xiao became finance minister in November last year. The two economic ministers are expected to be key figures in Xi's team in running the world's second biggest economy over the next five years and beyond.
"[China] must expand reasonable and effective investment and quicken the pace of 165 key projects outlined in the 2016 to 2020 national development plan," said He.
China's government has been relying on state-backed spending, including infrastructure and real estate investment, to keep growth on track.
Fixed-asset investment, together with improving exports, helped drive the Chinese economy to expand 6.9 per cent in the first half of this year.
National fixed-asset investment rose 8.3 per cent in the first seven months, 0.3 percentage points lower than a month earlier. The growth of real estate investment dropped by 0.6 percentage points to 7.9 per cent in the same period, due to a series of policies to cool the market across the country.
China's fiscal revenues proved "better than expected" in the first seven months of this year, said Xiao.
These rose 10 per cent in the first seven months to 11 trillion yuan (US$1.66 trillion) partly thanks to improved industrial prices and corporate profitability, Xiao said.
Zhao Yang, chief China economist at Nomura International in Hong Kong, said the nation's growth momentum probably peaked in June, but the slowdown would come over time.
"Such a slowdown is gradual and still within the government accepted range," said Zhao. China's government has set a growth target of 6.5 per cent for 2017.
Zhao added that China's fiscal stimulus was "rather mild" this year and not a repeat of its all-out stimulus following the collapse of Lehman Brothers in 2008. Chinese Premier Li Keqiang has budgeted a fiscal deficit ratio of three per cent this year.
A major side-effect of China's investment stimulus is the debt mountain, which totaled 15.3 trillion yuan at a local level by the end of last year and potentially could be larger given contingent liabilities.
Despite the top leadership's stress on financial risk prevention this year, the finance ministry has kept emphasising the current debt size remains controllable.
"We will firmly block the back door of illegal debt raising to curb the new increase and open the front door to set the debt cap in line with regional development," said Xiao.
This article appeared in the South China Morning Post print edition as: Beijing signals it is ready to spend