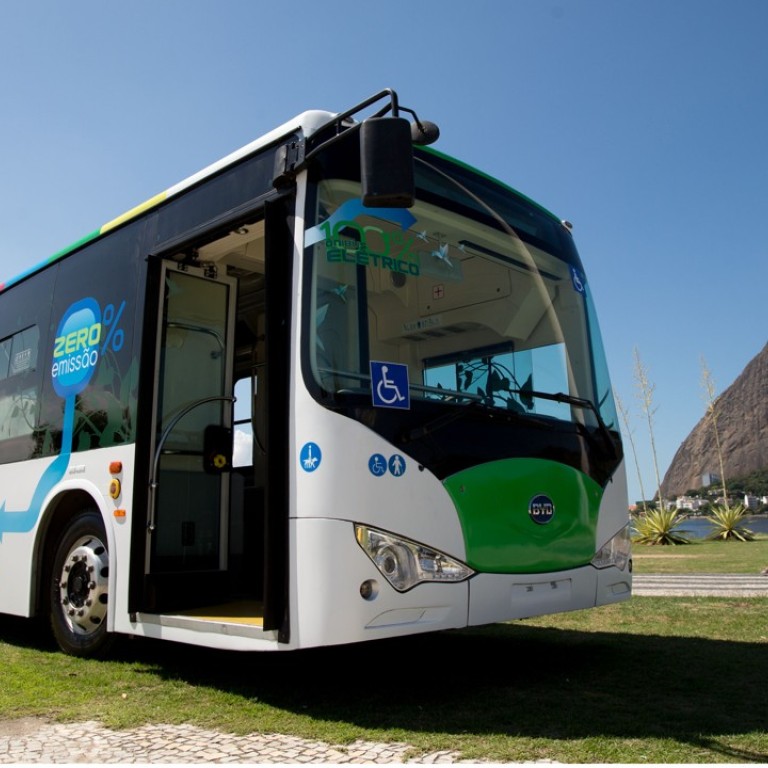 California dreamin': how BYD's US electric bus expansion smooths the road for Xi and Trump
Opening of new facility by Chinese carmaker whose name stands for Build Your Dreams helps both leaders' causes heading into a challenging summit
China's BYD managed to unite America's left and right, at least momentarily, in California.
The company, which is 8 per cent owned by Warren Buffett's Berkshire Hathaway, officially opened a new manufacturing facility in southern California that has tripled its production of zero-emission, electric-powered buses to 1,500 a year and added hundreds of full-time, unionised workers.
An event this week celebrating the expansion drew nearly a dozen elected officials and government representatives, including US House Majority Leader Kevin McCarthy and political rivals, all extolling the significance of a Chinese investment that creates hundreds of jobs.
"We know at times politics will divide us, but it's only a division of ideas. BYD is able to bring us together," McCarthy said, echoing sentiments voiced by the other political leaders from federal, state and local offices, and representing Republicans and Democrats. "The only problem I think we're going to have is that I don't know if we have enough people for all the jobs that are being created."
BYD's expansion of its facility in Lancaster, California – about 50 kilometres northeast of Los Angeles – is the US unit's third phase.
Investments like BYD's are crucial for US President Donald Trump, who pledged to take a tougher stance against Beijing in terms of bilateral trade and investment. With a trade imbalance that has not improved since he took office, Trump is under more pressure than ever to show he has made progress somewhere.
Chinese investment in the US exceeded that of the US in China for the first time in 2015, reaching US$15.3 billion. The figure the other way was US$13.8 billion, according to the China Investment Monitor, a database compiled by New York-based Rhodium Group.
​
The number of Americans employed by China-affiliated companies rose to more than 140,000 in 2016, when Chinese investment in the US surged threefold to US$46 billion, according to Rhodium data.
BYD's investments in Lancaster have been the biggest factor in bringing the area's unemployment rate to 4 per cent now from 24 per cent in 2009, when the financial crisis that started a year earlier put many local companies out of business, Mayor Rex Parris said in an interview with the South China Morning Post.
One of those businesses made high-end recreational vehicles. BYD moved into that company's factory as its first phase.
"What really brings the two sides together is the huge number of jobs that BYD is creating here," Parris said.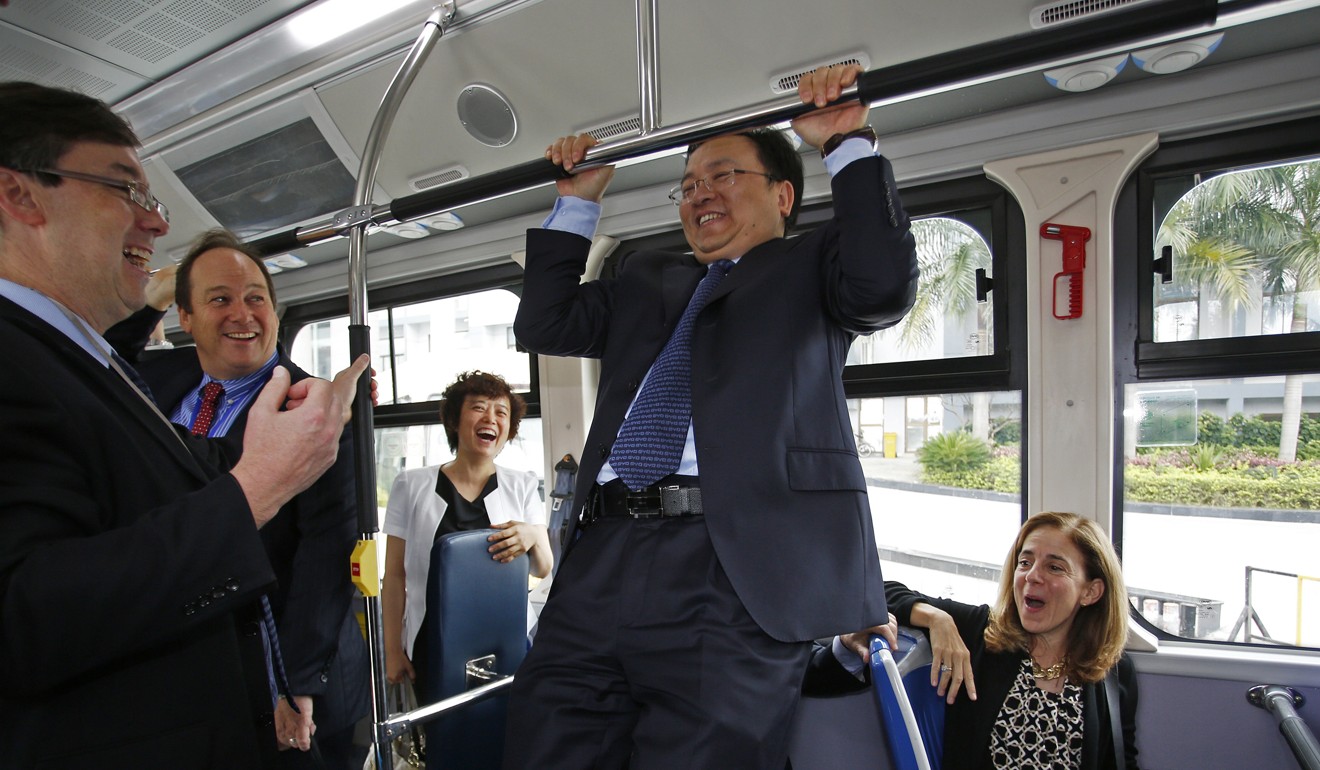 The timing of BYD's expansion bodes well for China's president, Xi Jinping. Trump will meet the Chinese leader next month in Beijing for their second formal summit. After North Korea's nuclear weapons testing programme, investment, trade and jobs will top the summit agenda.
The number of jobs Chinese companies are creating in the US, particularly in the automotive and related industries, may give Xi at least some cover as few analysts expect any breakthroughs in concessions Beijing will make when the two presidents meet.
BYD isn't the only mainland Chinese employer expanding in the US. Nor is it the only one producing all-electric vehicles in California.
Fuyao Glass, a supplier to Ford Motor, General Motors and other auto manufacturers producing in the US, last week won an economic development award from the Greater Decatur Chamber of Commerce in Illinois for investing $200 million to revive an idled factory it bought in 2014.
Renovations and the subsequent resumption of production at the Fuyao facility last year brought 300 more jobs to the area. Fuyao has hired 2,000 people since it took ownership of a closed GM plant in Ohio the same year.
Also in 2014, Hangzhou-based Wanxiang Group bought then-bankrupt Fisker Automotive – now called Karma Automotive. Karma has since begun selling an electric car in the US, a US$130,000 model called the Revero, employing more than 600 people at its operation in the greater Los Angeles area.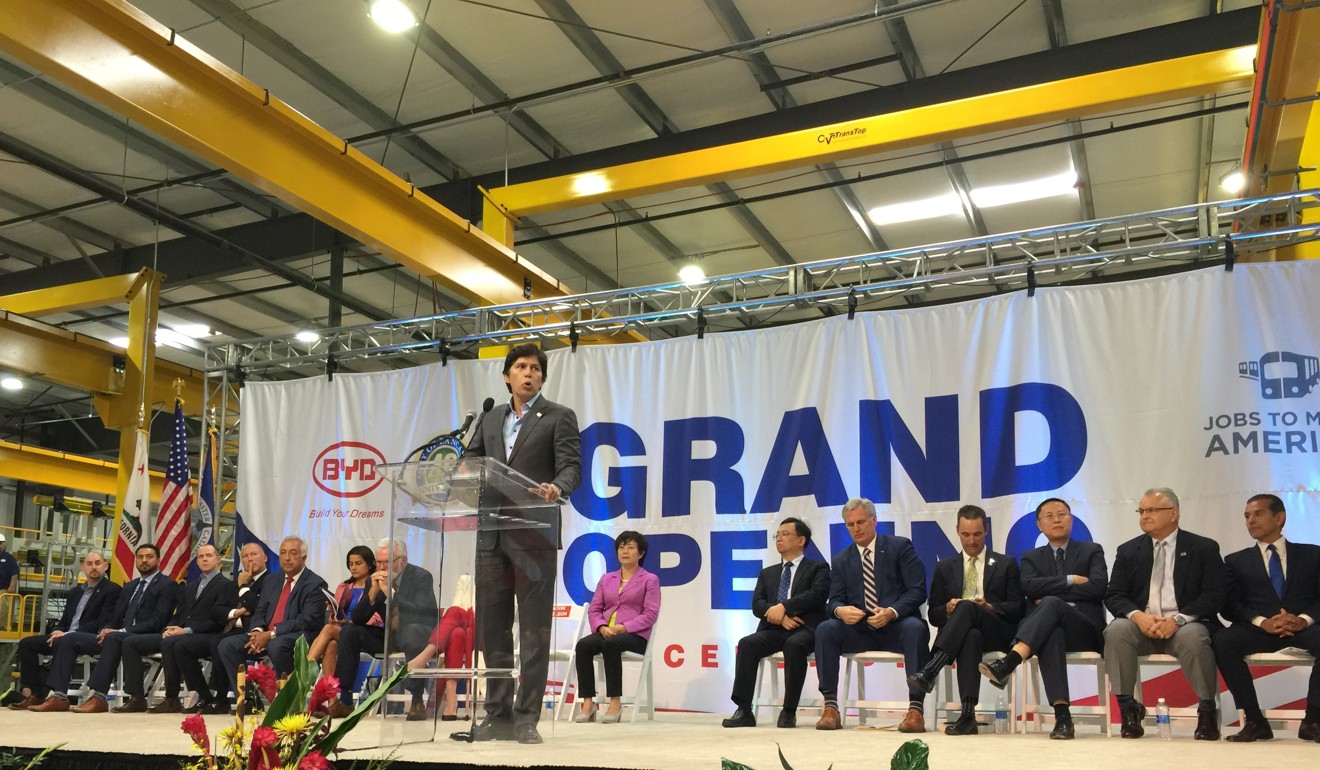 California makes sense for BYD's US production base because the local market potential and the area's intellectual capital will help the company develop products that will be competitive globally.
"In terms of attracting the talent and the engineers, the people who have the cutting edge technology, you're getting a lot of that competition between Tesla, Google and others working on these products," Arthur Wheaton, a director at the New York State School of Industrial and Labor Relations at Cornell University, said in an interview with the Post.
"They're not necessarily going to get the same sort of engineers to say: 'Yeah, I'm going to go to China where smog is some of the worst in the world,'" Wheaton said.
"BYD's investment is good because all of the technology and lessons they learn in California they could take back to the huge cities they have in China."
While the new manufacturing jobs at BYD delight members of both political parties, the environmentally friendly technology the company is bringing aligns well with the state's stringent emissions rules, a Democratic priority often at odds with Republican objectives.
Underscoring that difference, California Senate Pro Tem Kevin de Leon, a Democrat, struck the most divisive tone after thanking BYD Chairman Wang Chuanfu and BYD America President Stella Li.
"We didn't grow into the world's sixth-largest economy by embracing alternative facts or pseudo-scientific nonsense," de Leon said. "In this state we do business and make policy based on facts and science.
"We have proven to the sceptics all over the country, but especially in Washington, that you can grow an economy and at the same time move forward climate change policies that put people to work and reduce our carbon emissions."
Dominated by Democratic leadership and led by Jerry Brown, a governor who has championed environmental initiatives for decades, California has the strictest standards for emissions – tailpipe, industrial and otherwise. The state participates in a CO2 cap-and-trade programme with the Canadian provinces of Ontario and Quebec.
California also has set a hard environmental target for its utilities: the state must generate 33 per cent of its power from renewable sources by 2030. The state government has a set of restrictions and incentives that power utilities must abide by to meet this goal.
While BYD won't limit its US sales to the state, auto manufacturers aim to meet California's standards because it is the country's biggest market and many other states follow its lead.
Investments by the likes of BYD, Fuyao and Wanxiang may blunt some criticism about China, which crested during the 2016 presidential election and energised many Trump supporters. However, it will not address some of the most difficult issues Trump and Xi will need to tackle when they meet next month.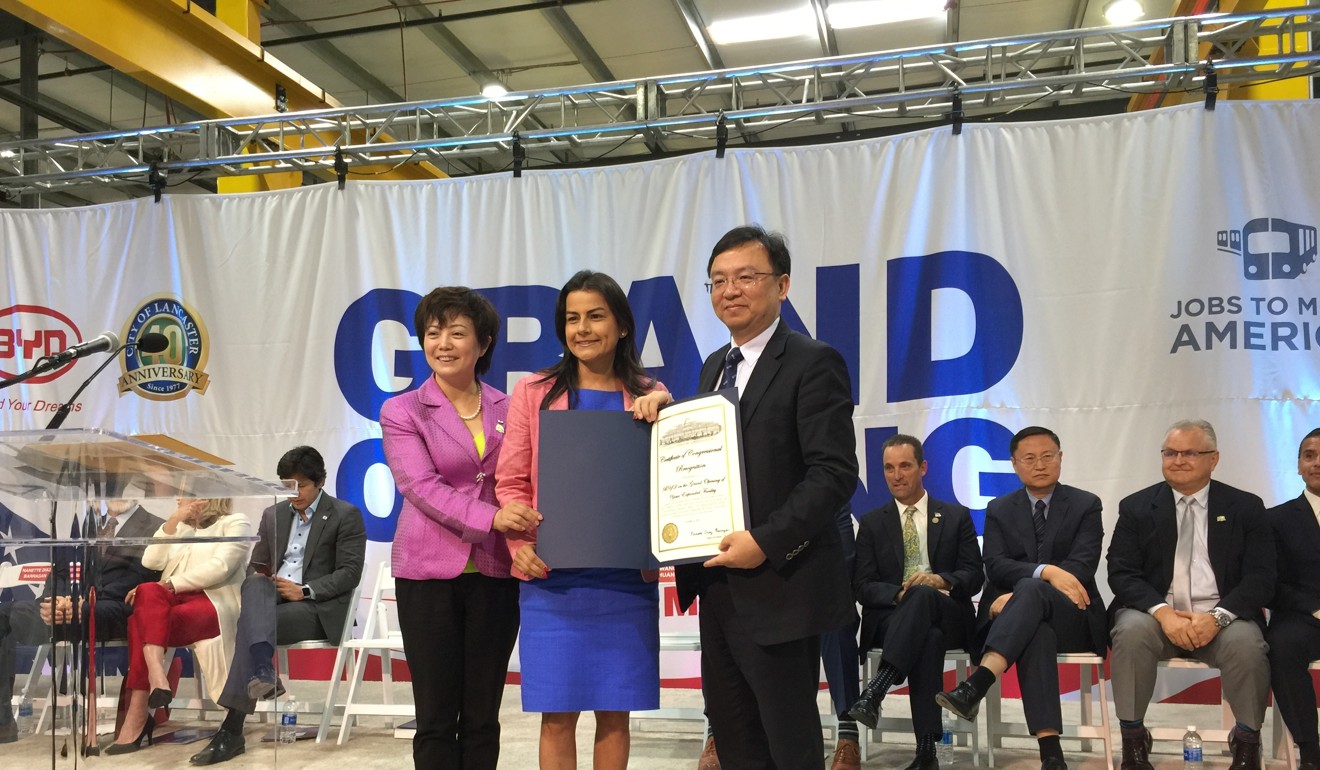 The Washington-based US Chamber of Commerce, for example, has railed against China's policy of making US companies partner with local companies in key industries including auto manufacturing and media.
Joint venture arrangements imposed on US carmakers there have helped companies like SAIC Motor, which formed partnerships with Volkswagen and GM in China decades ago, to set up their own plants outside China.
US policymakers and politicians agreed to these restrictive investment terms to clinch China's entry into the World Trade Organisation nearly 20 years ago, long before Chinese companies had the resources to go global.
Meanwhile, the US government has become more active in blocking Chinese companies from acquiring American firms' developing technologies that could have military applications, clouding the outlook for continued growth in inbound investment from the country.
The Committee on Foreign Investment in the United States (CFIUS), an inter-agency body under the US Treasury Department, last month recommended against a proposed US$1.3 billion takeover of Portland-based Lattice Semiconductor by Canyon Bridge Capital Partners – a private equity firm backed by China Venture Capital Fund. Trump acted on CFIUS's recommendation by blocking the sale.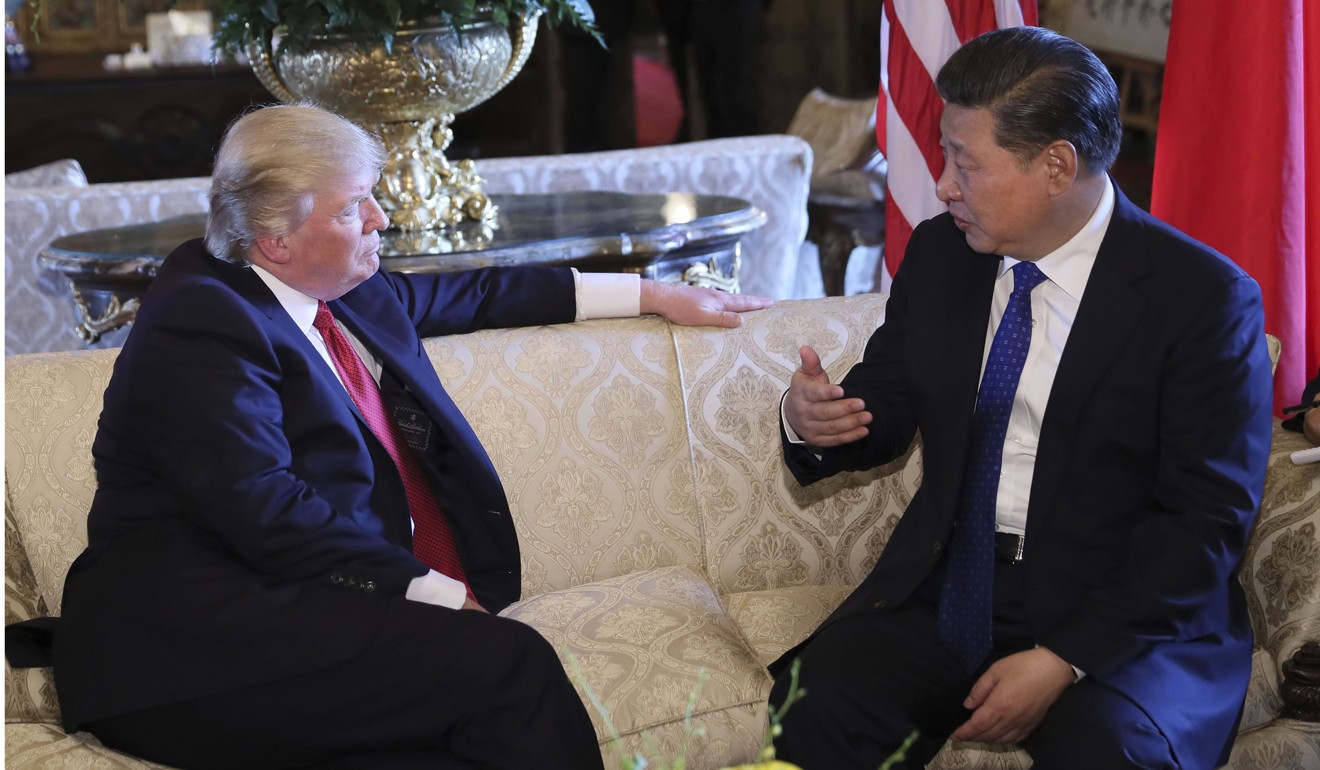 China's official government news agency Xinhua said in a commentary afterwards that "Chinese investment is not a Trojan horse" and that Trump's decision to block a deal was "penny-wise and pound-foolish".
Lawmakers in both parties have become vocal about the need for more stringent CFIUS reviews on several grounds, including national security and the degree to which US companies are free to invest in China.
"As Chinese companies become more active in international activities, they're also facing resistance from the governments of the acquisition targets," Kim Eng Tan, an S&P senior director of sovereign ratings at S&P Global Ratings, said at a briefing in New York this week. "That could become a bigger constraint on acquisitions," Tan said.
Representative McCarthy, his Democratic colleague Nanette Diaz Barragan and other politicians who attended BYD's ceremony under sunny southern California skies, chose instead to express their confidence in the Sino-US relationship.
"I think it's great that BYD was able to bring together the two sides today," Barragan said. "The kids in my district walk around with inhalers around their necks. Fighting for the environment is fighting for public health."
This article appeared in the South China Morning Post print edition as: BYD bus expansion smooths road for Sino-US summit