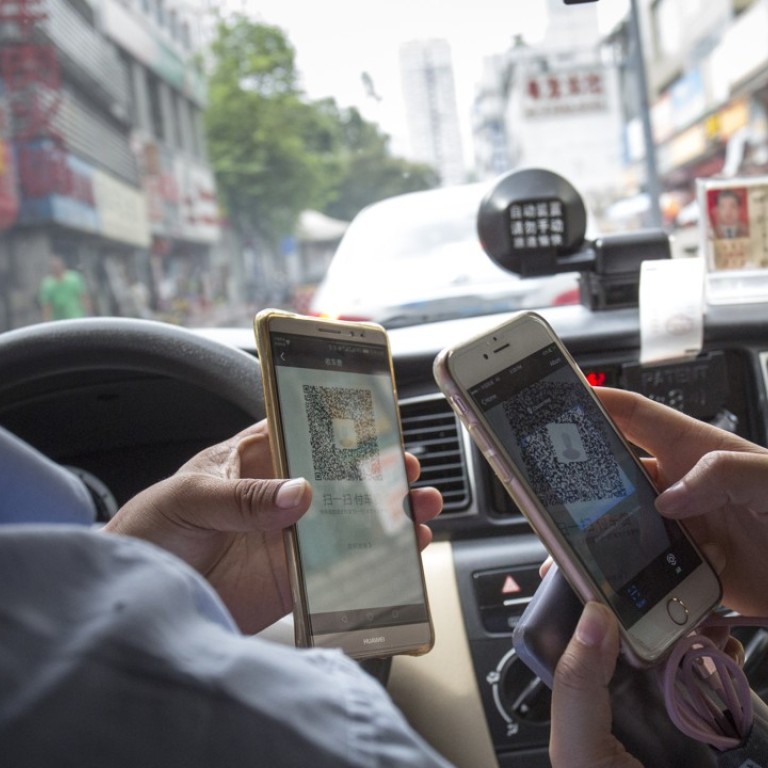 Why Chinese vendors, large and small, are rushing to embrace cashless payments
Switch reduces risk of being robbed and they no longer have to worry about fake banknotes
Shenzhen taxi driver Xu Jialiang used to worry that the stack of banknotes he carried in his cab each night made him an easy target for robbers.
But China's mobile payments boom has changed all that, with taxi drivers among the many people now accepting cashless transactions made using smartphone apps that scan QR codes. They and street vendors, along with bigger operations, now worry less about counterfeit notes and the risk of robbery, and the use of QR codes has even spread to churches and temples, with many now accepting donations made via cashless payment apps.
"I'd been carrying a few hundred yuan – sometimes more than a thousand – in the car every day for years because I was paid and gave change in cash," Xu said. "In the past, robbers liked to target taxi drivers, but now, thanks to mobile payments, we are much safer because there isn't much cash in our vehicles.
"Most passengers pay via mobile. Only the elderly and schoolchildren still use banknotes to pay their fares."
China is now the world's biggest cashless marketplace, and its rapid development has been hailed as proof of the country's innovative capacity and social adaptability. Officials have described cashless mobile payment as one of China's "four great new inventions in modern times", along with dockless shared bicycles, high-speed trains and e-commerce, likening the quartet to the "four great inventions of ancient China – papermaking, gunpowder, printing and the compass – and saying they are proof that China's authoritarian governance model does not hurt innovation.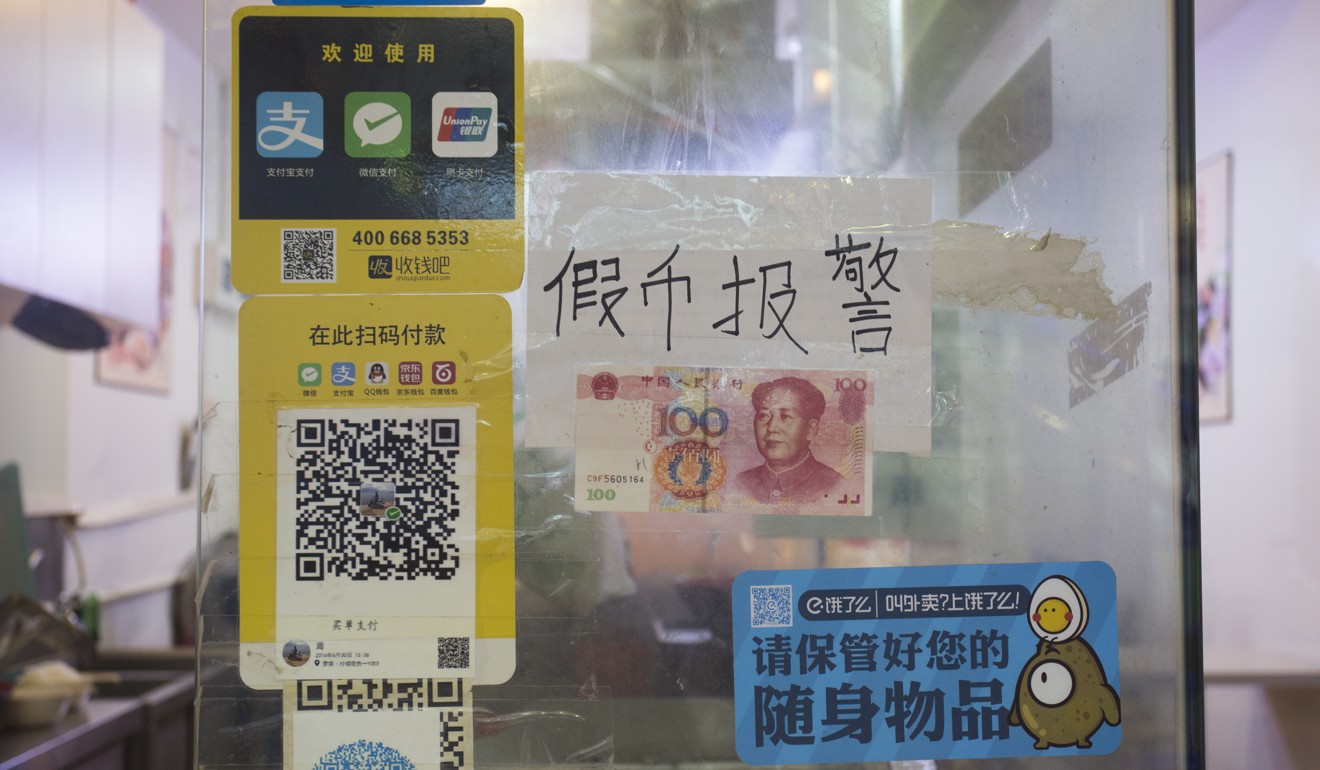 Cashless payment is a key factor underlying China's e-commerce boom. China easily retained its status as the king of retail e-commerce on Single's Day, November 11, when Alibaba Group reported turnover of US$25 billion in 24 hours, or nearly four times the combined online sales of Black Friday and Cyber Monday in the US.
Inside the Great Hall of the People in Beijing last month during the Communist Party's national congress, Cai Songtao, the party chief of rural Lankao county in Henan, showed journalists a series of QR codes to promote the sale of fruit grown there.
According to data from consulting firm iResearch, the value of Chinese third-party mobile payments tripled to 38 trillion yuan (US$5.7 trillion) last year – roughly 50 times bigger than the market in the United States.
Xue Yu, an analyst with IDC China, said was the world leader in e-payment because it was home to more mobile phone users than any other country – its 710 million mobile phones users being more than in the US and the European Union combined – and had adopted the most advanced mobile technologies.
People living in remote areas that had yet to see credit cards were hopping straight from banknotes to mobile payment, he said, adding that Chinese consumers regarded cashless payment as safer and easier than using cash or credit cards, with official data showing just 0.31 cards per capita, versus 2.9 in the US.
With nearly 7 million mobile apps available in mainland China and big investments from Chinese tech giants like Alibaba, the owner of the South China Morning Post, and Tencent, the popularity of mobile payments has changed daily lives a great deal and more and more retailers and services are switching to cashless transactions.
A scannable QR code for cashless shopping is now a must for many Chinese traders, even street vendors selling fruit and snacks and the operators of wet market stalls.
"Most people pay me via mobile payment," said a street vendor selling fruit in Shenzhen, "Cashless payment is safer for me. I no longer need to worry about fake banknotes or giving change. if I only accepted cash, I would lose more than half my daily income."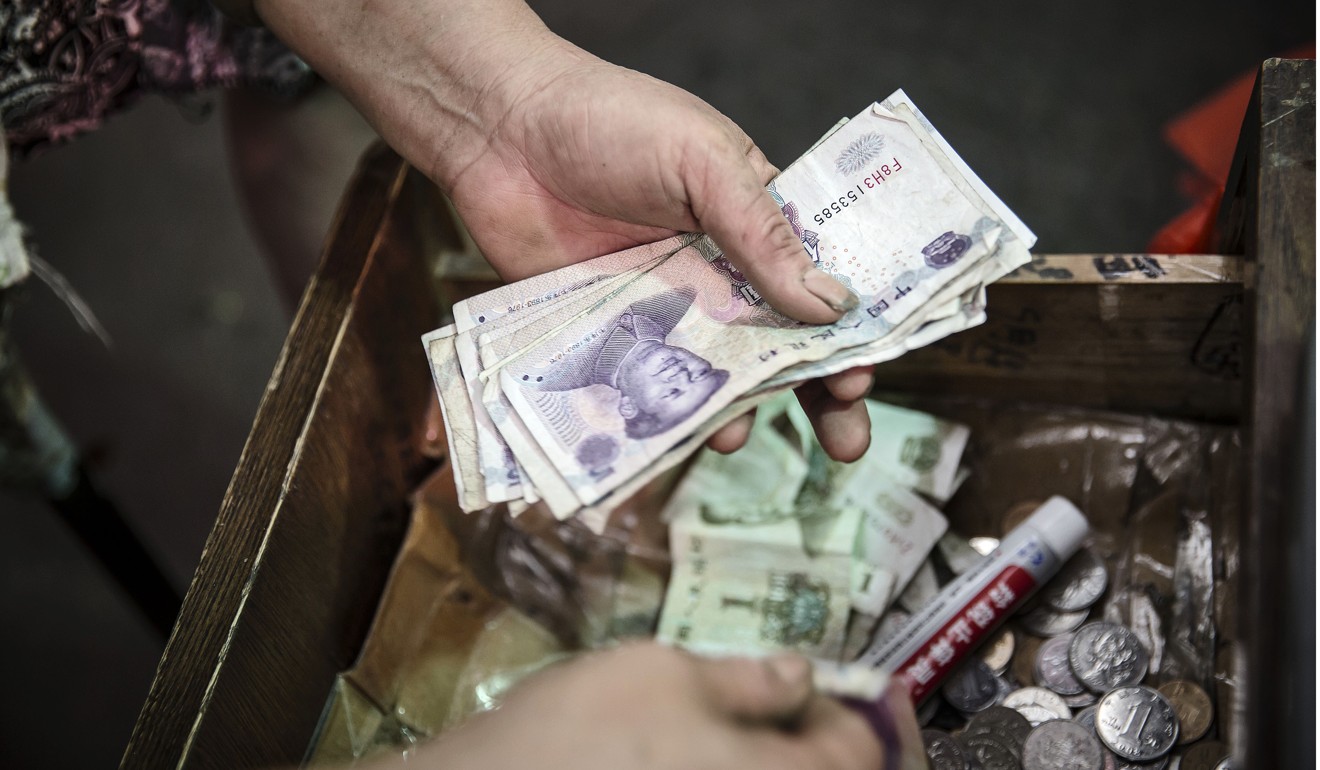 The owner of a vegetable stall at a Guangzhou wet market said it was very rare for anyone who looked younger than 40 to pay in cash. "Without mobile payment, I could not do business for a day," he said, adding that a growing number of people in their 50s and 60s were also using mobile payment.
There are also more than 15 million small merchants in China selling a variety of goods through social media networks such as WeChat and Sina Weibo and live-streaming platforms – something known as social commerce – and the Internet Society of China valued that market at 360 billion yuan last year, with most purchases made via mobile payment.
Apart from small merchants and street vendors, big players such as supermarkets, amusement parks and chain stores are also moving away from cash.
"Now we only see about 3,500 yuan or 15 per cent of deals paid by cash for a weekend," said Sophie Yu, who runs an indoor amusement park in central Beijing.
Li Zhiguang, the founder of Guangzhou-based garment and sports brand Looksee, which has about 300 chain stores around the country, said he was shocked early this year to learn that cash payments at some of its stores had dropped to as low as 15 per cent of total sales.
"But it's a trend because a growing number of consumers are aged in their 20s and 30s," he said. "Even our authorised agents don't like to use cash or even credit cards for big transactions now."
The popularity of cashless payments has threatened to make China's state-dominated banking system and its traditional payment system irrelevant, forcing Beijing to launch a raft of regulatory measures to rein in the big players. The People's Bank of China has introduced rules that cap the amount of money that can be transferred via mobile phones and force payment service providers to connect to traditional bank accounts.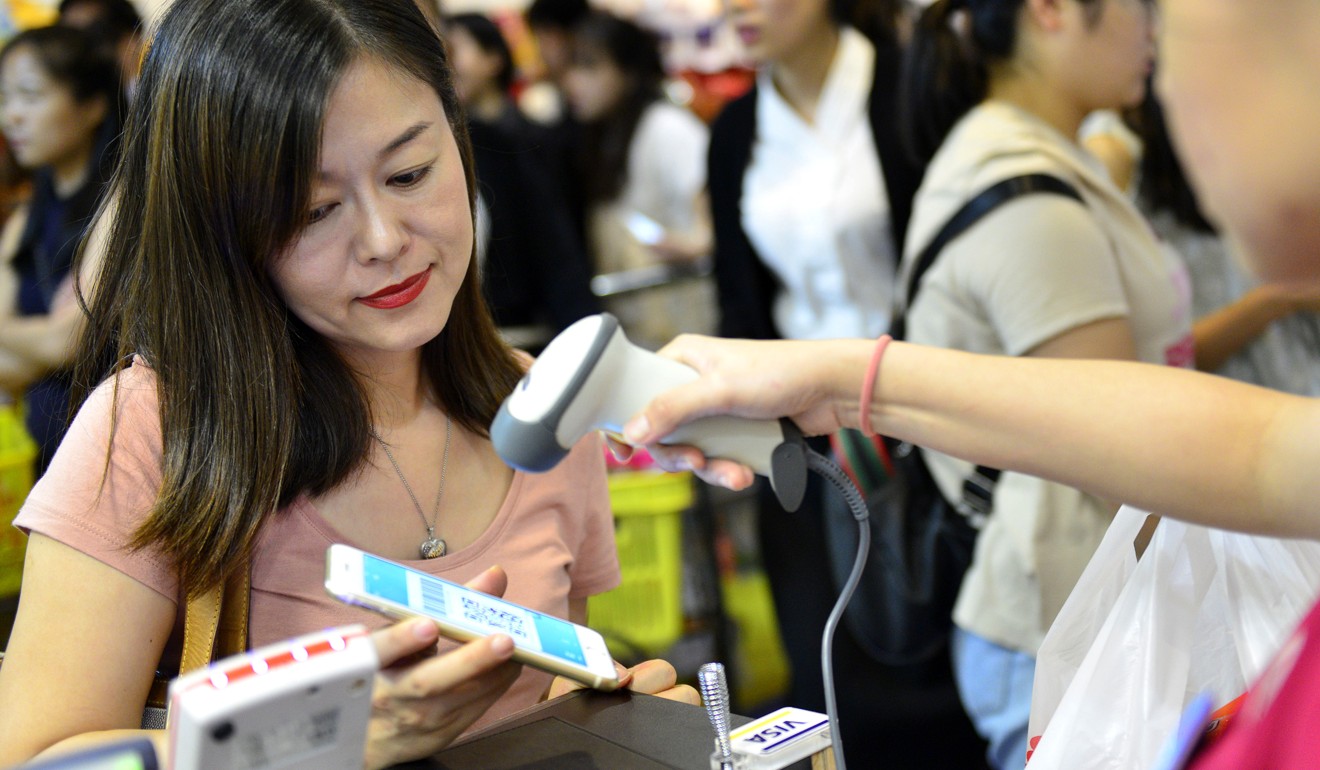 Meanwhile, state-backed China UnionPay is launching its own cashless solutions to rival Alibaba's Alipay and Tencent's WeChat Pay. Before mobile payment become ubiquitous, most cashless payments in China were made using UnionPay debit cards.
"The authorities' supervision of cashless payments will become stricter and stricter in the coming years and they will launch further detailed regulations on all aspects of social consumption," Xue said.
Mobile payments are also growing in popularity beyond China's borders, with a growing number of merchants in South Korea and Japan looking to cash in on cashless payments by Chinese tourists.
In India, PayTM – part-owned by Japan's Softbank and China's Alibaba – has more than 200 million registered users. Google also launched a mobile payments app in India in September for Android and Apple smartphones.
Guan Heng, the chief operating officer of Inspiry, a leading Chinese supplier of mobile payment devices suppliers, said it was "very optimistic" about the growth of the mainland mobile payment market and predicted the number of stores and merchants accepting cashless payment would grow by at least 100 per cent a year until at least 2020.
"We expect just our single company can sell almost 5 million bar code readers next year to merchants in both the mainland and Asian markets, seven or eight times more than this year," he said, adding that its factory had been running around the clock to meet demand.
Guan said China's rapidly expanding cashless society was also inspiring developing countries in Asia and Africa to also skip the credit card era and move straight to mobile payments.
However there has been concern expressed in China about some aspects of the cashless payment boom, such as the dominance of tech giants and the risks of fraudulent misuse of payment networks and data theft.
"As an ordinary person and a businessman, now I can't live without mobile payment," Li said. "But I also have no idea where a cashless society will lead our lives. It's really horrible to imagine that I could lose everything if my digital account is hacked."
This article appeared in the South China Morning Post print edition as: The bank note cash es o ut