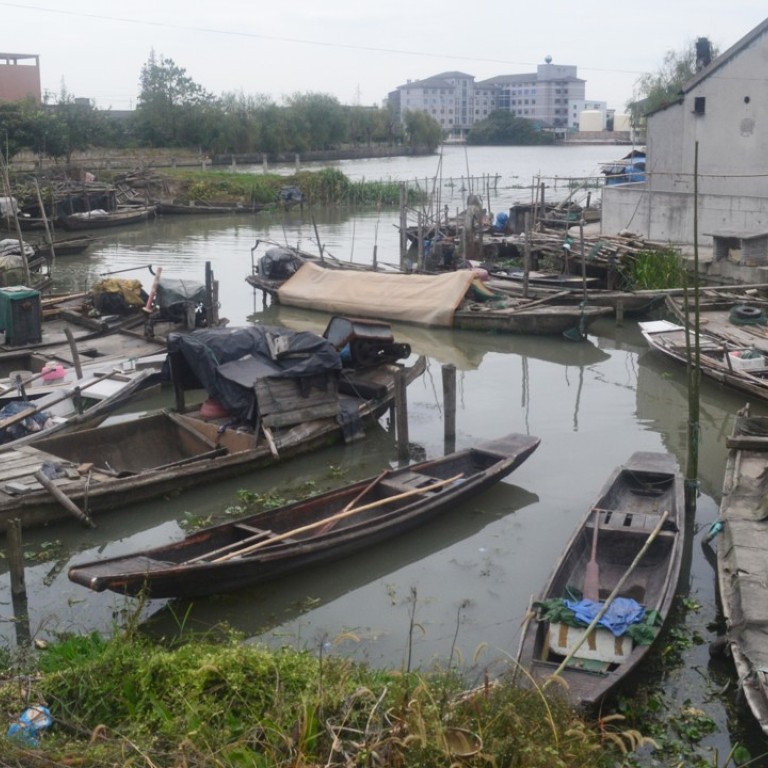 Welcome to sex toy street: why a sleepy riverside town in China is rebranding itself as 'Happy Town'
Chinese government wants a thousand 'charming towns' to be built across the country
With China preparing its annual blueprint for tackling its economic challenges, the South China Morning Post has sent journalists to check on three of the 'grey rhinos' threatening the world's second biggest economy. In the third story in the series we look at the urban-rural development gap.
Sex toys are not the first things that spring to mind when visiting Yucheng, a sleepy, riverside town in the Yangtze River Delta, about an hour's drive from Shanghai, best known for its grapes, mulberry trees and turtle ponds.
But the town government, which wants to turn it into a one-stop market for adult products, signed a 10 billion yuan (US$1.5 billion) deal with a Chinese company this summer to develop a "Happy Town" that will include a sex toy shopping street, a sex exhibition centre and an "adult-only" hotel.
It is a dream partly fanned by a central government plan to create a thousand "charming towns" across the country to represent a new face of rural China and arrest the relative decline of small, rural towns compared to booming cities in recent decades. The policy envisages vibrant local economies featuring a sense of "culture", ideally a unique industry, and a liveable environment.
The strategy fits well with President Xi Jinping's desire to make China "a beautiful country" by 2050. In the work report he delivered to the Communist Party's national congress in Beijing in October,the word "beautiful" was added to a previous formula, dating back at least three decades to the time of late paramount leader Deng Xiaoping, calling for the development of a "rich and powerful, civilised and democratic" country.
Villages and towns across China – dreaming of becoming the next Greenwich in Connecticut, known for its hedge funds, or Hershey in Pennsylvania, famous for a chocolate factory – are scrambling to come up with a "theme" of their own.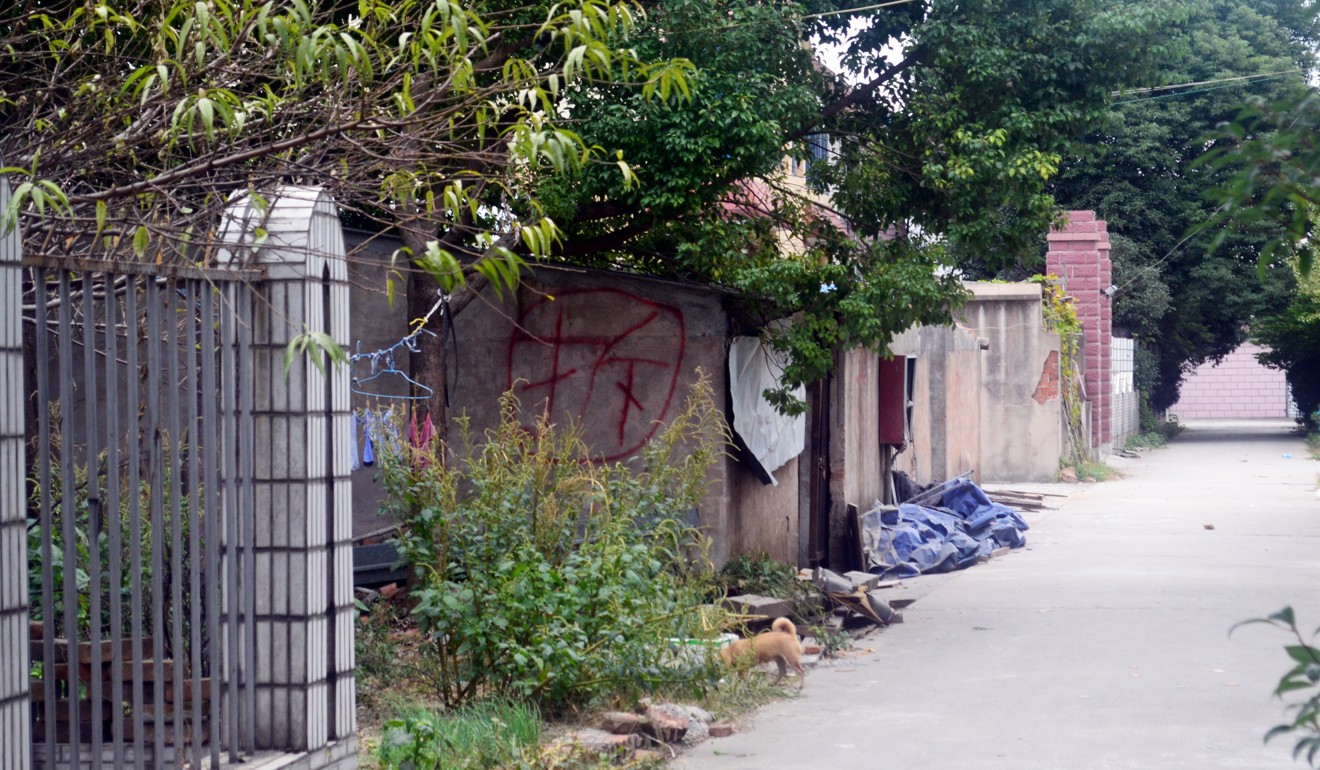 "It matches the trend of pushing forward the development of small towns that gained momentum after 1978 and falls in line with China's industrial upgrading," said Hu Zhiyong, an assistant professor at Education University of Hong Kong's department of Asian and policy studies.
The government hopes the charming towns campaign will woo funds and talent back to rural areas and help narrow the urban-rural development gap. Official statistics show the average urban resident had a disposable income of 33,616 yuan last year, more than 2.71 times that of the average rural resident. While more than 90 per cent of households in cities were connected to tap water and piped gas last year, only 70 per cent of those living in Chinese villages had tap water and just 20 per cent were connected to gas.
Government spending on the construction of public facilities in Chinese cities last year totalled 1.74 trillion yuan, dwarfing the 402.6 billion yuan spent in rural areas.
Wanda, the conglomerate controlled by Wang Jianlin, spent 700 million yuan three years ago developing the Danzhai tourist town in Guizhou, one of the country's poorest provinces, to help reduce poverty.
The Yucheng government views the Happy Town project as a new growth engine for the local economy. Home to 22,000 people, the town currently relied on energy-intensive and polluting industries such as dyeing, the manufacture of machine parts and silk spinning for most of its revenue, it said in August.
Happy Town's developer is JC Group, which is based in Zhejiang's provincial capital, Hangzhou, and owns Hong Kong-listed Gold Finance Holdings. It has 59 charming towns on the drawing board or under construction.
A spokesman said the Happy Town blueprint was based on Yucheng's "advantages" in manufacturing – advantages locals seemed unaware of when the South China Morning Post visited the town on a breezy November day, with the main sign of activity being dozens of fishermen making fishing nets and playing poker on the river bank.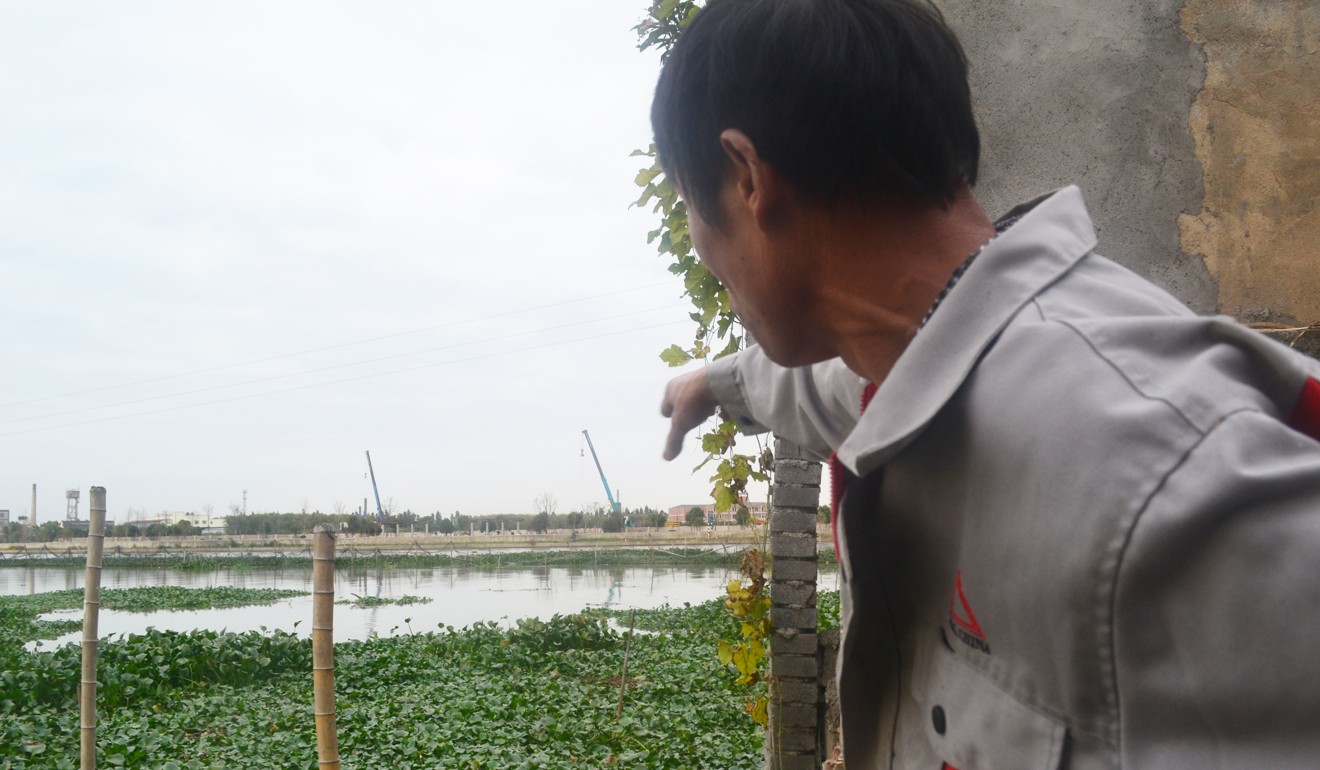 Xu Xueguan, a Yucheng resident who lives on government subsidies, said he knew the plan called for his two-storey brick home to be torn down for a tourism site. And while he had not heard it would be based on adult products, he was glad that a dyeing factory which polluted a lake near his home would be gone.
His 28-year-old son, Xu Xiaojun, back home from Hangzhou for a visit, struggled to come up with an explanation for Yucheng's rebranding.
"One possible reason is that Yucheng is a transport juncture that is close to almost every major city nearby," he said.
Zhejiang province, where Xi worked from 2002 to 2007, is known for its small towns such as Yucheng and the president has personally endorsed the charming towns movement as a new approach to urbanisation.
In 2015, then Zhejiang governor Li Qiang, a former aide to Xi, announced a 500 billion yuan plan to create 100 charming towns in the province in three years, each with its own distinct charm. In a typical development, the local government would designate an area of up to 3 square kilometres for the building of a park or other attraction that might appeal to affluent consumers.
The plan called for at least 5 billion yuan to be invested in each town within three years, saying they would then become triple-A tourism attractions. If those goals were reached, the provincial government would free up more land and offer tax refunds.
Zhejiang's charming town initiative was turned into a national strategy early last year following a visit to the province by Xi in May 2015.
The Ministry of Housing and Urban-Rural Development has so far approved 403 national-level charming towns in two batches. But even more have been approved locally, with each province and city eager to join in. In the south of China's far-western Xinjiang Uygur autonomous region, 100 such towns are in the pipeline over the next three years.
"I'm not surprised that the whole idea came from Zhejiang, because it's the best at industrial clustering," Hu said. "Every town has its own unique industry, a brand company. Many of these towns simply changed their ways of marketing as a fresh 'charming town'. It's basically new wine in an old bottle."
For instance, Datang, a town south of Hangzhou that is the world's biggest producer of socks, rebranded itself as Socks Town. Dayun, about 30km from Yucheng, used to focus on producing animal feed but now markets itself as Sweet Town after the opening of a chocolate factory.
China's bigger cities have fared better than its small towns when it comes to attracting talent and migrant workers because they offer more opportunities and a better quality of life. Only 12 per cent of China's 1.38 billion people live in the country's more than 18,000 towns, compared with the 70 per cent of Germans who live in towns with fewer than 20,000 inhabitants.
The authorities view the charming towns initiative as a way to rebalance development, boost job prospects and improve public services such as health care and education in rural and suburban areas that have been hit hard by the population drift to China's top cities.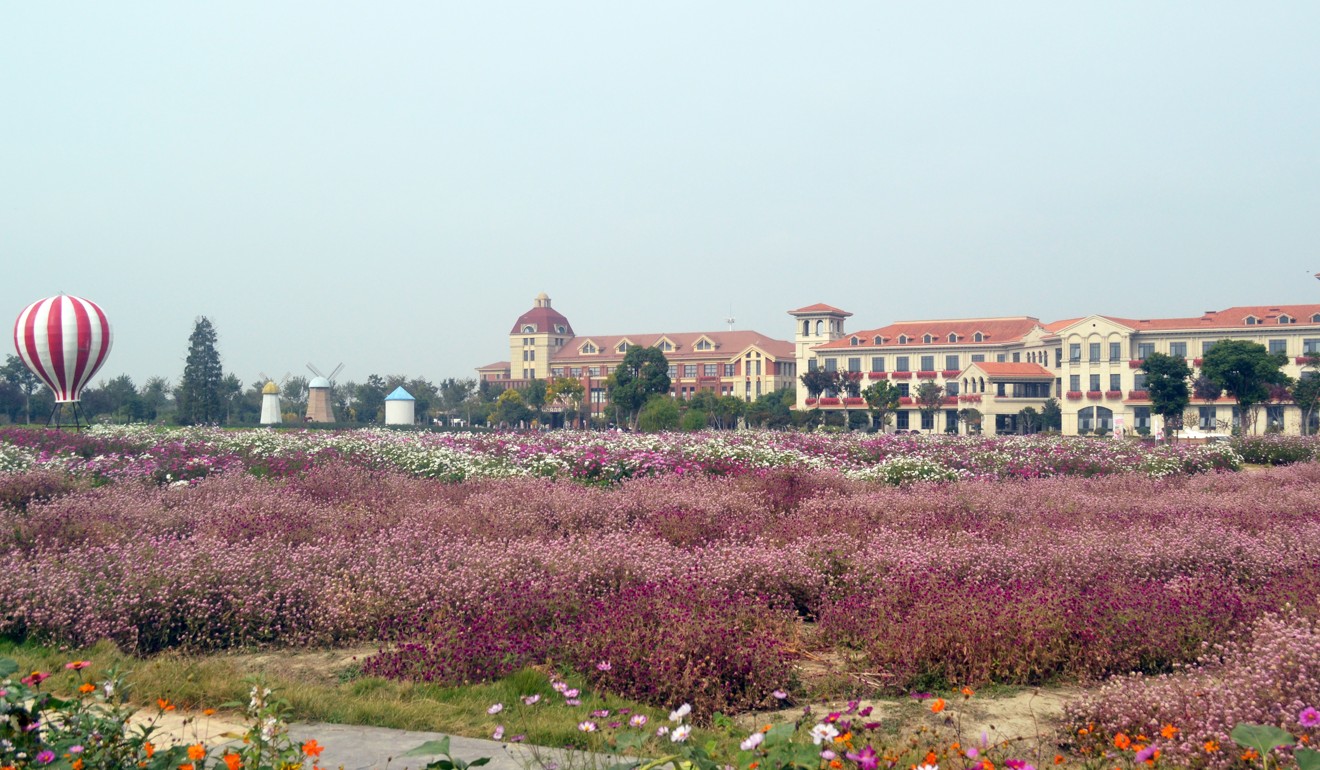 China plans to reach an urbanisation rate of 60 per cent by 2020 – up from 57.35 per cent at the end of last year – by moving about 100 million farmers from rural areas to cities and towns.
But Professor Lu Ming, an economist at Shanghai Jiaotong University, said it would be an exaggeration to claim the charming town campaign could become the key to a new model of urbanisation because the total population of the 1,000 towns was a drop in the ocean of China's urban population.
"The whole campaign has little to do with urbanisation," he said. "It's something that started in Zhejiang and somehow turned into a national movement.
"The biggest problem with these charming towns is they lack economies of scale."
He said towns that were far from big cities – where the demand for services was high and where high-end manufacturing was located – were unlikely to survive in the long term.
Hu, from Education University of Hong Kong, said: "Building a 'charming town' in less urbanised middle and western parts of China sounds a bit ridiculous, because what they need is actually more development of big and mid-sized cities.
"If these small towns all serve cities, what happens to the agricultural industries in rural areas? It could widen the urban-rural gap. That's exactly the opposite of what the government wants."
Some officials are also concerned the charming town campaign could get out of hand, making the same mistake as the blind expansion of industrial parks in suburban areas in the 1990s – which saw the creation of more than 7,000 such zones according to one World Bank economist.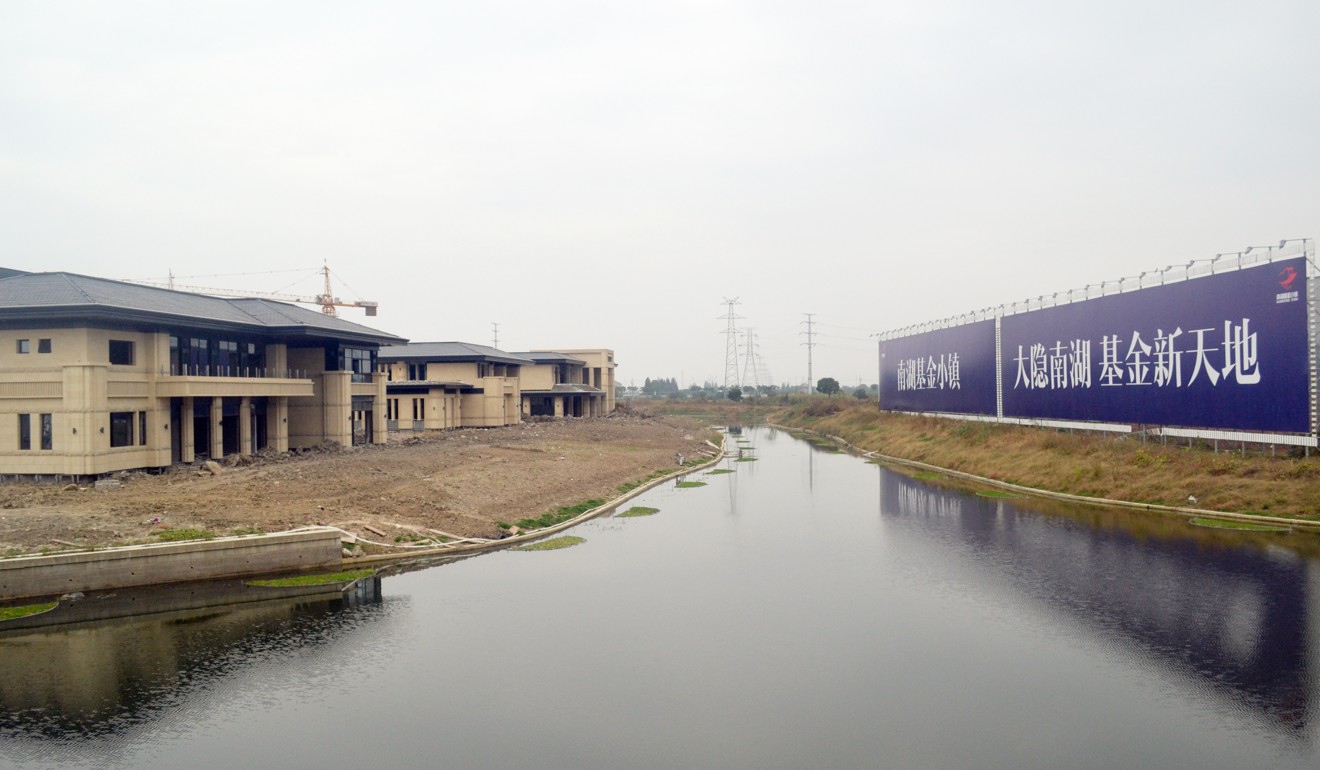 The central government has warned developers against any attempts to use cheap land offered in charming town projects for property development.
They have also cautioned against the inclusion of any foreign cultural elements. An official notice in July said the government opposed any "big, Western and bizarre constructions" and banned the assigning of Western names to charming towns.
In a review of historical Wenanyi Town in Shaanxi province, an approved tourism-themed charming town, the ministry suggested it drop a planned "Greek Boutique" because it "differs significantly from local cultures".
At an urbanisation forum in July, Xu Lin, the director of development planning at the National Development and Reform Commission, said many charming towns had turned out to be "ghost towns" without any residents or actual industries, and it was common for one town to blindly copy another.
For instance, at least 30 hedge fund towns have been planned across the country – almost half of them in Zhejiang.
"But how many hedge funds in China will actually register and set up offices in each of these towns? The result isn't too hard to fathom," Xu said.