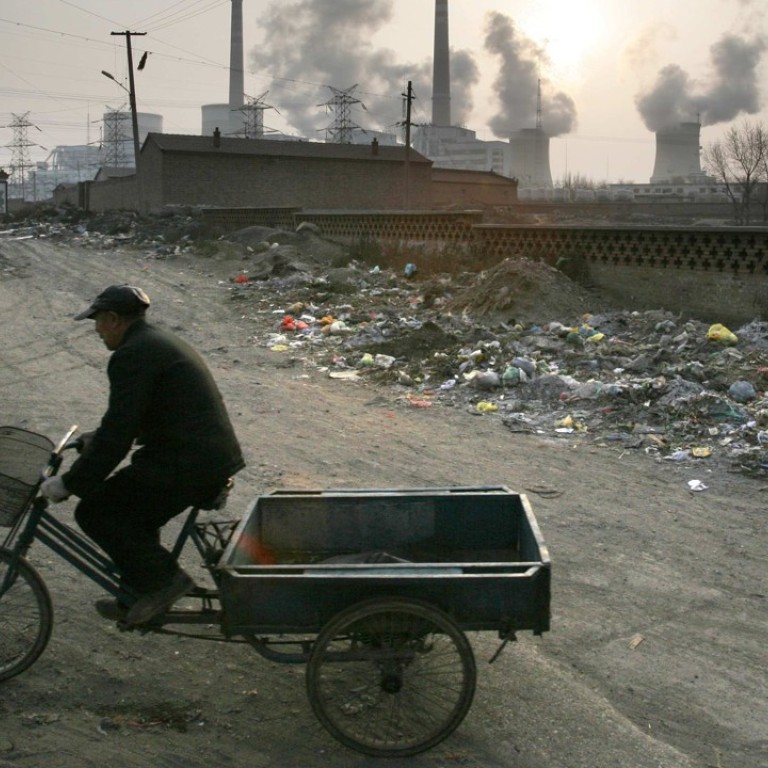 Chinese leaders identify top three economic battles: risk, poverty and pollution
Politburo sets tone for this month's Central Economic Work Conference
China's powerful Politburo has listed efforts to curb financial risks, eradicate poverty and fight pollution as its top economic priorities for the coming year.
At a meeting of the 25-member Politburo chaired by President Xi Jinping on Monday, "warding off and addressing major risks to effectively control the macro leverage ratio" was identified as the most important task for the economy, official news agency Xinhua reported on Friday, citing a statement.
The Politburo statement also highlighted the need to reform the property market as it set the tone for this month's annual Central Economic Work Conference in Beijing, without saying when it would be held. The ruling Communist Party's economic agenda for 2018 will be mapped out during the conference.
Next year will mark the 40th anniversary of China's reform and opening up, which kick-started the country's economic miracle. China would open up further, the Politburo statement said, but the most pressing task was to stem financial risks, according to the report.
Financial institutions would also be required to strengthen support for the real economy and "positive effects" should be achieved from risk prevention measures.
The Politburo also called on rank-and-file cadres to improve living standards and to make "solid progress" on fighting poverty and environment protection – in line with the policies outlined at the party congress in October, where the need for stronger leadership on the economic front was emphasised.
The International Monetary Fund warned in a financial risk analysis on Wednesday that Beijing should put financial stability above its development goals and said monetary and fiscal policies aimed at shoring up employment and growth had led to a surge in debt loads.
China's debt-to-gross domestic product ratio has stayed very high by global standards and much of the debt is concentrated in the corporate sector – especially in state-owned enterprises, which are trying to avoid large-scale lay-offs in their efforts to tame debts.
The country's banks have also been weathering a storm this year as regulators try to reduce leverage and speculation in the financial industry, cracking down on shadow banking, corruption and illegal transactions.
The Politburo statement said China's economy had become "a main source of energy and stabiliser" for world growth and increasingly influenced international economic and governance issues, Xinhua reported.
Containing financial risk is at the top of the government's agenda at a time of growing discontent over social problems including the ongoing eviction of tens of thousands of migrant workers from "illegal structures" in Beijing as part of a fire safety campaign and a ban on the use of coal for heating in the northern cities that the authorities were forced to reverse because of severe supply shortages of cleaner fuels such as natural gas.
Improving industry safety, public security and social stability were also on the Politburo's priority list, the report said.