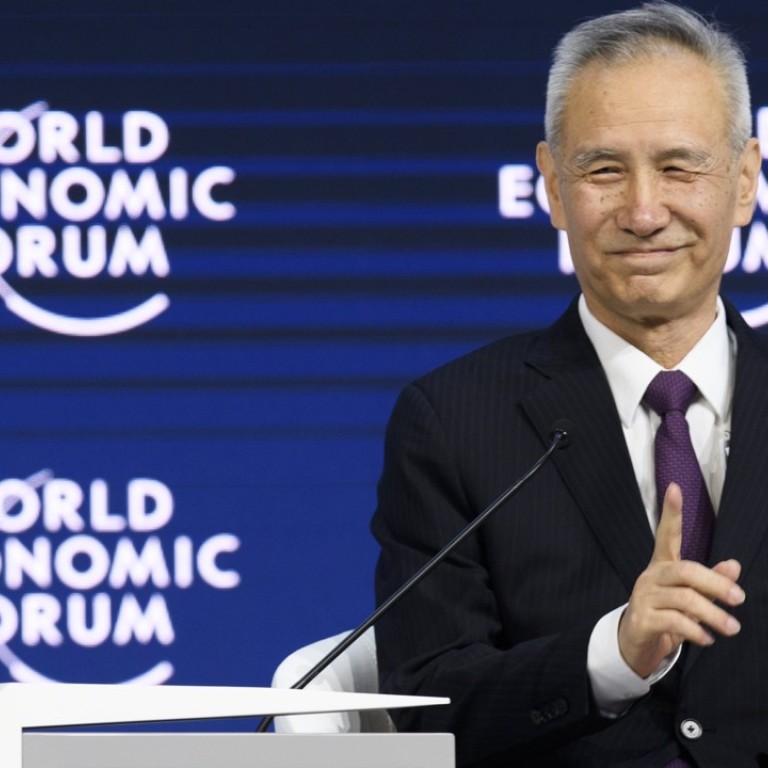 China's new growth model will 'create opportunities' for foreign firms
In a speech at Davos, Liu He also promised new market-opening measures this year, saying some may 'exceed the international community's expectations'
China will create opportunities for foreign companies under an economic model based on quality rather than breakneck growth, and there will be new measures to open up its markets this year, Liu He said in a speech at Davos on Wednesday.
Liu, top economic aide to President Xi Jinping and a member of the powerful Politburo, said the central government was studying "fresh and more forceful" market-opening measures this year, and some could "exceed the international community's expectations".
Leading the Chinese delegation at the World Economic Forum, Liu said the measures were part of Beijing's plan this year to mark the 40th anniversary of the nation's opening-up – a policy that created the country's economic miracle and led to it becoming the world's second largest economy.
Liu is seen as China's economic mastermind and is expected to take a key role in the country's economic and financial affairs in the coming years. He told political and business leaders at the meeting that quality economic growth was now the priority and Beijing aimed to boost new sectors, particularly green and low-carbon industries, that have "created new opportunities not only for China but also for global companies".
His speech at the Swiss Alps resort comes amid heightened tensions between the world's two largest economies over trade. Washington has labelled China as a competitor and, frustrated with its market restrictions, is taking a tougher line on trade actions against Beijing. US President Donald Trump on Monday announced import duties on Chinese solar power components and washing machines.
"China has the world's largest middle-income group ... and we believe that an open market with that group – which numbers some 400 million and is rapidly growing – will make a significant contribution to global development," Liu said.
US Commerce Secretary Wilbur Ross was scheduled to talk about trade issues in a panel discussion at the forum later on Wednesday, while US President Donald Trump will give a speech on Friday.
Liu said China would further open up its financial market this year, as promised by Xi, and he expected this to happen sooner rather than later – partly to respond to persistent concerns raised by foreign businesses and governments about Beijing's slow progress on the pledge.
He also said the government would ease investment restrictions on foreign companies in manufacturing and services, step up enforcement of intellectual property protection and it would "welcome joint efforts from the global community".
Without naming the United States, Liu warned of the risks of protectionism and called for countries to strengthen trust and "rational and proactive" cooperation to promote globalisation.
"We should also be aware of risks such as elevated debt, asset bubbles, protectionism and escalation of global and regional hotspots," Liu said.
China would become more connected with global trade rules, more attractive to foreign investors and "bilateral investment and trade will be expanded with all countries", he said.
But he noted that despite its rise as an economic power, "China is still a developing country" and would firmly support a multilateral trade mechanism "under the presumption that we firstly handle our own business".
The brains behind Xi's supply-side structural reform concept, Liu also emphasised the need for China to focus on curbing financial risks, saying they were closely linked to changes in external markets. He encouraged global cooperation to tackle risks.
"We also need to pay close attention to the spillover of monetary policy from major countries and changes in the bond, stock and commodities markets in the near term," he said.
This article appeared in the South China Morning Post print edition as: China vows rewards for foreign firms