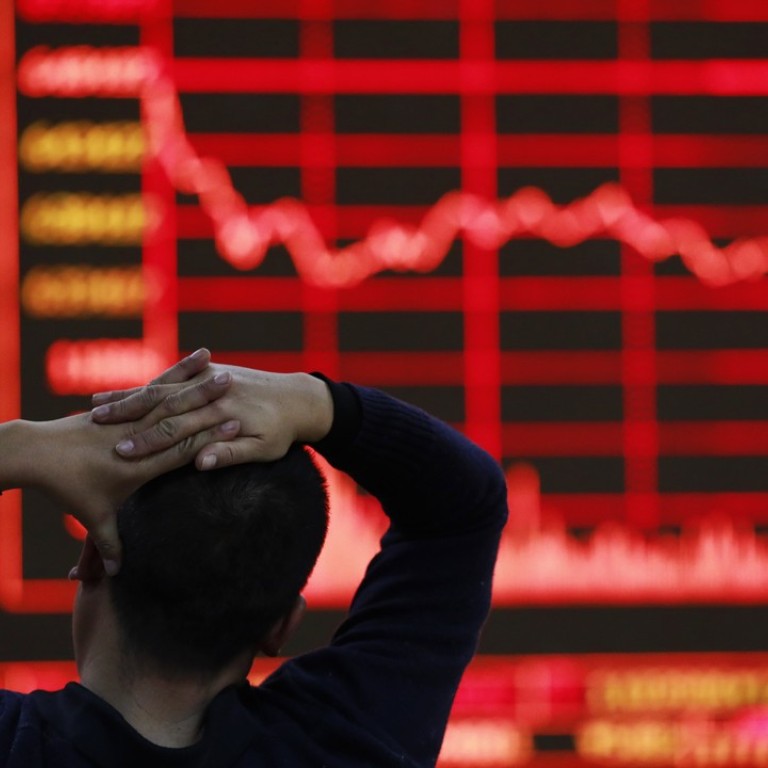 China's financial system dogged by a corrupt alliance of cats and rats, central bank discipline chief says
People who serve only their personal interests are 'problems big enough to shake the foundations of the country', Xu Jia'ai says
A corrupt alliance of "rats and cats" is to blame for the lack of order and heightened risk within China's financial system, the newly appointed head of discipline at the country's central bank said on Thursday.
In comments published on the website of the Communist Party's Central Commission of Discipline Inspection, Xu Jia'ai said the financial industry was "facing a number of significant risks, including a 'cat and rat league' [of regulators colluding with wrongdoers], rampant 'unlicensed driving' [of financial activity] and high levels of illegal fundraising".
Xu was appointed discipline inspector at the People's Bank of China in September. Although he had no previous experience in finance – he was previously head of police in east China's Zhejiang province, where President Xi Jinping worked and built his power base – his appointment was seen as a likely precursor to sweeping changes within the industry.
Xi has made no bones about his intent to tackle the growing problem of financial risk in the world's second-largest economy, and clean up a sector that has witnessed damaging levels of volatility on its way to massive growth.
Xu's comments would seem to suggest that he believes the root of the problem lies firmly with the entrenched band of technocrats that oversaw that expansion.
"The system and mechanism should each play a part, and each needs to be improved," he said. "But the fundamental reason is that some people are problematical."
Xu said he reached his conclusion after speaking to 240 Communist Party secretaries and discipline officials working in the financial sector.
There was a correlation, he said, between the growing risk and the weakening role of the party in financial affairs.
In the aftermath of China's stock market rout in 2015, which was a massive embarrassment for Beijing on the global stage, two high-ranking officials from the China Securities Regulatory Commission were put under investigation on suspicion of colluding with speculators to undermine the government's efforts to stabilise the situation.
Similarly, last year, Xiang Junbo, the chairman of the China Insurance Regulatory Commission, was sacked and put under criminal investigation after being accused of issuing operating licences to favoured insurers.
While Xu did not mention any specific cases, he made it clear that ideological and discipline controls within the financial regulatory framework would be tightened.
"The central bank, as the ultimate controller of liquidity and financial risk, plays an extremely important role in the country's economic development and social stability," he said. "It does highly political work that concerns national security, national interests and the [Communist] party's ruling foundations."
Xu said he would not tolerate wrongdoers or those disloyal to the party.
"[We] must concentrate the fight against irregularities, cliques and factions, identify political double-dealers and kick them out," he said.
People who seek to serve only their personal interests were "problems big enough to shake the foundations of the country", he said.
Xu's comments come at a time of significant change within China's financial system.
Zhou Xiaochuan, who has served as central bank governor for the past 15 years, is expected to retire this year, while a new Financial Stability and Development Commission – chaired by Xi's right-hand man Liu He – was set up late last year.
Last weekend, former finance minister Lou Jiwei warned that the level of risk facing China's financial system could be higher than was seen in the United States before the global crash. He attributed the problem to a "dazzling" array of unregulated financial activity, from Ponzi scheme to peer-to-peer lending platforms.
"China's financial system is severely distorted," the veteran official said.
This article appeared in the South China Morning Post print edition as: Corrupt 'cats and rats' dogging financial system