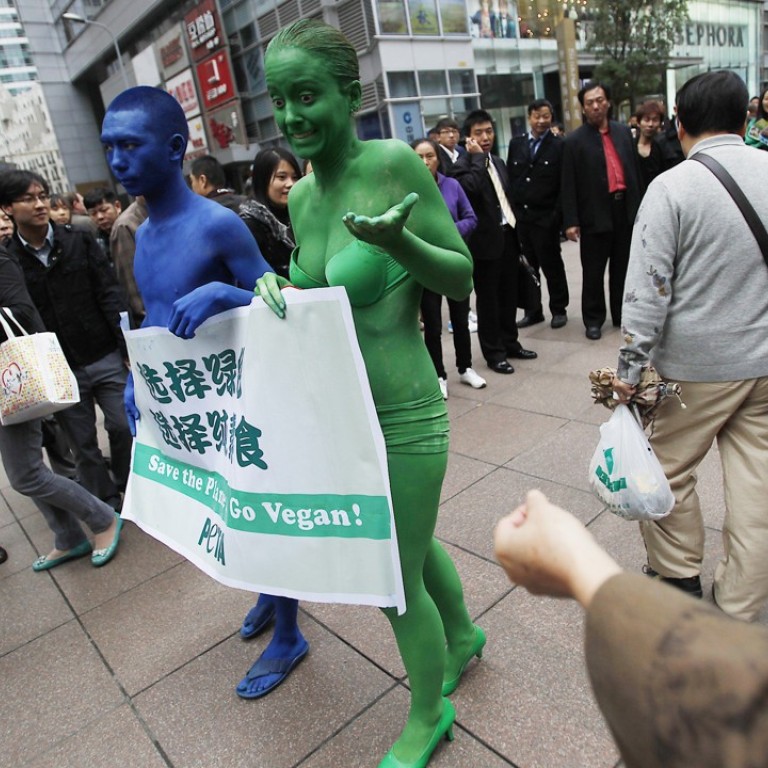 More Chinese restaurants are going vegetarian, but not many make money
Number in Shanghai soared from 49 in 2012 to more than 100 last year
Guangxi cotton recycler Pan Jing decided to open a second business last year: a vegetarian buffet restaurant offering a selection of about 80 dishes.
While researching the market, she discovered most of the vegan or vegetarian restaurants in Wuzhou, her hometown, were not profitable, with some relying on support from wealthy benefactors.
Pan, who became a vegan two years ago, said she wanted something different.
"I don't have much money to waste," she said. "I want to offer something cheap and tasty, and for my restaurant to make ends meet. It's not just for Buddhists [some of whom shun meat]."
Over the past few years, China's restaurant industry has welcomed a growing number of entrepreneurs looking to capitalise on the popularity of healthy eating, which usually means a meatless, organic and environmentally friendly diet. The niche market of vegetarian and vegan eateries has never been more competitive.
Han Lili, a Shanghai-based artist who has tracked and mapped vegetarian and vegan restaurants in major Chinese cities including Shanghai, Chengdu, Lhasa, and Hong Kong since 2012, said it had been difficult to accurately count the number in operation in the past year or two because the market changed so rapidly.
In Shanghai, the number soared from 49 in 2012 to more than 100 last year, she said. Han updates the regional map roughly twice a year and in her latest update added 30 new vegetarian and vegan eateries and omitted more than 10 that had closed. In Chengdu, the capital of Sichuan province, almost half the 80 eateries needed updating after her last count.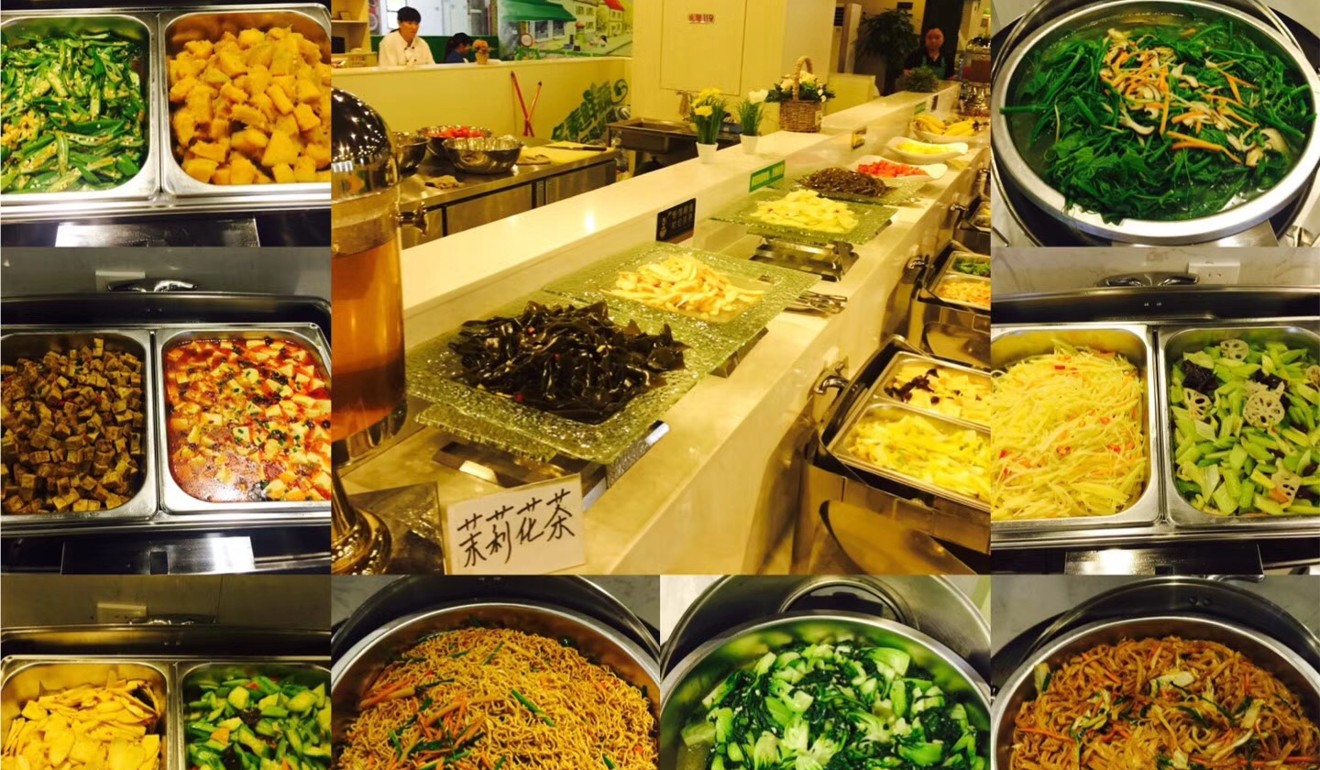 Dr Xu jia, a dietitian who leads the China programme at the Physicians Committee for Responsible Medicine, a Washington-based NGO, said: "Many of these restaurants fail because they target only vegetarians or vegans, but that group is too small in China."
There are no official statistics for the number of Chinese vegans, who avoid all animal-based food, and vegetarians, who can eat eggs and dairy products.
A study conducted by researchers from Shanghai Jiao Tong University in 2016 surveyed more than 4,000 people in the city and found that 0.77 per cent were vegetarians. Chinese state media have quoted America's Public Radio International as saying China has about 50 million vegetarians, or about 3.5 per cent of its population. But Xu, who has promoted a low-fat vegetarian diet in China since 2014, said he estimated 1 per cent would be closer to the truth.
Xu said health concerns and increasing awareness of animal protection had gradually pushed up the number of Chinese who want to cut back on sugary drinks and meat, which were a rare treat in times past. According to the World Health Organisation, China has the most diabetes patients in the world – 10 per cent of the adult population, up from less than 1 per cent in 1980 – and the most deaths from the disease in the world. A 2016 study published in the medical journal The Lancet Diabetes & Endocrinology said about two-thirds of Chinese aged between 40 and 59 were overweight or obese.
China is still the world's biggest market for pork, beef and poultry, but demand has fallen slightly in recent years, with sales of pork declining from 42.49 million tonnes in 2014 to 40.85 million tonnes in 2016, according to research firm Euromonitor. A new dietary guideline issued by China's health industry two years ago also suggested eating less meat, poultry and seafood.
Xu said up to a third of vegetarian and vegan restaurants could break even, but less than 10 per cent were profitable.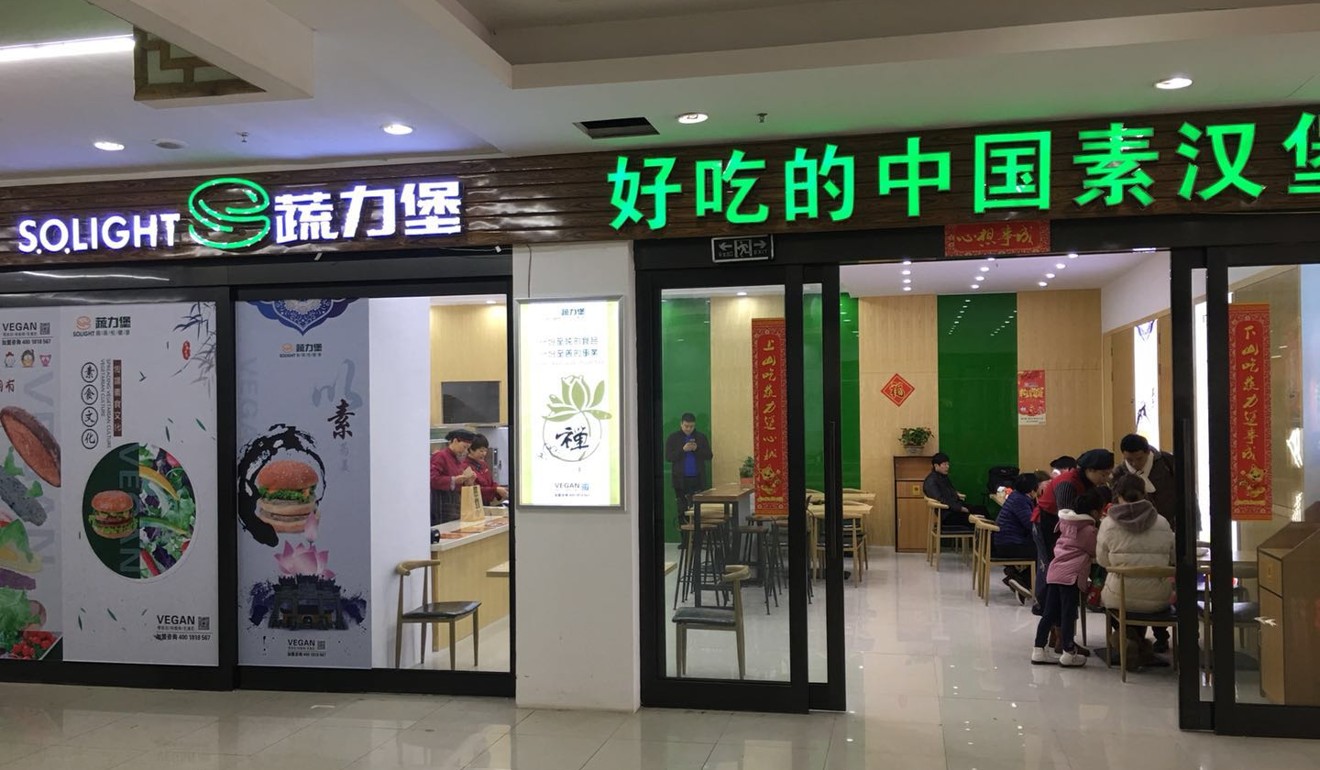 At Pan's vegetarian restaurant in Wuzhou, a lunch buffet costs 19.90 yuan (US$3.15) and a dinner buffet 25 yuan. After investing more than 700,000 yuan in the restaurant, which opened in July, she said revenue was sufficient to keep the business going and she expected to make a profit this summer.
Xu said restaurant owners needed to be creative about marketing their business and creating a dining environment for all.
"They must aim for the ordinary to survive, to achieve their goals of letting more people eat vegetables," he said. "If I see a vegetarian restaurant decorated with Buddhist statues, playing scriptural readings, or sending out pamphlets, that might be an automatic turn-off," he said.
The Shanghai Jiao Tong University study also surveyed eight popular vegetarian restaurants in downtown Shanghai and found that close to half their customers were aged between 20 and 29, even though the average age of vegetarians was 65.
S.o.light, a veggie burger chain founded in Dalian, Liaoning province, in March last year, aimed to combine a healthy diet with the popularity of fast food among younger diners. The chain has since expanded to Shanghai and Zhejiang province, selling about 3,000 burgers a day. They are made with home-grown vegetables and steamed "meat" made from soybean.
"For a vegetarian diet to reach more customers, we need to make it easier to reproduce, like what KFC and McDonald's do with their food," said S.o.light staff member Ren Ciqian.
This article appeared in the South China Morning Post print edition as: growing number of restaurants go vegetarian