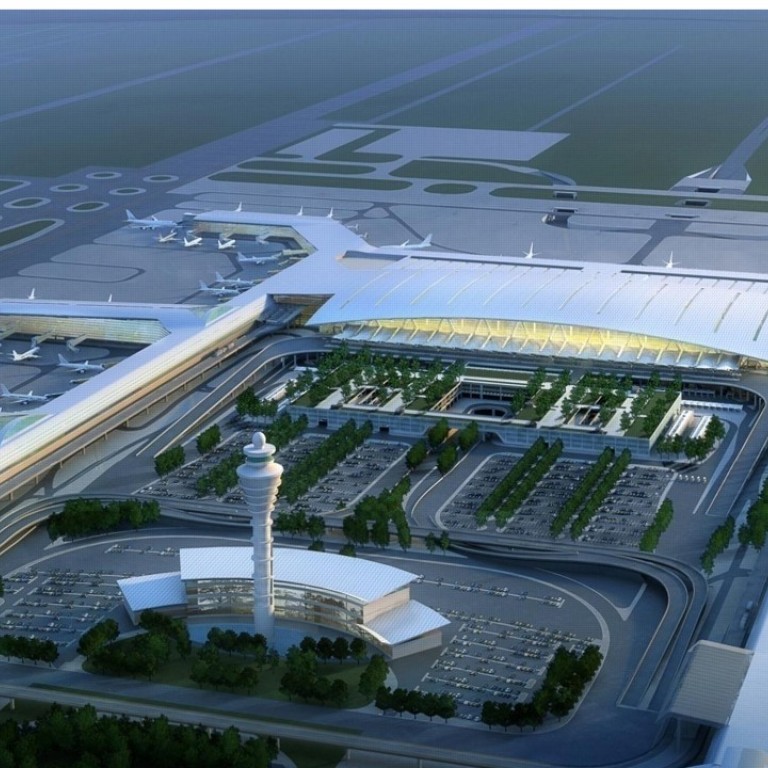 Guangzhou airport's new terminal steps up rivalry with Hong Kong
Building due to open in April and forms part of the city's plans to be the main air hub in the Pearl River Delta
Guangzhou's international airport will open a new terminal in April to greatly increase its handling capacity, as it seeks to overtake Hong Kong as the main air hub in the Pearl River Delta.
The new terminal at Guangzhou's Baiyun International Airport was scheduled to start operations on April 26, government-run Guangzhou Daily reported.
The terminal will handle about 45 million passengers a year in 2020 and 100 million by 2025.
The airport handled more than 65.84 million passengers last year, trailing Hong Kong's 72.86 million.
Guangzhou airport will also handle 3.5 million tonnes of cargo and mail by 2025, marking a big step in its goal of becoming a world-class aviation hub with over 220 international air routes, according to its operator. 
The new 17 billion yuan (US$2.7 billion) terminal will have 397 check-in counters and more than 5,000 car parking spaces. 
Passenger growth rates suggest it is only a matter of time before the airport, which ranked 13th globally in 2017, overtakes Hong Kong, which is in the eighth spot.
"We will see unprecedented efforts by Guangzhou to compete for the region's leading role as an air and transport hub," said economist Peng Peng, vice-president of the Guangdong-based South Nongovernmental Think Tank. "The gap in passenger volume will narrow quickly as a big number of international and domestic routes will be introduced this year.
"Hong Kong's role as an international air hub was once highly valued by Guangdong, which saw the city as its gateway to the outside world, but the provincial authorities will no longer carefully consider Hong Kong's benefits and feelings, following the change of the political and economic climate in Hong Kong and Beijing.
"Guangzhou, Shenzhen and Hong Kong will have a hand-to-hand fight in economic development in the coming years. Competition among airports is part of that fight."
Guangzhou airport says its growth rate last year in terms of passenger volumes ranked top among China's biggest six airports.
High value products from factories in the Pearl River Delta used to be trucked to Hong Kong to be flown to overseas markets, said Huang Honghui, who runs one of leading air logistics companies in Guangzhou, R&T Transportation, but more businesses are now using Guangzhou.
The five major airports in the Pearl River Delta – Hong Kong, Macau, Guangzhou, Shenzhen and Zhuhai – all within 150km (93 miles) of each other, are all striving to expand. 
Guangzhou plans to add a fourth and a fifth runway by 2025 and Shenzhen has plans in place for a third. Hong Kong aims to open
a third runway
by 2023 to boost capacity to 100 million passengers a year.
Another new 35 billion yuan Pearl River Delta regional airport is designed to handle 30 million passengers a year in Foshan near Guangzhou in the coming years.
This article appeared in the South China Morning Post print edition as: Guangzhou's new airport terminal steps up rivalry