Famous for hoarding cash, Chinese families are now racking up debt on an unprecedented scale
But they still have far more savings than debts, according to researchers
Chinese families with their long tradition of saving money are now accumulating debt at a rate never been seen before, according to data compiled by a state-backed think tank in Beijing.
But the National Institution for Finance and Development also said mounting debt was not a concern because Chinese households still had far more savings than debts.
The country's household leverage ratio – or the ratio between debt incurred by families and gross domestic product – surged to 49 per cent at the end of last year from 17.9 per cent at the end of 2008, going up about 3.5 percentage points annually, the think tank said in a report released on Thursday. 
So in the period from 1993, when the data became available, to 2008, the household debt ratio went from 8.3 per cent to 17.9 per cent, with an annual rise of 0.65 percentage points.
But in 2016 and 2017, that annual increase accelerated to about 4.9 percentage points, the think tank said.
The rapid accumulation of household debt was the biggest factor behind the rise in China's overall leverage last year, as the corporate sector's debt ratio fell and local government borrowing was reined in, at least on the surface, it said.
Liu Lei, a researcher with the think tank, said at a briefing on Thursday that real household debt could be "8 percentage points" higher if special housing funds, peer-to-peer lending programmes and private micro loans were factored in.
In August, Shanghai-based brokerage Haitong Securities said in a report that while China's actual household debt ratio was not high compared to many developed countries such as the US and UK, its rate of increase was dangerous.
"It took 40 years for the household debt ratio in the US to rise from a level of 20 per cent to about 50 per cent, but it took only less than 10 years in China," according to the Haitong economists led by Jiang Chao.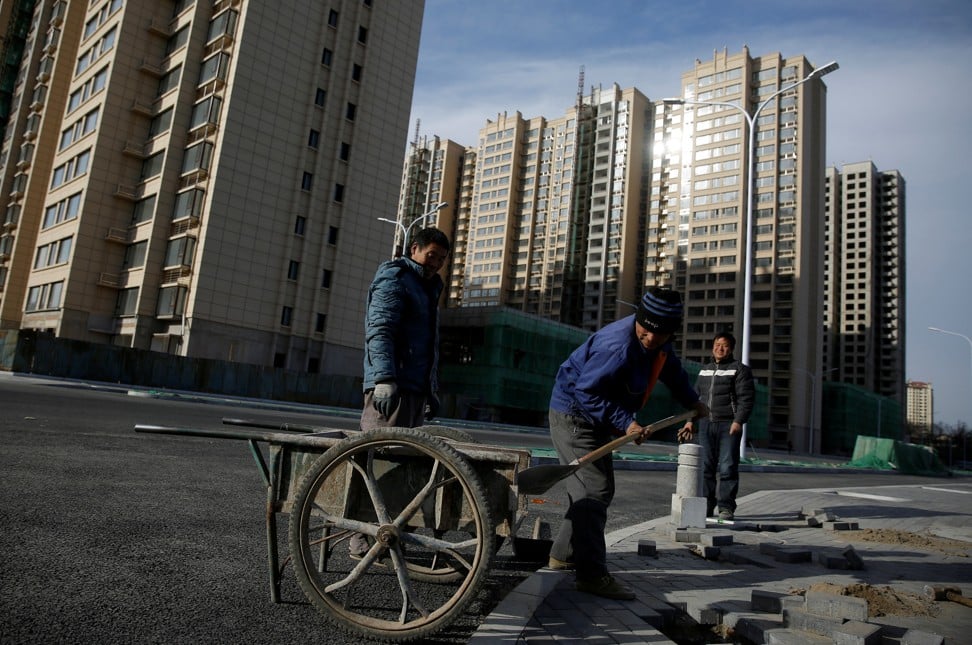 The rising household debt level, mainly in the form of mortgages, is being closely watched by the government. The banking regulator – which is being merged with the insurance regulator – said in January that it would try to curb the household leverage ratio and clamp down on misuse of consumer loans and credit cards, which are often used by property investors to get around restrictions on mortgages.
But the think tank, which is affiliated with the Chinese Academy of Social Sciences, said the risks stemming from household debt "shouldn't be exaggerated".
According to its report, average disposable income could cover standard loan interest and mortgage repayments, while households were still sitting on 70 trillion yuan (US$11.13 trillion) worth of bank deposits and cash overall – enough to offset the 40 trillion yuan in outstanding bank debt.
China's excessive money printing in the last decade and skyrocketing property prices have benefited those who maximised their leverage to buy real estate, while the country's savers bore the brunt of monetary easing, leading to a dramatic shift in attitude on saving versus borrowing.
That change in attitude can be seen in a popular saying widely circulated on Chinese social media in recent years: "A man with a 50,000 yuan debt is responsible; 200,000 yuan of debt is financially savvy; 1 million yuan of debt is a homeowner; 10 million yuan of debt is classy; and a 1 billion yuan debt is chairman of a listed company ... if you don't have any debt, you must be a total loser."