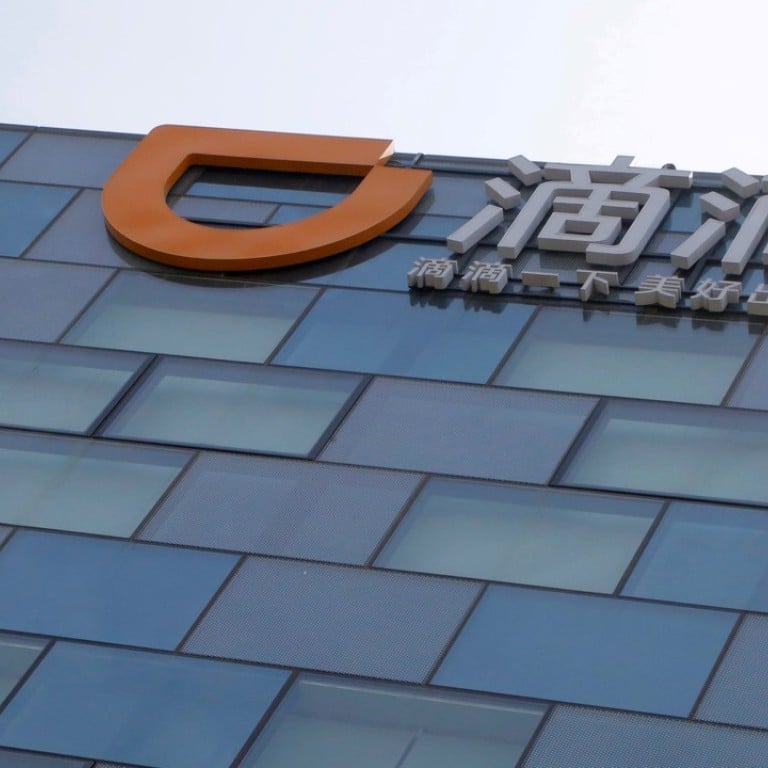 Didi stops hitching service in China after second murder – and admits it was warned about accused driver
Taxi hailing service dismisses two staff and suspends hitching nationwide amid public anger following death of 20-year-old woman and driver's arrest
Didi Chuxing, China's largest taxi hailing service provider, has said it will suspend its hitching service on Monday, after the second murder of a woman passenger in three months – and admitted it failed to investigate an earlier complaint from another woman about the driver accused of the killing.
China's police and transport ministry said on Sunday that Didi had "unshirkable responsibility" for the passenger being raped and killed by a driver in the eastern city of Wenzhou.
The halt of the company's "hitch" function, which allows car owners to provide taxi services, came in response to public anger and will take effect nationwide. Known as China's answer to Uber, Didi has also sacked two senior members of staff and begun an internal assessment of the service, it said in a statement on Sunday.
Its reaction came a day after police in Yueqing, in China's eastern Zhejiang province, said they had found the body of a 20-year-old woman surnamed Zhao and arrested a Didi driver who had allegedly confessed to her rape and murder on Friday.
According to the police's official microblog, Zhao had entered a Didi carpool vehicle at 1pm on Friday, and sent a message asking a friend for help at around 2pm before losing contact.
The police said that they found the suspect, a 27-year-old driver named Zhong, at about 4am on Saturday, and that an investigation was continuing.
After the incident, Zhejiang's transport authority ordered Didi to suspend its hitching service in the province while the company addressed safety issues.
In May, another woman, aged 21, was raped and killed in Zhengzhou, in central China, allegedly by an unregistered Didi driver whose body was later found in a river.
Public anger about the case and the safety of ride-hailing was running high on Chinese social media over the weekend. It was the top trending topic on several news and microblog websites, with posts relating to the case having been read or reposted nearly 1 billion times on Weibo, China's leading social media service, in the past two days.
On Saturday, news outlet Wendu.cn reported that on Thursday, a day before Zhao's death, a female passenger surnamed Lin had complained to Didi about the same driver.
It said she claimed that he had repeatedly asked her to sit in the front seat, before driving her to a remote area, and after she insisted he drop her off early he followed her "for a distance" until she threatened to call the police.
Didi acknowledged in a statement on Saturday that it had failed to investigate Lin's complaint.
It said on Sunday it had dismissed Huang Jieli, general manager of its hitch business unit, and Huang Jinhong, deputy president of its services department, but did not state whether or when it expected to resume the "hitch" function.
"In the last three years since the hitch service was launched, we are lucky to have provided billions of rides," the statement on Sunday said. "We are very sorry that the service has to be taken offline temporarily … We are sorry that we let you down because of our own problems."
Luo Aiping, a lawyer at Goldsun Law Firm, said that, as the operator of the platform, Didi had failed in its duty to ensure the safety of passengers and provide timely assistance when a passenger was in apparent peril.
Since the previous death in May, Didi has revamped its service, including the introduction of mandatory facial recognition scanning for all drivers on its platform before they take any orders, a move designed to prevent theft of the identity of Didi-registered drivers.
In the latest case, the arrested driver had passed background checks and had no prior criminal record, Didi said.
He had registered with the company using his authentic ID, driving licence and vehicle registration certificate, it said.
According to a Beijing News report on Saturday, the driver was seriously in debt, having taken out loans from more than 20 online lending platforms in the past month.
This article appeared in the South China Morning Post print edition as: Didi halts hitch service after 2nd murder