AG600 home-grown aircraft: Beijing ups the stakes in South China Sea with successful trials
Home-grown aircraft is designed for search and rescue missions but could also be used to transport troops, supplies in disputed waterway
Beijing's military ambitions in the South China Sea were given a boost this week after the country's first domestically developed amphibious aircraft was reported to have successfully completed a series of on-water tests.
While its main role is to support maritime search-and-rescue missions, military observers said the new AG600 could also be used to transport troops or even conduct surveillance in the disputed waters.
All of those options remain open after China Aviation News reported this week that the aircraft had carried out its first water taxiing trials on a reservoir in central China's Hubei province.
It also performed well during a low-speed flight and all of its on-board systems worked as they should, the report said.
The AG600, or Kunlong, is the first aircraft of its kind to be built in the country. Roughly the size of a Boeing 737 – at 37 metres (120 feet) long with a 38.8 metre wingspan – it has a range of up to 4,500km (2,800 miles) and is designed to be able to take off and land in two-metre high waves.
Powered by four turboprop engines, it can carry up to 50 people during maritime search-and-rescue missions, and can scoop up 12 tonnes of water in 20 seconds to fight fires.
With a maximum take-off weight of 53.5 tonnes, it also surpasses both Japan's ShinMaywa US-2 and Russia's Beriev Be-200.
Chinese companies and government departments have already placed 17 orders for the aircraft, which are expected to be delivered by 2022.
The development of the AG600 is part of China's drive to modernise its military, and as it adopts a more muscular approach to territorial disputes in the South China Sea and elsewhere, much to the dissatisfaction of neighbours like Vietnam and world powers like the United States.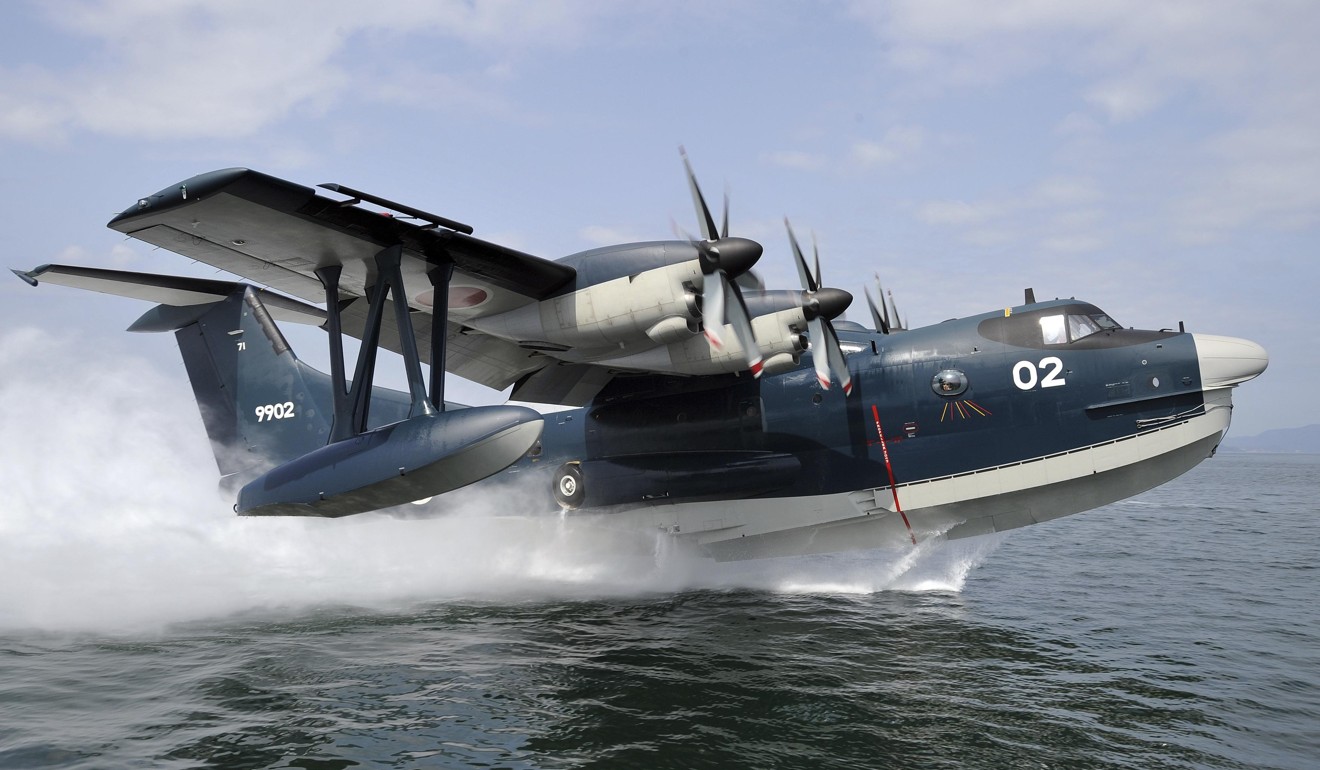 The aircraft made its debut flight in December, with images of it taking off from an airport in Zhuhai, a gateway to the South China Sea, broadcast live by China Central Television.
Military observers said the latest tests showed the AG600 was almost ready to go into service and that once it did would shift the balance of power in the disputed region.
"The AG600 would be suitable for the quick transport of troops and materials, and could also provide other support such as evacuating garrisons in the South China Sea or even out to the Spratlys," said Collin Koh, a research fellow at the Maritime Security Programme at Singapore's Nanyang Technological University.
"Beijing will also use it to justify any further build-up in the region, saying the aircraft can be used for the common good, such as providing support to foreign vessels in the area and for search and rescue."
China has had its rescue-and-salvage ship Nan Hai Jiu 115 permanently stationed in the Spratlys since July.
Satellite pictures released in May by the Washington-based Asia Maritime Transparency Initiative showed Beijing has built at least four airstrips suitable for military aircraft in the South China Sea – on Woody Island in the Paracels, and on Fiery Cross, Mischief and Subi reefs in the Spratly archipelago.
They also showed a Chinese H-6K strategic bomber conducting take-off and landing drills on Woody Island, a Y-8 transport plane on Subi Reef, and YJ-12B anti-ship cruise missiles and HQ-9B long-range surface-to-air missiles on Fiery Cross, Mischief and Subi reefs.
Beijing-based military analyst Song Zhongping said the new amphibious aircraft would enable China to improve the administration and control of its vast marine territory.
"The AG600 can link countless islands in the South China Sea and play a big role in law enforcement, emergency rescue and even reconnaissance," he said.
Koh and Song said the aircraft would also be a valuable addition to Beijing's military exports.
"The latest trials are likely pique the interest of potential buyers," Koh said. "It'll be a direct competitor to Japan's US-2 and Russia's Be-200."
China is the world's third-largest arms exporter, after the US and Russia. Its share of the global arms market rose to 6.2 per in 2016, from 3.8 per cent in 2012.
This article appeared in the South China Morning Post print edition as: New aircraft set to bolster Beijing's maritime power