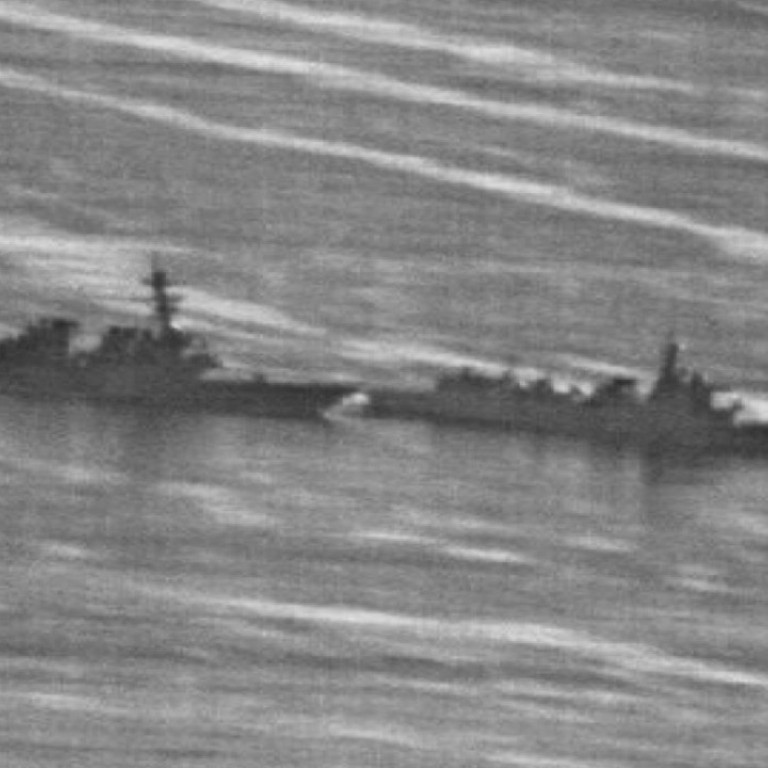 Beijing's challenge to US warship in South China Sea 'deliberate and calculated', observers say
By the normal rules for ensuring navigational safety 'there's no way we would see ships getting so close', analyst says
China was making a clear and deliberate statement that it will not tolerate challenges to its sovereignty when it sent a destroyer to "confront" a US warship in the South China Sea on Sunday, military and diplomatic analysts said.
The incident happened when a Chinese Luyang-class destroyer sailed within 41 metres (135 feet) of the USS Decatur in an operation described by Washington as "unsafe and unprofessional" and by Beijing as a necessary defence of its territory.
"Going by the normal rules of the road for ensuring navigational safety, there's no way we would see ships getting so close like this," said Collin Koh, a research fellow at the S. Rajaratnam School of International Studies with Nanyang Technological University in Singapore.
"Such a move by the PLA naval warship was nothing short of a calculated, deliberate act."
Koh said that China had been steadily building up its naval capabilities and was keen to show its power in the region.
The near collision, close to Gaven Reef, happened despite China and the US signing a code of conduct for unplanned encounters at sea in 2014 to prevent such incidents. Contact was only averted when the Decatur changed course and sailed away from the Chinese ship.
Carl Thayer, emeritus professor at the University of New South Wales in Australia, said the Chinese move was clearly intended to demonstrate Beijing's resolve to safeguard the territory it claims.
"This is the most aggressive and dangerous action China has taken since Trump came into office," he said. "All freedom of navigation patrols are shadowed by Chinese vessels and aircraft, and told to leave the area, but none has come this close or moved this dangerously.
"China is signalling 'we have sovereignty' even though no one accepts that."
Su Hao, a professor at China Foreign Affairs University in Beijing, had a different opinion, saying China would have felt obliged to take action as, from its point of view, the passing of the US warship within 12 nautical miles of Gaven and Johnson reefs, both of which are claimed by Beijing, was highly provocative.
"The US provocation came first and then China took defensive action," he said. "The US warship would not have left the area if the Chinese ship had not sailed near it."
Zhang Jie, an international relations researcher at the Chinese Academy of Social Sciences, said China probably reacted in a more aggressive way than normal because of the growing pressure it felt in the South China Sea, not only from the US but also from Britain and Japan, which were also challenging its claims there.
"In the past, the Chinese vessel would only have sent a warning to the US ship," he said.
Both Koh and Thayer suggested that Beijing might also have exploited the incident to stir up nationalist sentiment and bolster support for the Communist Party.
"I don't believe a Chinese naval captain would do that on his own volition," Thayer said. "Because if the ships had collided there would have been major consequences."
In a move that is likely to further stoke tensions in the disputed waters, CNN on Thursday cited unnamed US defence officials as saying that the US Pacific Fleet had drawn up a plan for a major show of force in the region that would see planes and ships taking part in freedom of navigation operations in the South China Sea and Taiwan Strait.
Su said that if Washington went ahead with the plan Beijing would increase its military presence in both areas to maintain the balance of power, leaving Southeast Asian countries sandwiched between the two powers.
The Chinese Luyang class destroyer involved in Sunday's incident has a length of 153 metres and a displacement of 6,600 tonnes. It can accommodate 250 crew and has a single-barrel, 100mm (four-inch) gun.
The USS Decatur is more advanced, with a length of 155.5 metres and a displacement of 8,886 tonnes. It can accommodate more than 360 crew members and carries up to 90 missiles.