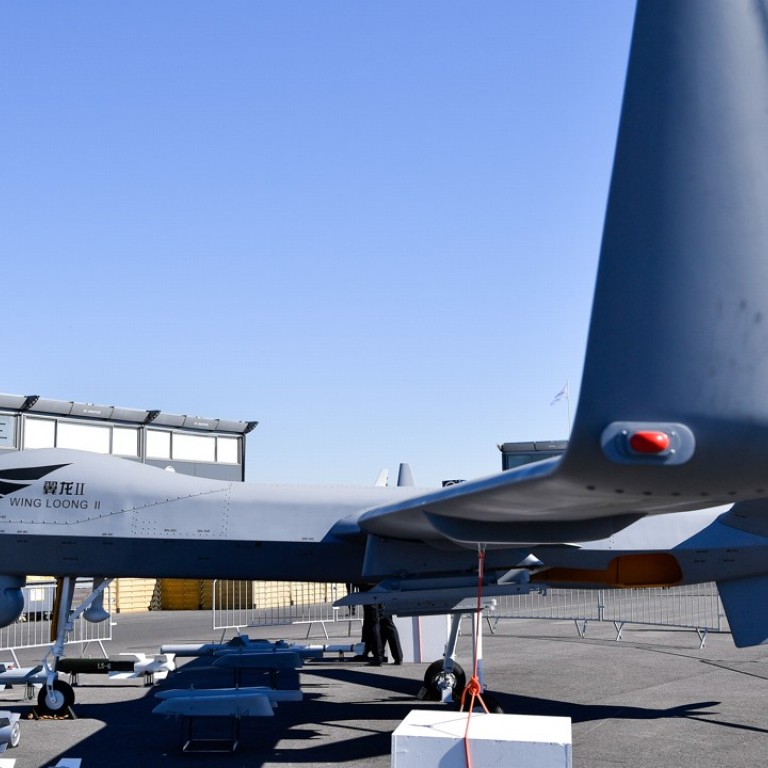 China, Pakistan sign deal to build 48 strike-capable Wing Loong II drones
The MQ-9 Reaper-lookalike has a maximum payload of 480kg, can fly for up to 20 hours and has a top speed of 370km/h
China and Pakistan have agreed a deal to jointly manufacture an advanced Chinese drone, according to reports from the South Asian country, in a sign of their growing security ties.
A total of 48 Wing Loong II unmanned aerial vehicles will be built by Chengdu Aircraft Corp (CAC), a unit of Aviation Industry Corp of China (AVIC), and Pakistan Aeronautical Complex (PAC) Karma, according to a social media post on Saturday by the Pakistan Air Force's Sherdils aerobatic team.
No other details of the deal were revealed, but if confirmed, it would be China's biggest ever drone sale to another country.
Wing Loong II first went on display at the China Airshow in November 2016 in the southern city of Zhuhai, and made its maiden flight the following February.
Developed by AVIC, the drone is designed for both reconnaissance and strike missions, and has a payload of up to 480kg (1,060lbs), including YJ-9E anti-ship missiles.
Powered by turboprops it can fly for up to 20 hours at speeds of 150-370km/h and has a maximum altitude of 9,000 metres (29,500 feet).
Similar in appearance to the US-developed MQ-9 Reaper, the Wing Loong II is 11 metres long with a wingspan of 20.5 metres.
The deal between Beijing and Islamabad comes after commercial satellite imagery captured in November showed the Pakistani military may already be operating a Wing Loong I drone. The pictures appeared to show one of the drones in front of a hangar in Pakistan's Punjab province.
China has also sold the Wing Loong I to Indonesia, Kazakhstan and the United Arab Emirates.
Pakistan has also produced its own drone, the Burraq, which made its first flight in 2015. It is believed to have been based on China's multi-purpose medium-range CH-3 drone system.
The CAC and the PAC have also jointly developed a lightweight multi-role fighter jet, known as the JF-17 Thunder in Pakistan and the FC-1 in China. The aircraft has been in mass production in Pakistan and sold to Myanmar and Nigeria.
A report by the Stockholm International Peace Research Institute, a think tank on arms control and disarmament, said in March that China had become the biggest supplier of arms to Pakistan. It accounted for 70 per cent of Pakistan's arms purchases in the 2013-17 period, up from 45 in the previous five years, although sales by volume changed little, the report said.