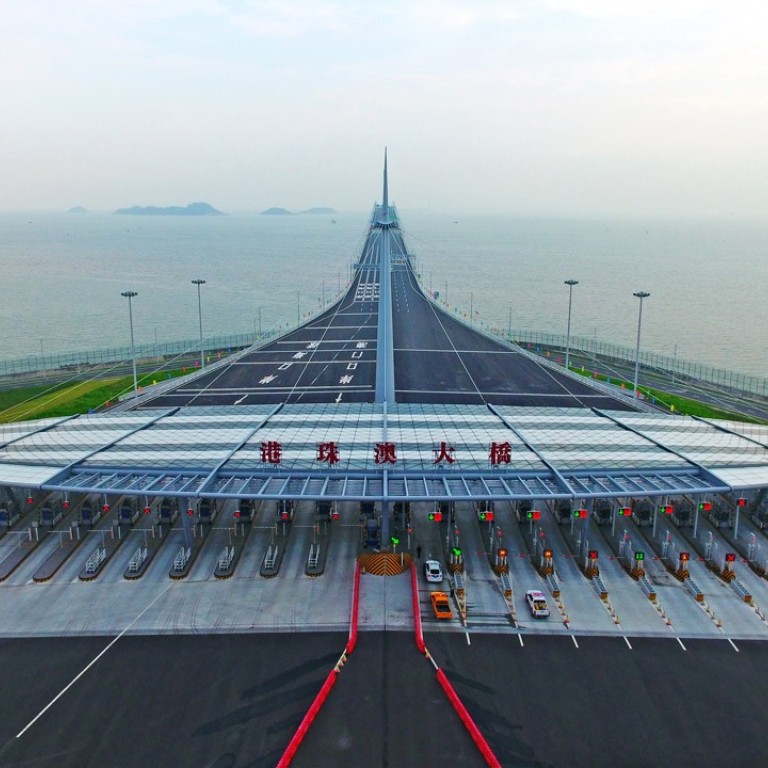 China's counterterrorism teams 'must work together' to keep mega bridge safe, expert says
Soldiers and armed police from China's mainland expected to work with specialist teams from Hong Kong and Macau
55km span forecast to carry 29,000 vehicles a day by 2030
Chinese soldiers, armed police and specialist teams will be tasked with ensuring security on and around the new Hong Kong-Zhuhai-Macau Bridge, the world's longest sea crossing, which opened to traffic on Wednesday morning, a local military expert said.
The location of the 55km (34 mile) bridge, which passes through three separate administrative areas, means that security teams from the mainland province of Guangdong and the special administrative regions of Hong Kong and Macau will have to work together to keep it safe from terrorist attack, said Hong Kong-based military commentator Song Zhongping.
"It is inevitable that law enforcers and security departments from the three sides must work together when it comes to crime or terrorism incidents," he said.
"There has to be a cross-border coordination mechanism and contingency plans involving all three."
Security on the mainland side would mostly be handled by the paramilitary People's Armed Police Force (PAP), he said.
In Hong Kong, such duties are usually carried out by special tactical units from the Hong Kong Police Force, like the Counter Terrorism Response Unit and the elite Special Duties Unit, also known as the "Flying Tigers".
Macau does not have a specialist counterterrorism department, so those duties fall to the Macau Public Security Police Force's Special Operations Group.
Song said that the three cities had their individual police forces to handle public security on the bridge and within their water and land boundaries, while troops from the People's Liberation Army garrisons in Hong Kong and Macau could be mobilised as required.
Security matters on the large section of the Y-shaped bridge – which is forecast to carry more than 29,000 vehicles a day by 2030 – that spans open sea would be handled by the PAP, he said.
For inshore waters, PAP coastguards and marine police officers from Hong Kong and Macau would likely conduct joint patrols, Song said.
The multibillion-dollar bridge is most vulnerable if attacked from the air, especially by small, slow and low-altitude flying objects like drones, air balloons, gliders or model planes carrying explosives, he said.
"The worst threat to the bridge would be such objects, so they would be the key targets of the bridge's air defence."
China's Southern Theatre Command, which has its headquarters in Guangdong, had already integrated the bridge into its regional air defence network, Song said, adding that the navy and air force were also available to provide reinforcements as required.
In the unlikely event of war, the bridge would also be exposed to strikes by more advanced weapons, like missiles or bomber planes.
"But if the risk of war escalates, the protection level for the HZM bridge would certainly be upgraded," as it had been at the Three Gorges Dam, a massive hydroelectric gravity dam that spans the Yangtze River in central China, Song said.
Construction of the Hong Kong-Zhuhai-Macau Bridge began in 2009 and was officially opened on Tuesday by President Xi Jinping. The bridge cuts the travel time between Zhuhai and Hong Kong from 3½ hours to 75 minutes, and it is hoped the span will double the volume of cargo moved by road to and from mainland China.
This article appeared in the South China Morning Post print edition as: Troops and elite police to providesecurity