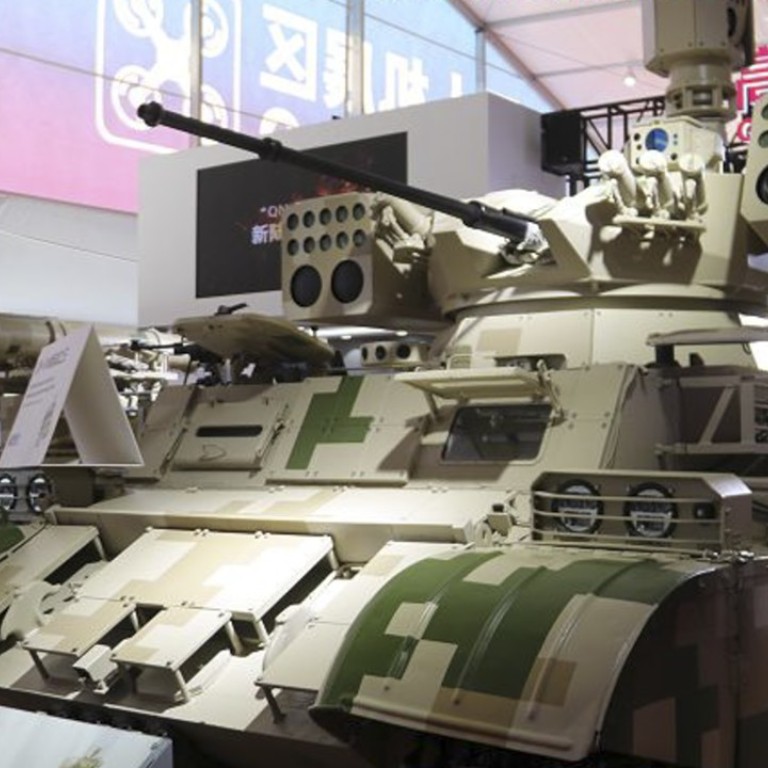 How a Velociraptor and a Chinese Terminator are showing the way for Beijing's military-civilian partnerships
Integration between the armed forces and private sector is meant to cut costs and advance technology but it has also raised suspicions overseas
It's called the Velociraptor and can be mounted on tanks or armoured personnel carriers to fire off rounds against incoming anti-tank missiles.
The "hard-kill active protection system" is developed by Nanjing-based Herakles Defence Technology and was on display for prospective buyers at Airshow China in Zhuhai earlier this month. Not far away, visitors were sizing up China's answer to Russia's Terminator, the QN-506.
Designed by Wuhan Guide Infrared, the "combat support vehicle" is fitted with machine guns, grenades, a light cannon, two types of missiles, and even drones to engage both ground and air targets.
The Velociraptor and the QN-506 are just two examples of systems being developed by private companies for the Chinese armed forces as part of Chinese President Xi Jinping's national strategy to fuse the military and civilian sectors.
The integration is meant to foster innovation in the People's Liberation Army, make technology cheaper and accelerate the PLA's modernisation drive.
But it has also raised concerns among overseas players that commercial technologies could be transferred to the Chinese military.
China's existing weapons system is largely modelled on Soviet technology and production. With Soviet help, Beijing initially developed a state system in which the private sector was not a part of arms research and development. But China's opening up and reform changed the economy as a whole, allowing private enterprises to flourish – including in the arms industry.
The country's first domestically built aircraft carrier is a product of civil-military cooperation, with more than 400 non-military parties contributing components.
Xi has been pushing for military-civilian integration since 2014, when he said it was essential to realising a strong army.
But now the United States – rather than the former Soviet Union – is the model of development and procurement, according to a source at a state-owned company and contractor for China's space programme.
Watch: Chinese military to build stronger air and naval defences

"The Chinese military is looking for the best contractors from the private sector, leaving behind the old reliance on itself to develop weapons and systems," the source said.
"The competition among civilian companies for military contracts is intense. Usually the military will select a few private companies to bid for a contract.
"When the companies get the contract from the military, they might outsource some production to other private companies to lower costs."
Timothy Heath, senior international defence research analyst at Rand Corporation, said this kind of integration gave the Chinese military access to the latest information and digital technologies while also helping it manage the costs of weapons development and procurement.
Adam Ni, a policy researcher at Australian National University's Strategic and Defence Studies Centre, said the PLA was increasingly reliant on advanced technologies from the civilian sector.
But the private-military partnerships have raised suspicions overseas.
In May the Pentagon ordered US retail outlets to stop selling Huawei phones, citing security risks. It was concerned that Huawei founder Ren Zhengfei had been an engineer in the Chinese armed forces and that Huawei-made telecommunications equipment could be designed to allow access by the Chinese government and military.
A report this month by the US-China Economic and Security Review Commission said that China's pursuit of military-civilian fusion strategy had security implications for Washington. It said close integration between Chinese civilian and military entities raised concerns that technology shared between US firms and their Chinese commercial counterparts could be transferred to the Chinese army.
Heath said that the partnerships would stoke fears of China "getting ahead" of the US in the competition for advanced technology.
"[The fusion] will [also] fuel suspicion of Chinese commercial hi-tech companies, because they are very likely to be working closely with the military," he said.
There are also concerns about civilian-military integration tied to China's "Belt and Road Initiative", a programme to boost trade and infrastructure in Asia, Africa, Europe and beyond.
China is building two new ports in Israel – in Haifa and Ashdod – and observers have expressed concerns that the civil-military fusion could enable the Chinese military to monitor US ship movements in those ports.

This article appeared in the South China Morning Post print edition as: US is the model for private sector role in arms industry