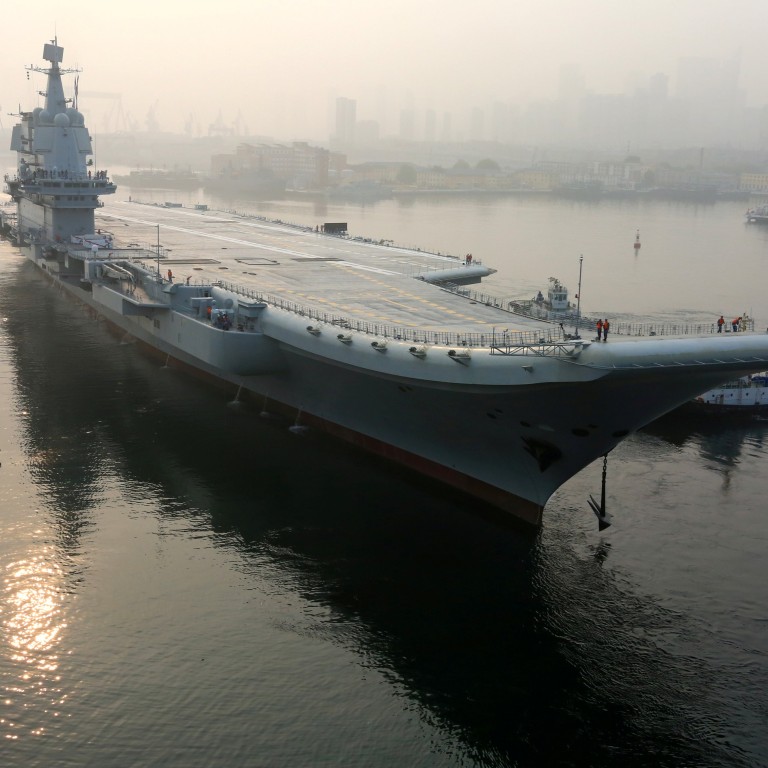 'No-go zone' in Yellow Sea for Chinese aircraft carrier sea trials after Liaoning undergoes refit and Type 001A readies for test
The Liaoning, which was commissioned in 2012, has just undergone a nine-month refit
Meanwhile, the flight system of the new Type 001A warship – China's first domestically produced aircraft carrier – is expected to be put to the test
China has announced a "no-go zone" in the Yellow Sea while sea trials are carried out for its Liaoning aircraft carrier, which has just been upgraded, and its first domestically built carrier.
The Liaoning Maritime Administration said there would be no entry to the area off China's northeast coast from Sunday to March 6, and it would be used for "military purposes".
State media reported that the Liaoning, which was commissioned in 2012, left the Dalian shipyard on Sunday after nine months of maintenance and modifications. Photos showed a banner where the warship was docked reading "Congratulations to the Liaoning on its new mission".
Meanwhile, the Type 001A aircraft carrier, which was built at the same shipyard, is expected to undergo major tests at sea as it enters the final phase of preparations before it is commissioned.
Naval expert Li Jie said the Liaoning would probably also undergo testing, but he expected the no-go zone would mainly be for the Type 001A, especially to put its flight system to the test.
"This vessel will soon enter service and in preparation for that it has to go through a number of manoeuvres, take-offs and landings with the ship-based aircraft," Li said.
The warship appears to be ready for operations involving those aircraft, according to a report on news website Guancha.cn. Photos showed three blast deflectors – which protect the deck and crew from jet engines – on the Type 001A flight deck, along with trucks to tow planes and fire engines, the report said.
The vessel has undergone four sea trials since it was launched in April 2017.
China's first and only operational aircraft carrier, the Liaoning, was likely to carry out exercises involving J-15 fighter jets to get it combat-ready after its revamp, according to Li.
He expected both aircraft carriers to take part in the PLA Navy's fleet review to be held off Qingdao, in Shandong province, on April 23 to mark the anniversary of the navy – part of a series of activities to commemorate the 70th year since the founding of the People's Republic of China.
"They will both be at the event if the tests of the Type 001A go well. If not, the Liaoning will be there at least," Li said.
The Liaoning went back to the Dalian shipyard in May and has had its bridge and air traffic control centre rebuilt and radar system upgraded. The flight deck was also modified.
China bought the vessel from Ukraine in 1998 as an unfinished Soviet Kuznetsov-class carrier, the Varyag. It was retrofitted between 2006 and 2011. China's first domestically built aircraft carrier, the Type 001A, was based on the 50,000-tonne vessel.
This article appeared in the South China Morning Post print edition as: Beijing declares 'no-go zo ne' f or carrier testing