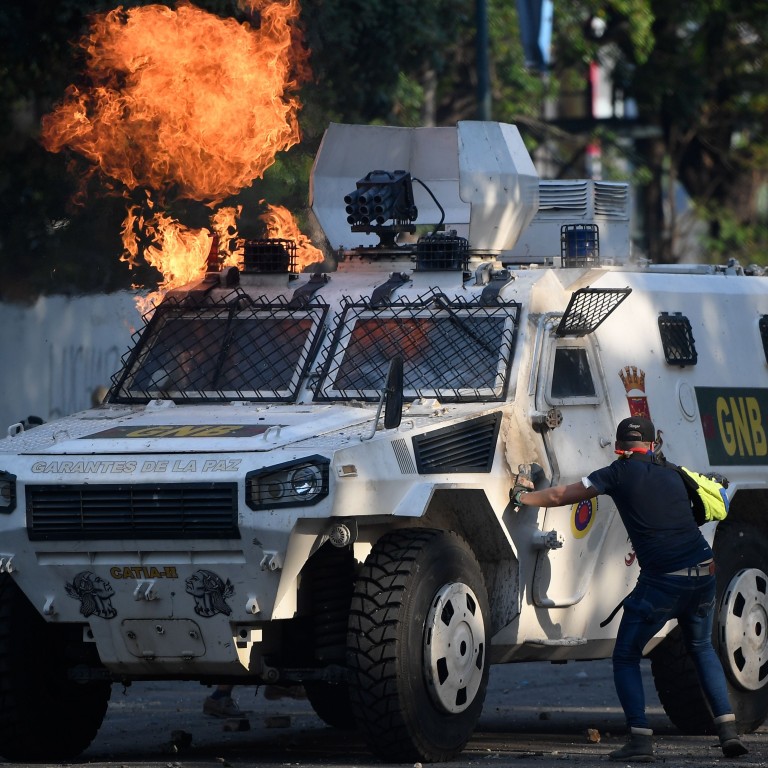 Venezuela sends in China-built 'Rhinoceros' vehicles to quell anti-government protests
Military equipment part of a range that Beijing has sold to Caracas, its biggest Latin American customer
Authorities in Caracas have deployed Chinese-built armoured personnel carriers against protesters calling for the downfall of Venezuelan President Nicolas Maduro.
Eight VN-4 "Rhinoceros" carriers were used on Tuesday against supporters of opposition leader Juan Guaidó in the country's capital, according to state broadcaster Venezolana de Televisión.
The carriers were rolled out a day after China sent emergency supplies to Venezuela, including about 65 tonnes of medicines and surgical products.
The carriers are armed with a machine gun and manufactured by China North Industries Corporation. They are designed to be used in various situations, ranging from peacekeeping to law enforcement missions.
Venezuela bought 121 of the vehicles from China in 2012, according to a report by the US Congress's US-China Economic and Security Review Commission.
In 2014, the Venezuelan National Guard also deployed the VN-4 against protesters.
The presence of the vehicle reflects China's consistent arms sales to Venezuela, which have also included K-8 trainer aircraft, VN-16 light tanks and VN-18 infantry fighting vehicles.
Venezuela has been China's biggest military customer in Latin America since 2006, with high oil prices enabling greater government spending, according to the Stockholm International Peace Research Institute. But no purchases have been made in the past two years.
Data from the institute shows that in the past decade China also sold weapons to Argentina, Bolivia and Ecuador.
In 2012, Venezuela signed a US$500 million deal – China's biggest to in the region – for Chinese military equipment that included anti-tank missiles, self-propelled mortars, self-propelled rocket launchers and armoured vehicles.
Song Junying, a China-Latin American affairs expert from the Chinese Academy of Social Sciences, said China's arms sales would not be affected by the unrest in Venezuela.
"China will continue supporting Maduro because he's the legally elected president," he said.
Over the past decade, China has loaned US$50 billion to Venezuela, and while Caracas has been gradually paying off that debt with oil shipments, it still owes Beijing about US$20 billion.